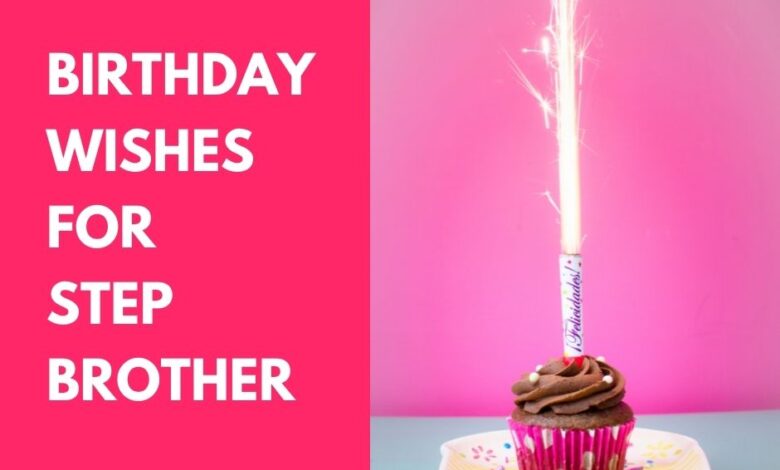 Birthday Wishes for Stepbrother: A bro code states that you accept brothers from wherever, even if they are not your blood relatives. If you have a stepbrother, you will be fortunate to have another sibling, someone to lean on when you are feeling lonely.
To all the stepbrothers out there, you are deserving of the entire world because of who you are. Here are some great birthday wishes to help you greet your stepbrother in a way that he'll remember.
Birthday Wishes for Stepbrother
You are a very loyal stepbrother and friend to me. Never will I ever be able to repay you for all the love and support you have shown me. On your birthday, I not only want to thank you but also ask for God's blessings in your life.
I didn't know what to expect when we first met and became stepbrothers. I have been pleasantly surprised as you are a really cool guy. Happy birthday!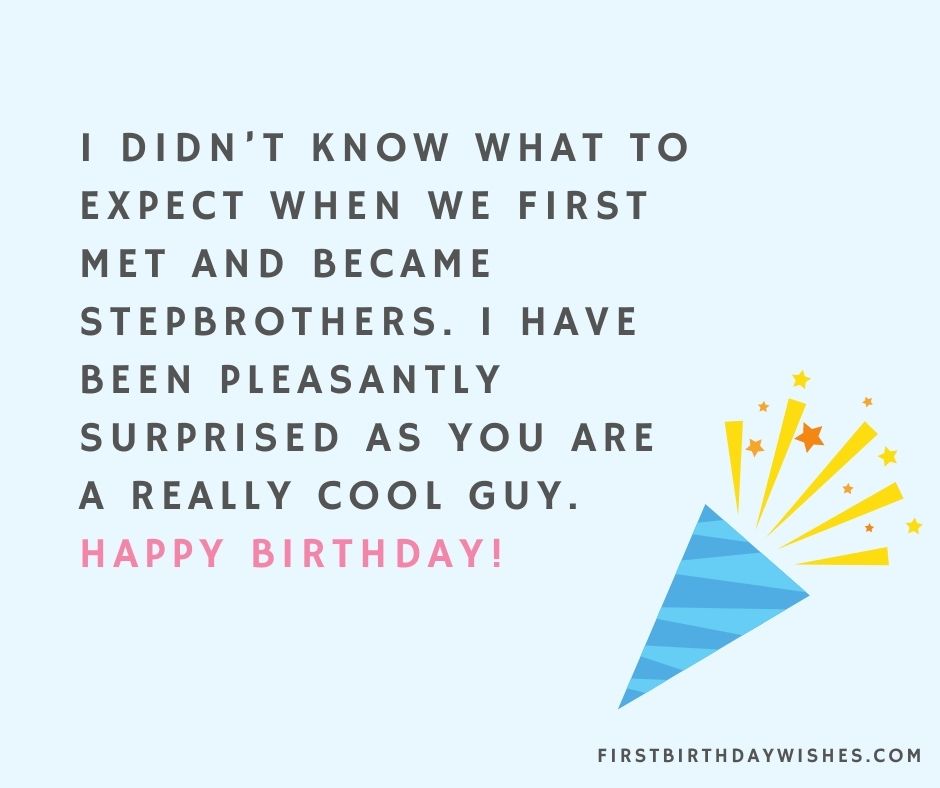 Happy birthday to my bonus brother! At this point in my life, I never thought I'd receive a brother, but I'm super ecstatic that I did!
Happy birthday to a stepbrother like no other! I hope your special day brings as much happiness to you as you bring to everyone else!
Stepbrother! It is time to celebrate your birthday! Let us party! Woo!
Happy birthday, stepbrother! I know that we may not be considered relatives by blood but it does not change the fact I would call you my brother. Have a great one!
To my awesome stepbrother, I want you to know that I consider you a brother. Honestly, there is no one else that I would consider for that spot. Happy birthday!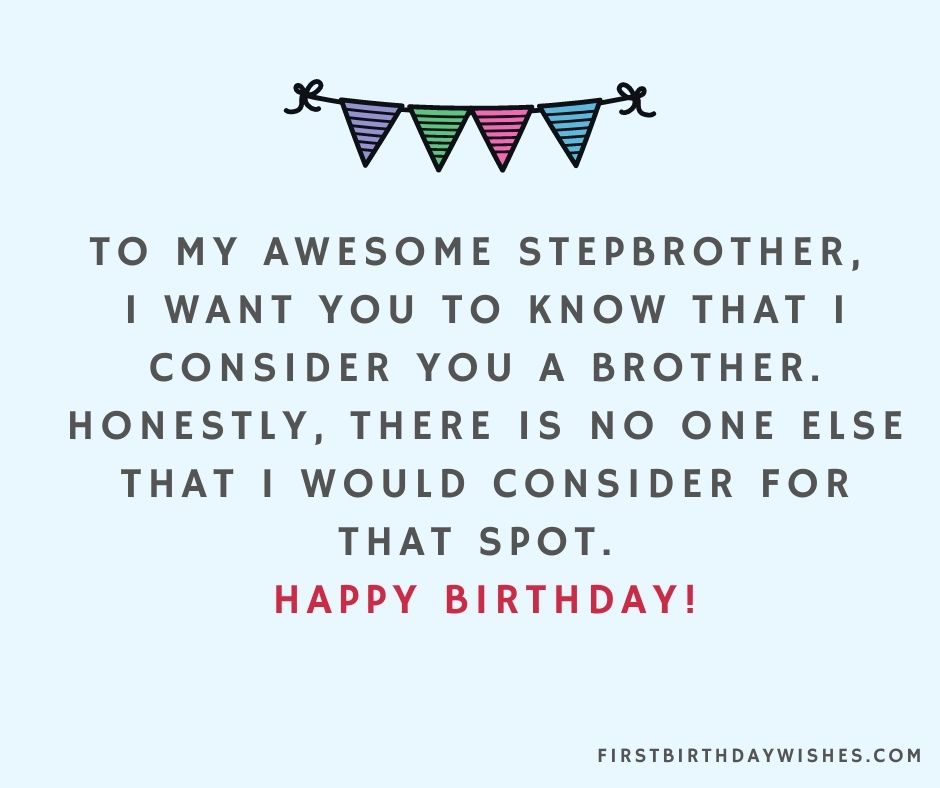 Men like you are rare to come by that is why whenever we hear of their birthdays we all come out to cheer and celebrate. Happy birthday, stepbrother.
Dear stepbrother, I was a bit hesitant at first to accept you into my life. I know that I was a bit difficult but you know what, I was wrong. Happy birthday!
Today is the day my stepbrother was born. I can't wait to celebrate this day with you! Enjoy!
Thank you for being part of my life stepbro, I hope you have lots of cake and presents today. You mean the world to me!
I've never felt more honored to be related to someone that we don't share the same blood. You truly are an inspiration to everyone around you. Happy birthday, step-bro!
You have been touching my heart ever since we became family, and I couldn't have wished for a more caring and supportive step-sibling. I'm sending a big birthday hug to you today on your special day!
Wishing a very bright and cheerful birthday to you, my phenomenal stepbrother. May you always find peace and true happiness wherever life takes you. Happy Birthday, mate!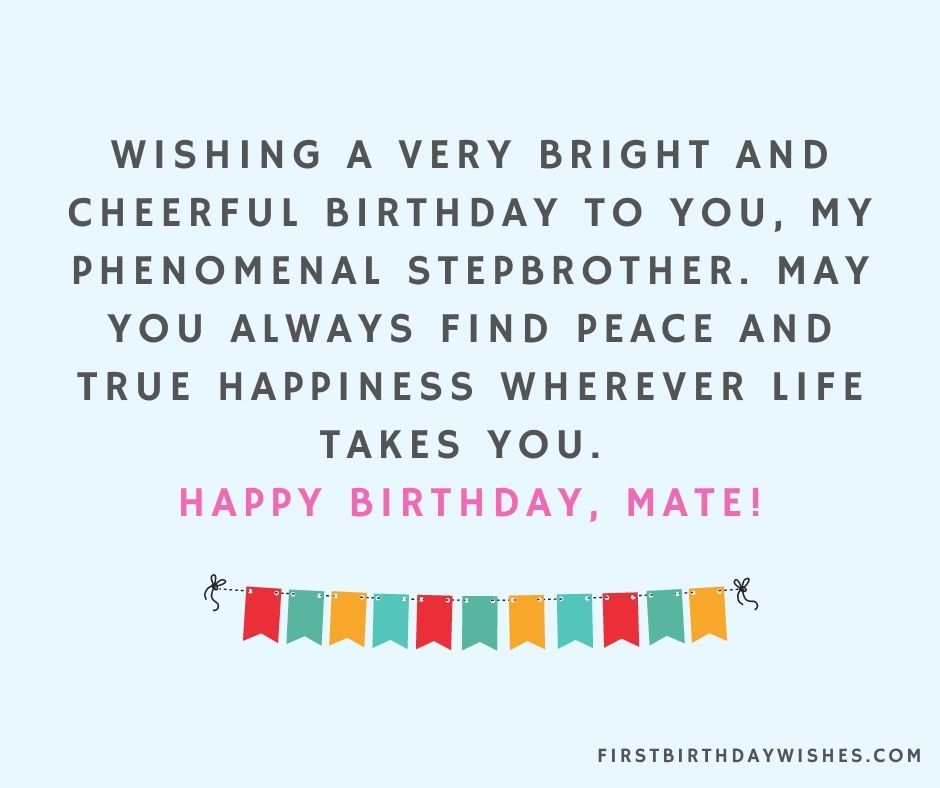 To my awesome stepbrother, I wish you all the best for your birthday.
I always wanted to have siblings, and then you came along! You might not be a sibling by blood, but you still are the best brother I could have ever wished Happy Birthday!
With your graceful smile and your lovely personality, you make family dinners more tolerable than they have ever been. Happy Birthday!
The only reason you are called my "step" brother is that it was a considerable step in accepting you into the family. But once everything was settled, I couldn't have had it any different. Happy Birthday!
When you were introduced to me as my stepbrother I had my doubts at first. Little did I know then that our relationship would blossom and, in you, I'd find a friend for life. I'm wishing you a marvelous birthday today, bro!
Dear stepbrother, I was a bit hesitant at first to accept you into my life. I know that I was a bit difficult but you know what, I was wrong. Happy birthday!
You, my dear stepbrother, are my hero. There's absolutely nothing more amazing in this world than having a spectacularly outstanding brother like you. Happy birthday!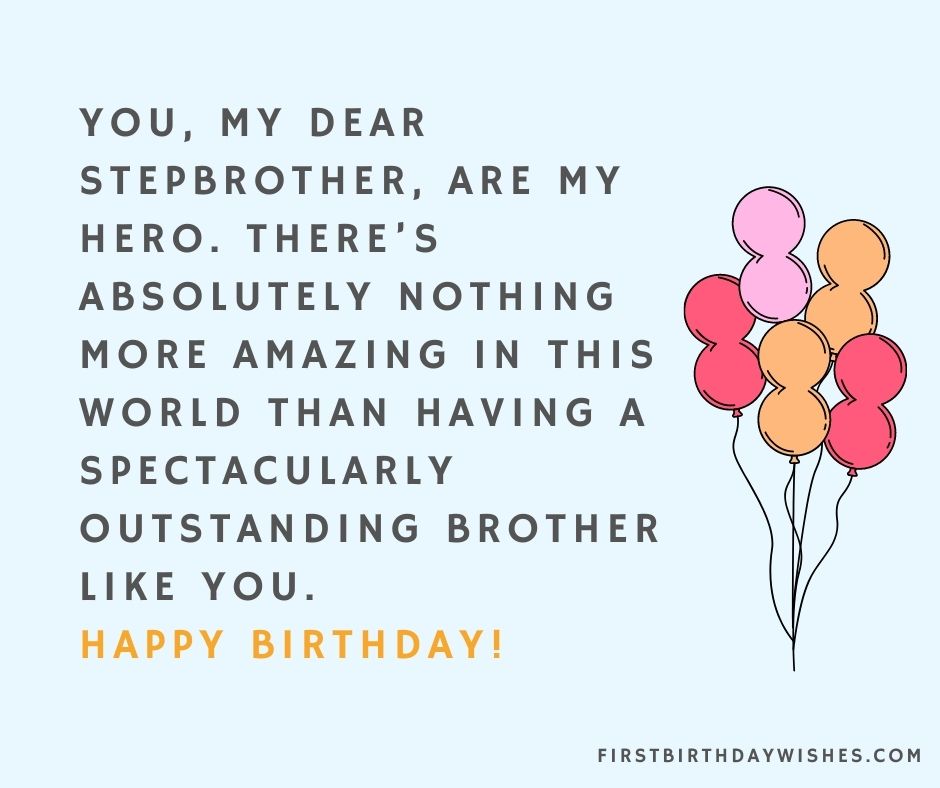 Brother, celebrate this special day with the knowledge that no amount of money or treasure can ever purchase the incredible happiness you bring into my life. I love you very much. Happy birthday.
Wishing a lovely birthday to my brilliant stepbrother who rules my world. Thank you for being a loving stepbrother and such an awesome friend to me. Happy birthday, dear!
You May Also Like
---
---
Happy birthday, brother! May your days be filled with the Lord's love and blessings. My love for you will never die. Happy Birthday to the coolest stepbrother out there.
Stepbro, you know how we do on these tremendous days. We sit down and make you feel like a kid by singing the birthday song to you and making you make a wish. So get ready.
Happy birthday! I don't think the happiness I currently enjoy can ever exist without having a completely loving and caring stepbrother like you. May your days be blessed with sunshine and love.
Happy birthday to a breathtakingly remarkable stepbrother who will smile across oceans just to put a smile on my face. May nothing ever take away your happiness and health.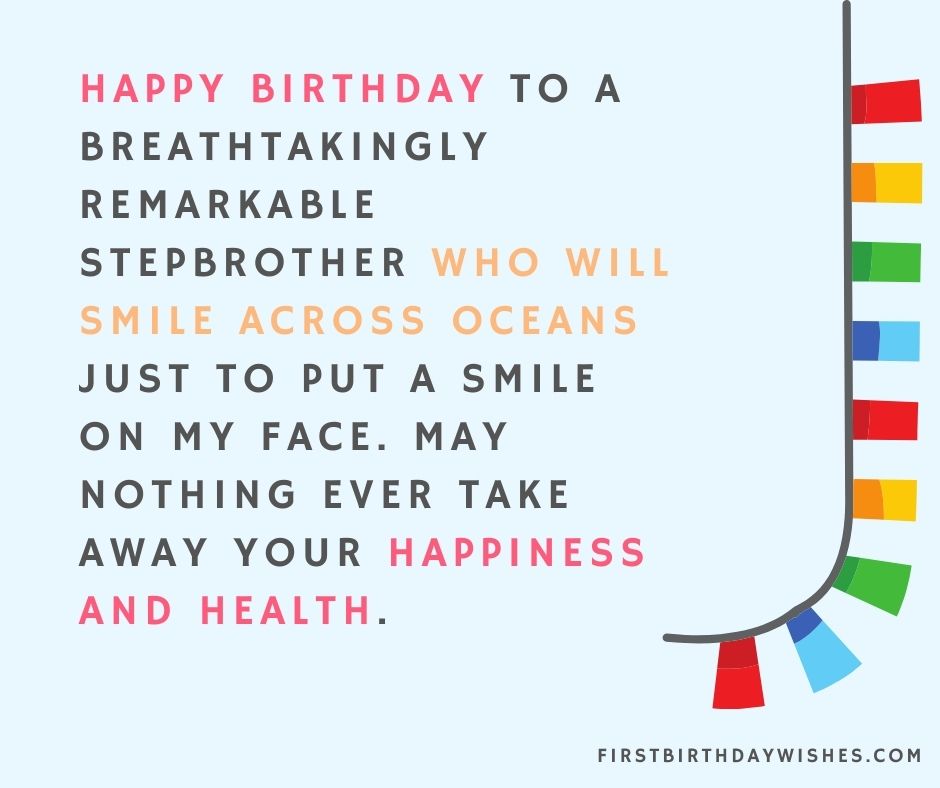 If you believe in God, He will always fight by your side. Remember these words and you shall always conquer the obstacles that come your way. Happy birthday, brother.
Happy birthday my stepbrother. I want you to have a year full of success and happiness.
When I consider my life without you, I can readily conclude that I will be nowhere near what I am now. Thanks so much for all your incredible effort towards my well-being. Happy birthday, step-brother!
Wishing you the most wonderful birthday today! You know, people don't always gel with their step-siblings as well as we did! I'm truly grateful for that, and for having you in my life too! Many happy returns to you today, bro!
Time moves fast when you are having fun, it was just the other day you came into my life stepbro, and look at us now. We are one and I am happy to be sharing yet another birthday with you, please do have fun.
I know that I was shy at first but I didn't know what to expect from you. Happy birthday! You surprised me and now it's my turn to surprise you.
I will be your protector, your friend, and the closest person to you stepbro. I will always be here when you need me. Happy birthday, Step-Brother!
Happy birthday to the coolest stepbro ever! I am beyond lucky to have you not only as a great friend but also as a brother!
Your love for your siblings is the best. Thank you for looking out for my safety and happiness. You are the sweetest! Grandest birthday to you, dear stepbrother!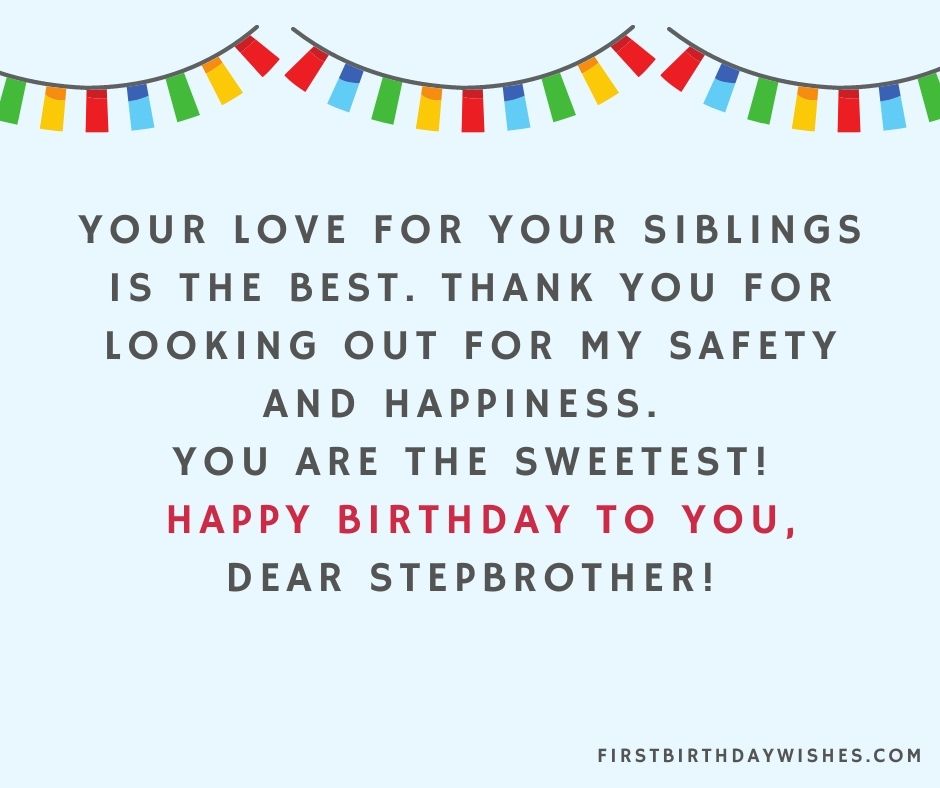 Words are limited, actions are bold, and I hope I can make you have the best birthday of them all. I will use the words I have and the action it takes to make you have the most fun today stepbro.
You May Also Like
---
Follow us on Pinterest | Facebook