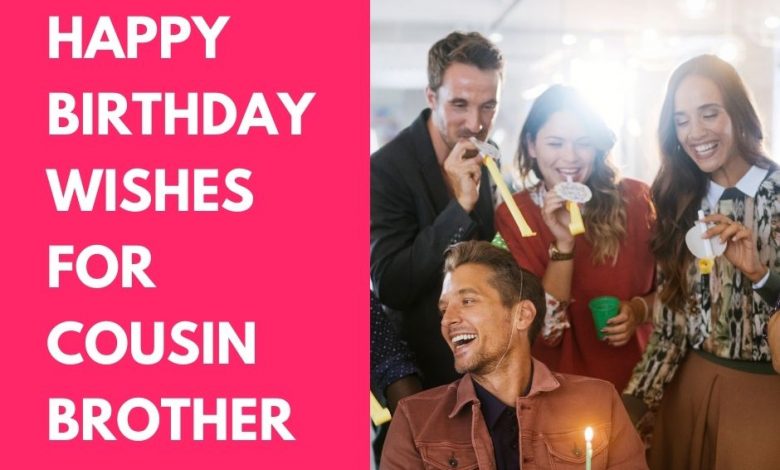 It is a general human behavior that we tend to avoid most of our relatives. Specially the nosy ones who keep asking about when we will get married or when are we going to get a job. But then there are cousins, the younger ones are annoying but cute, the elder ones are adventurous and fun and the ones who are of our age are the best companion that we get in the whole family. Plus the best thing about them is that mostly they are the ones who give us our first nieces and nephews, with whom we can have our cutest photoshoots and can spoil them with a lot of chocolates and junk. And hence cousins are the most important relatives, and therefore we have brought the best collection of Happy Birthday Wishes for Cousin Brother, so send him the greetings for his special day.
Cousins make up the cooler part of the family. Mostly not nosey, mostly understanding, and are mostly as pathetic on life as we are.
So we have brought the best collection of funny and cool Cousin Brother Birthday Wishes, Messages, and Greetings, so send him these greetings to let him know that you have got his back in life:
Birthday Wishes For Cousin Brother
1. Blessed is the day you came to my life. Today is the best day to cheer for one more year in your life. I wish you a happy birthday, dear cousin.
2. The warmest birthday wishes to my beloved cousin! May your day be super positive and memorable!
3. In you, I found a true friend and a brother, and that's why this day means so much to me too. Happy birthday, cousin! May your life be blessed with joy and success.
4. I wish you be a man of your words. Few exist like this. Happy birthday to you. May you be famous and wealthy in life.
5. Happy Birthday. Let the good times roll! Wish I was there to celebrate with you, cousin. Have fun and enjoy yourself today!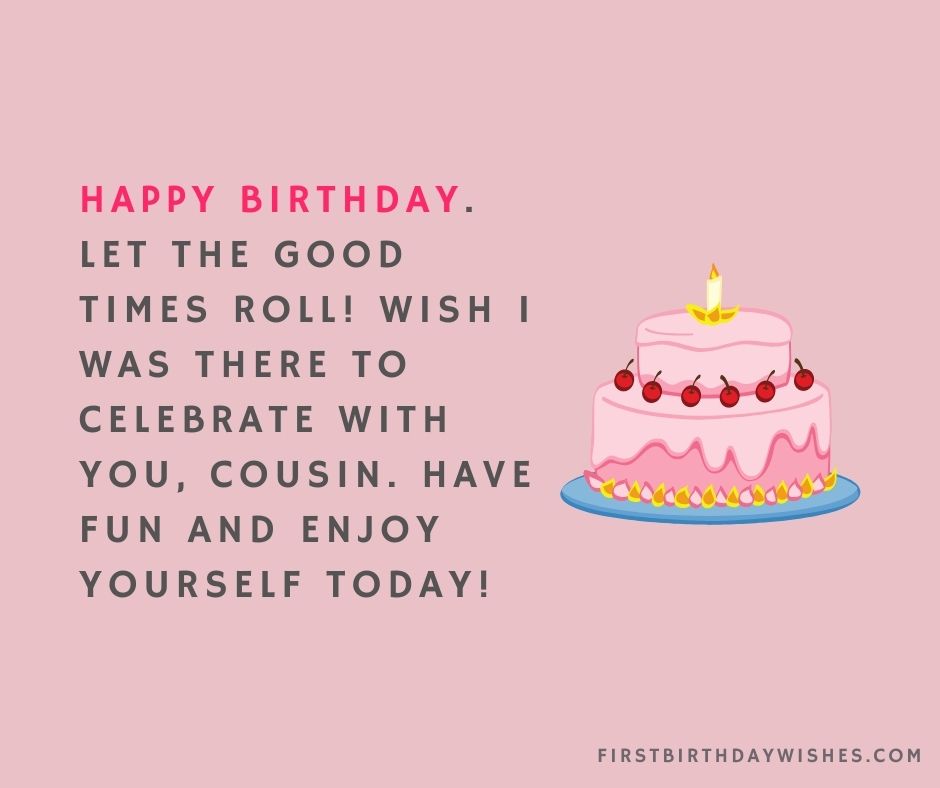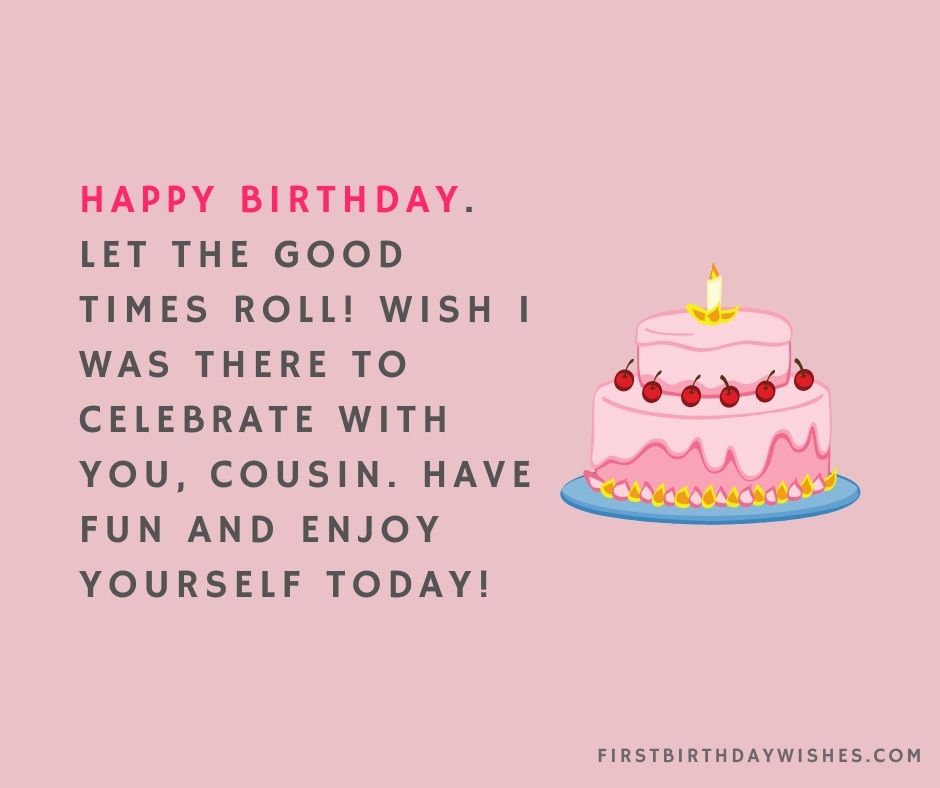 6. It is such a blessing to have a caring, encouraging, and supporting cousin like you. Wishing you the greatest joy on your Big Day!
7. Thank you for being the kind of person who knows all my flaws, but accepts and loves me anyway. You are more than my cousin. You are my bestie.
8. No matter how much you grow up, for me, you are always going to remain the youngest, the dearest, and the smartest cousin!
9. A cousin who's so dear and unlike any other will always be more like a real-life brother! Happy birthday, cousin brother!
10. You are just one of the best cousins I could have had. You have also been a great friend, and I hope you have a great day. Wishing you a fabulous birthday.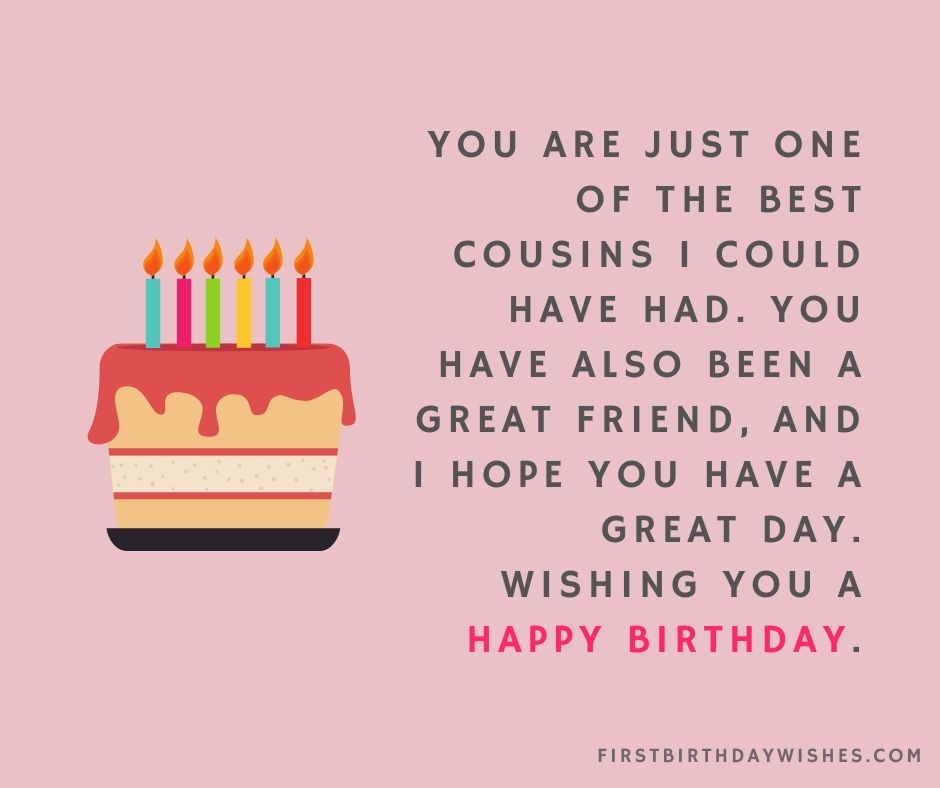 11. Always stand firm on your ground cousin brother. Never forget your values and try to be a virtuous man. Happy birthday!
12. Happy Birthday. To My Amazing Cousin, Woohoo! It's your day! Go crazy and enjoy it! I can't wait to see what wonderful things life brings you this next year.
13. The warmest greetings are for my dear cousin. Your smile and warm manner will conquer the world. You are the best! Happy birthday!
14. You are more adored than you could possibly realize. I hope that on your birthday you receive enough love to last a lifetime cousin. You can start with mine. Happy birthday!
15. We might only be cousins, but I think of you as one of my best friends. You are definitely the coolest cousin, and I hope we share lots more unforgettable moments.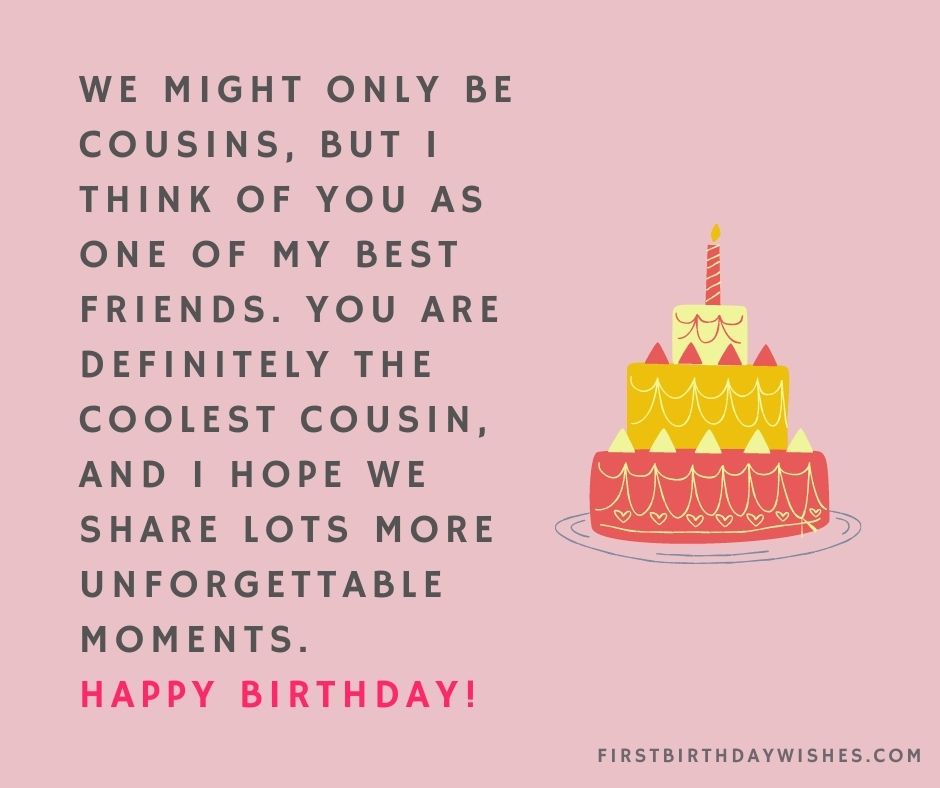 16. Cousin, on your birthday I wish you to continue moving forward so successfully. Happiness is waiting for you. Happy birthday!
17. Happy birthday! This message might be little but the wishes it holds are huge for a cousin brother as great as you in the whole world, there are very few!
18. My brother, I know you want to do something unique, something life-changing. I wish you for that on your birthday. Love you and enjoy!
19. Happy Birthday. For my sweet cousin, You are all kinds of wonderful. I'm wishing you the most scrumptious and delightful birthday ever!
20. Cousin, today is a very special occasion – your birthday! We all hope you have a happy one, may all or sorrows come to an end and all of your dreams come true!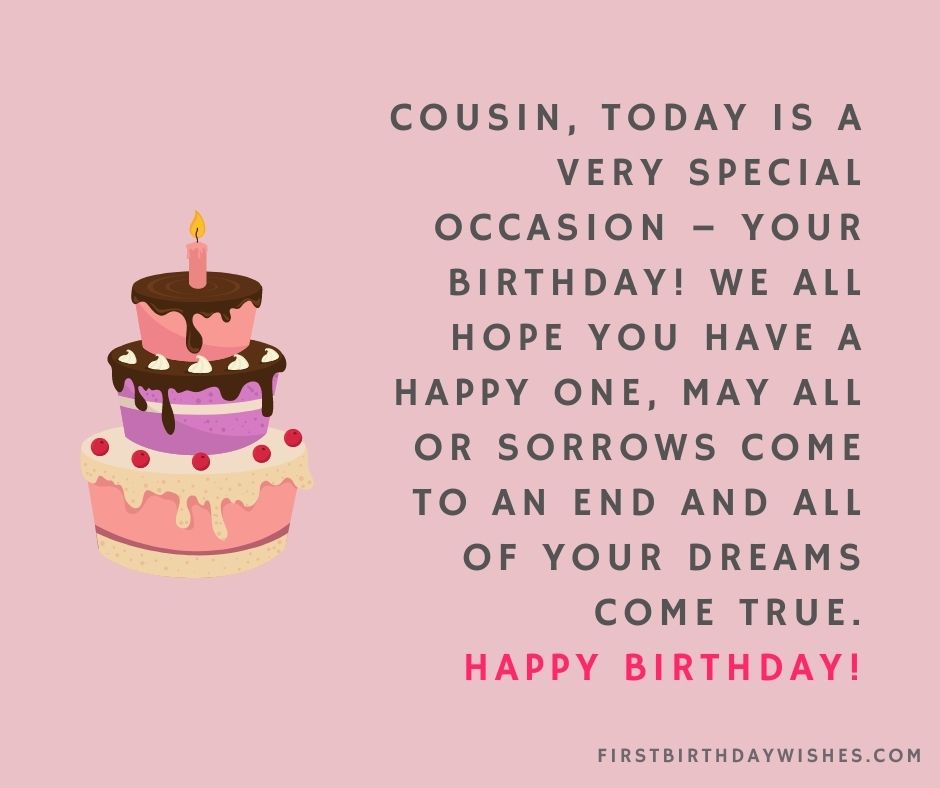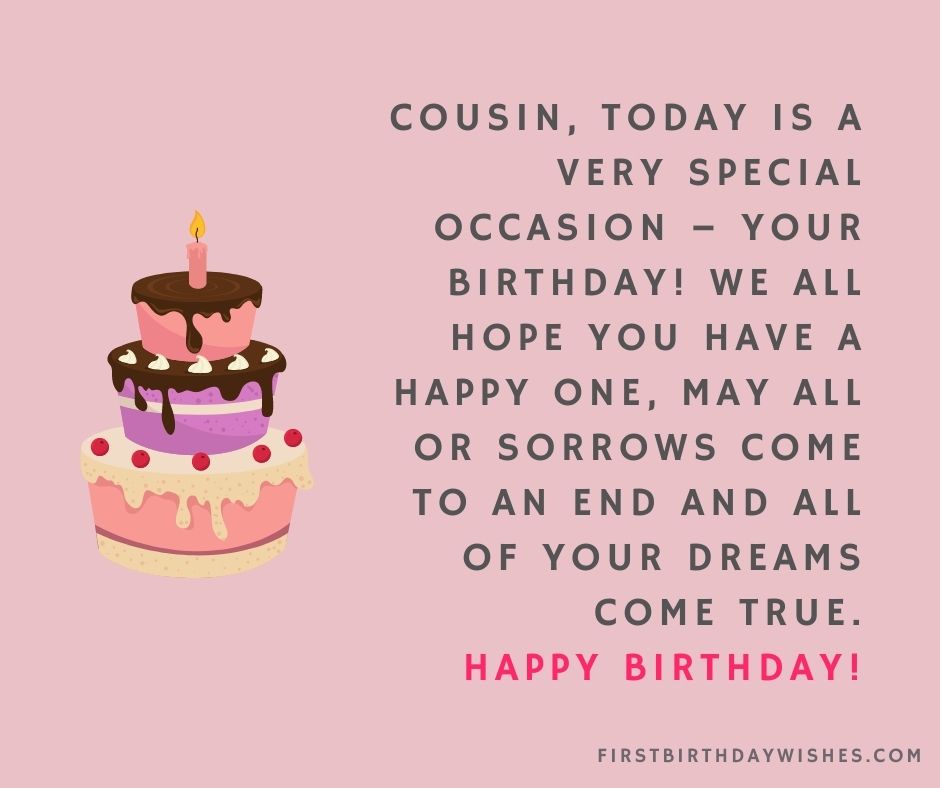 21. Every birthday is a new page in your book of life. Make sure to fill your pages with generosity, kindness, and love. You should start with generosity, and share that delicious cake with your favorite cousin!
22. If you have happiness in your life, everything else will come with it. I wish you all the happiness in the world on this special day. Have fun, my cousin.
23. Cousin, I know that you have a great wife, so on this day, I wish you to have great kids. You will be a perfect father. Happy birthday!
24. Often crazy but always great fun to be around, you're my cousin brother and I wouldn't have you any other way! Happy birthday to you!
25. My lovely cousin brother, you are a handsome boy like me! You don't ruin your life. Study and do hard work. Wishing happy birthday!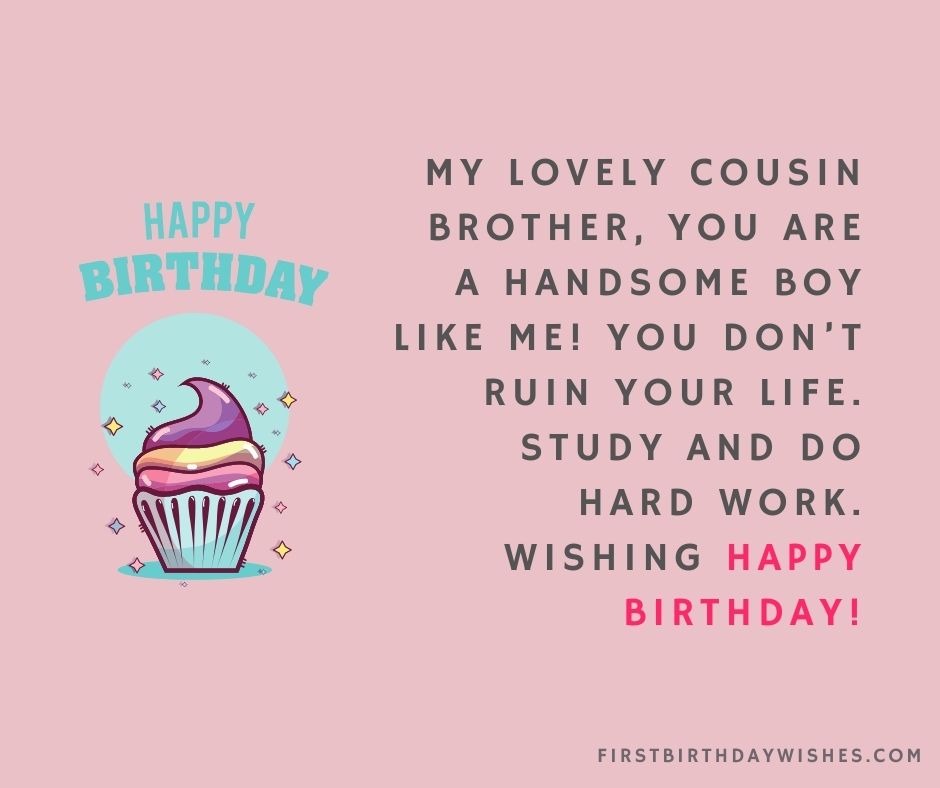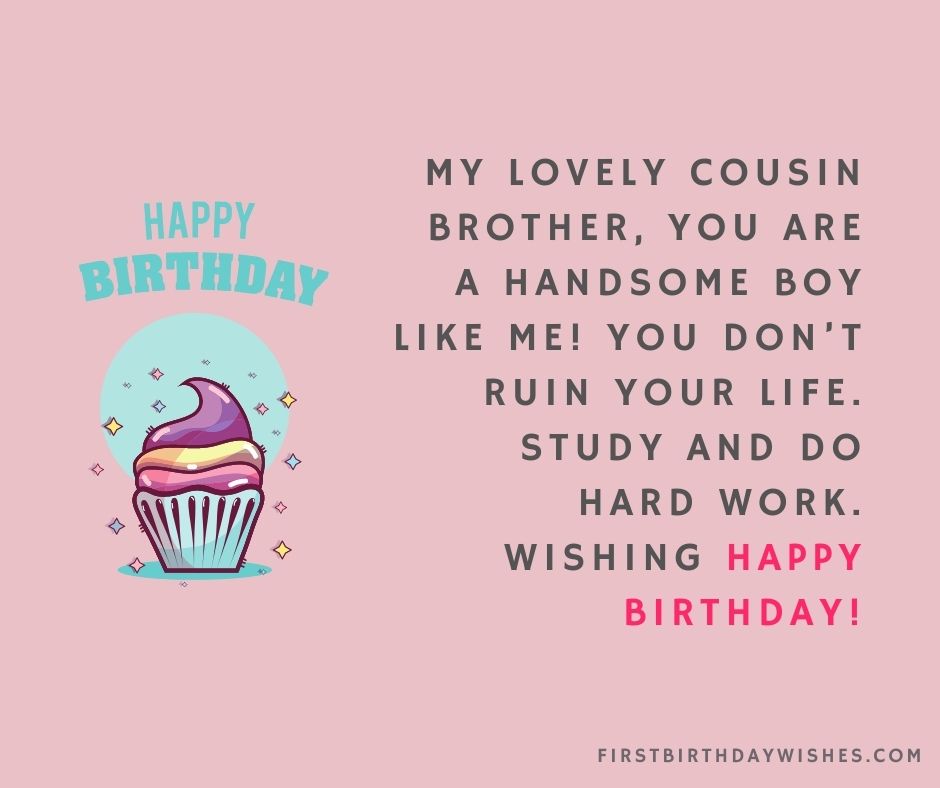 26. Cousins are a little slice of childhood. I'm grateful I had you in my life to love, cherish, and annoy. Happy birthday!
27. Let me congratulate my favorite cousin with this important day. Wish you the greatest party and greatest friends. It's your time to shake your body!
28. Family is connected not just by blood but by heart. Even distance and time cannot break apart our bond. I love you cousin and always will no matter what we go through. Have a wonderful birthday.
29. Keep doing good things in your life, and continue filling your life pages with wisdom and good deeds. Happy birthday my dear cousin.
30. It's wonderful to have a chance to wish you on your Birthday a lot of joy, luck, happiness, success, and fortune in life!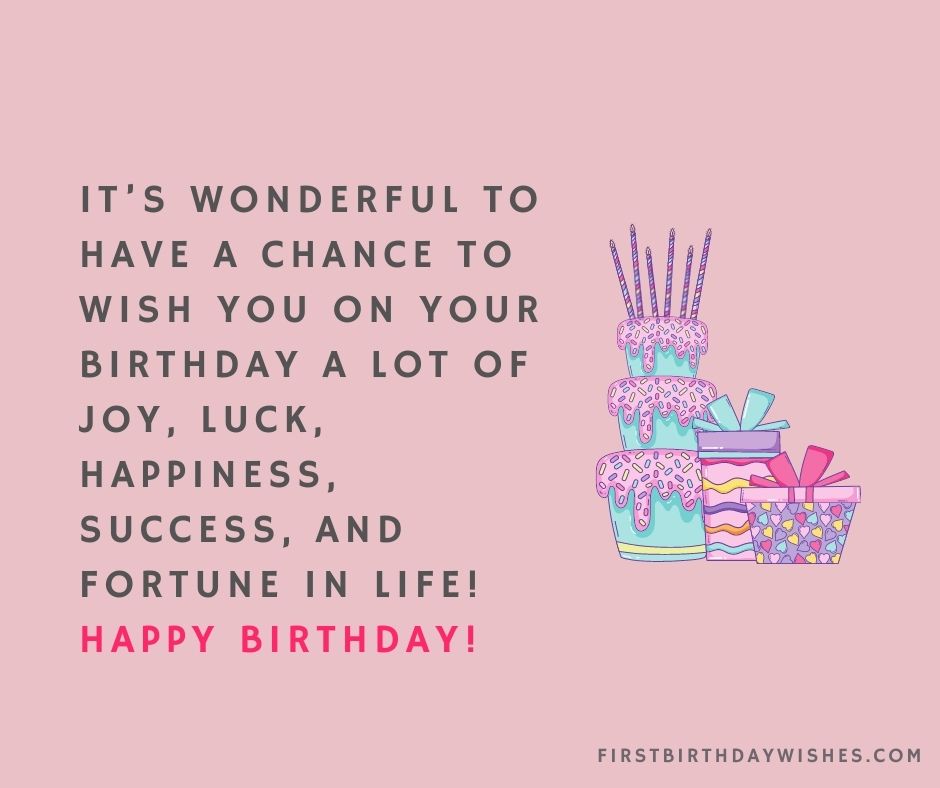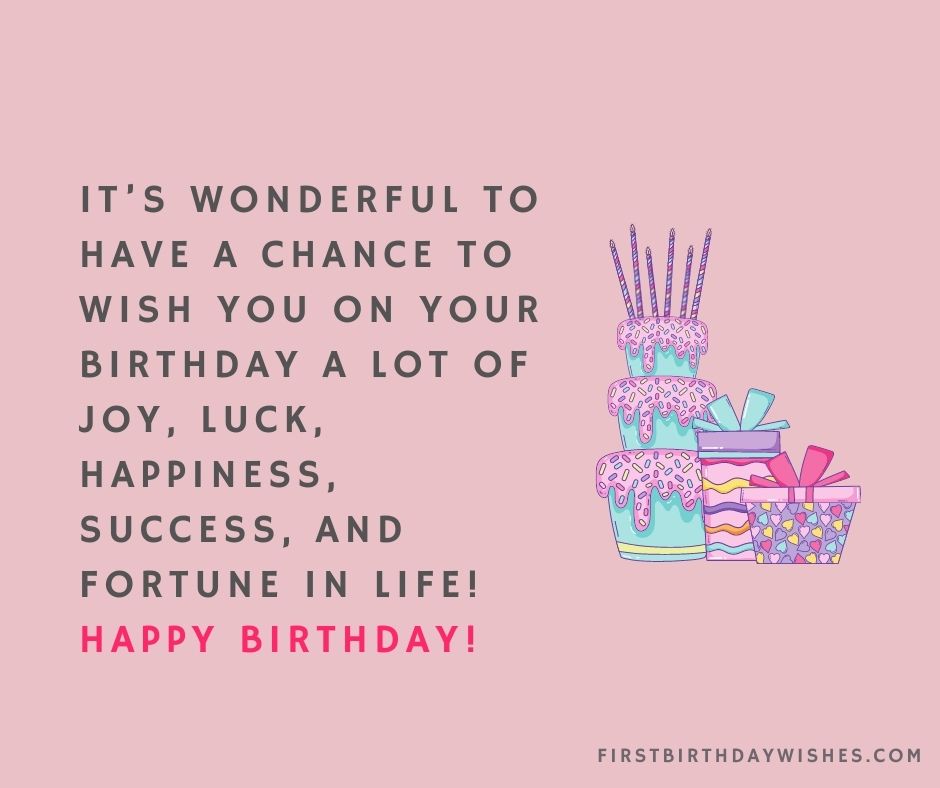 31. Happy birthday, my dear cousin! May everything about your special day be as sweet as the guy that you are, especially your cake!
32. I wish you a happy birthday cousin brother. May your life all be wonderful and surprising and full of happiness. Love you and celebrate well!
33. If only I will have the power to give a gift of immortality, then I certainly would give it to you so you will be able to live forever. Happy birthday to you my beloved cousin.
34. Wishing you a happy birthday, even if we don't talk much, but I still wish you the best of luck, I hope you live an amazing life! Happy birthday!
35. You mean the absolute world to me because you are the type of person who gives so unselfishly. I hope to be even half the person you are one day. Happy birthday!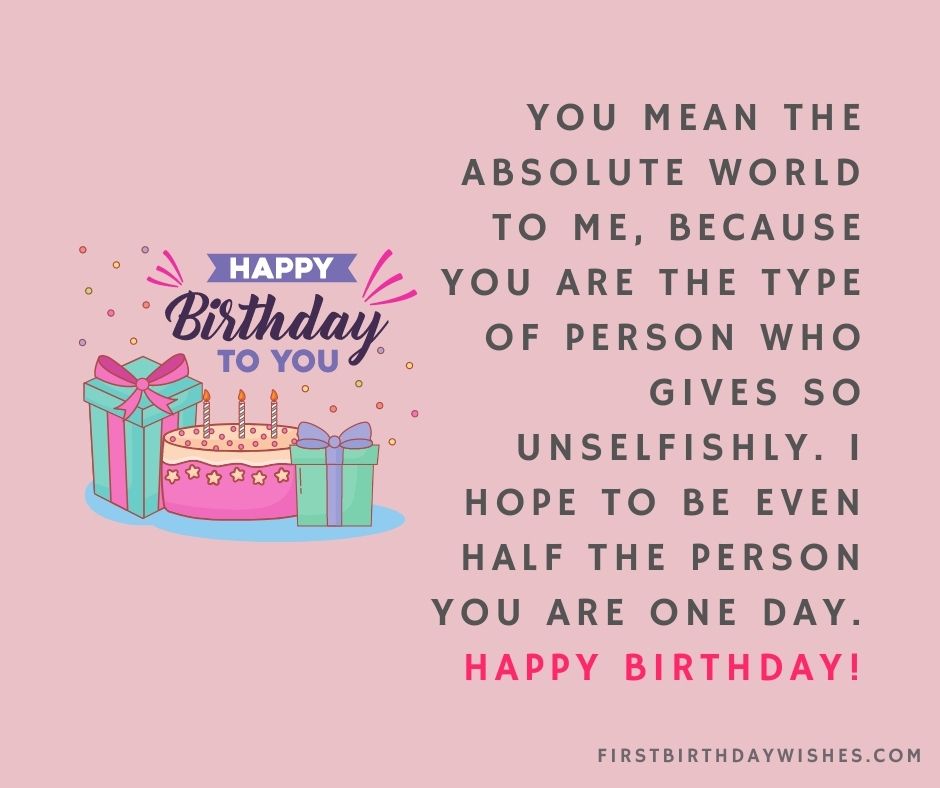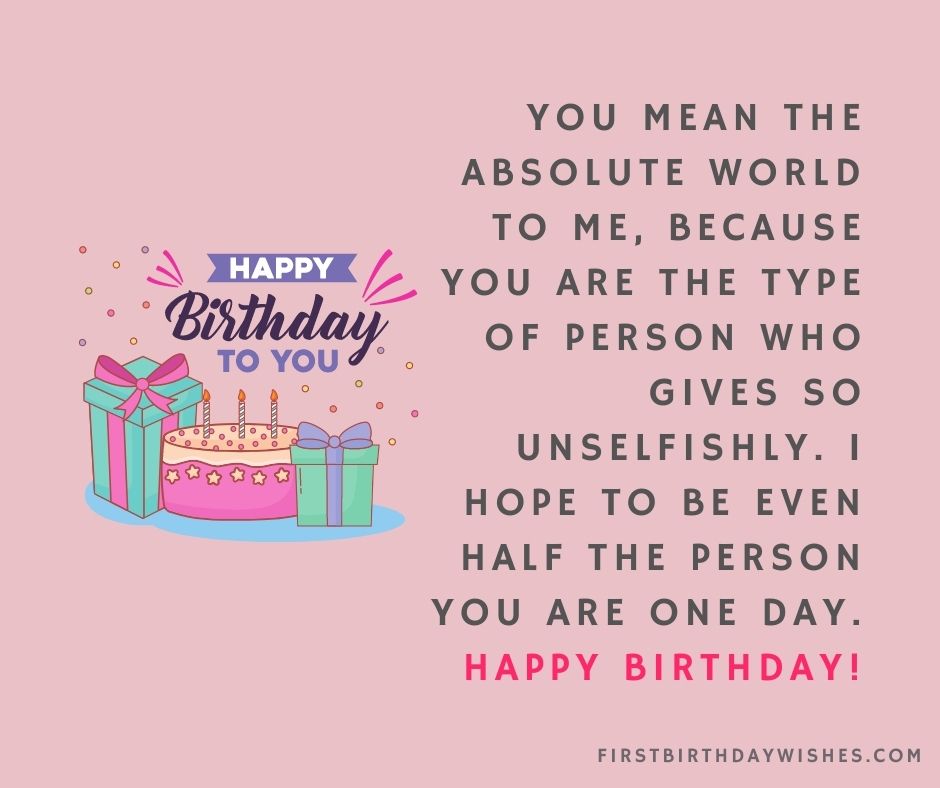 36. You are such a special person in my life; I honestly do not know what to wish for you. But let's start with lots of happiness, more success, good health, to love and be loved.
37. Dear cousin brother, there are two powerful forces that you must have- imagination and dreams. On your birthday, may your all dreams come true.
38. My dear cousin, now that it's your birthday, I wish that you will continue to grow wiser and I would like to let you know that I am grateful for all the success you have achieved in life.
39. The great moments that we shared are among the best moments of my life. I'm so happy to have such a special cousin! May you have a perfect birthday!
40. I am convinced I have the best cousin in the world, and I hope the feeling is mutual. From one phenomenal cousin to another I wish you a happy birthday!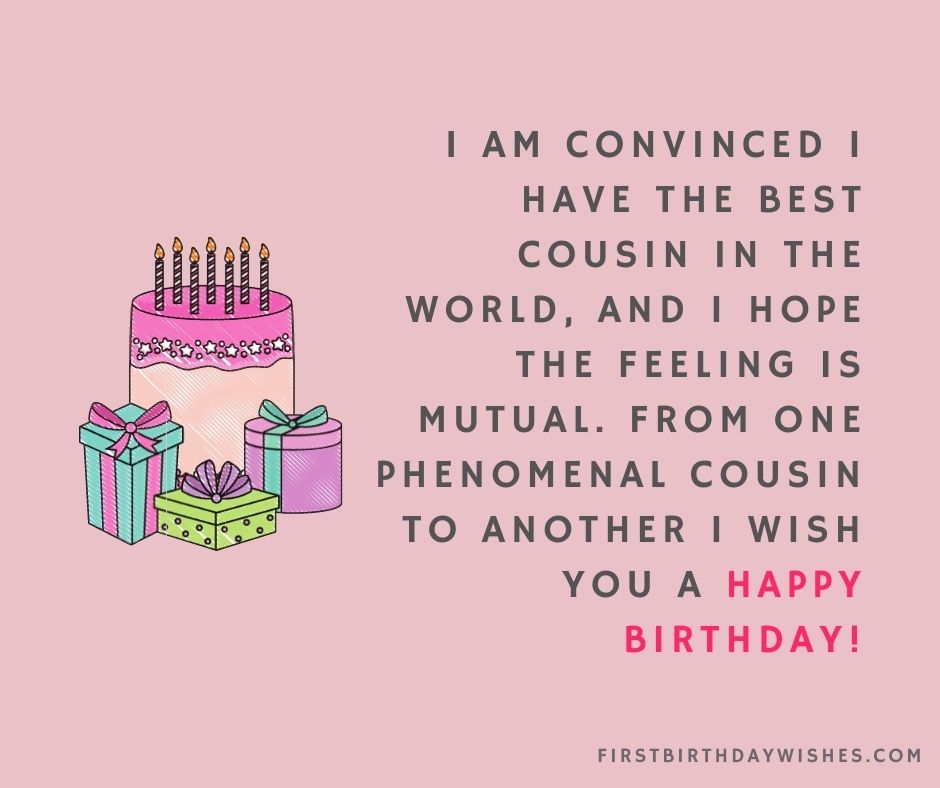 41. Now that it is your birthday, I hope you continue to grow wiser with each passing day. I would like to tell you I am grateful to have you in my life, and I am proud of all the success you have achieved.
42. Today I'm giving you your favorite gift cousin brother. You mean a lot to me. I want you to be successful in life. Wishing happy birthday!
43. To my beloved cousin, remember that each and every birthday signifies a new chapter in your life. I wish that you continue to do good things and fill this new chapter with more wisdom and great deeds.
44. No matter how much time went by since we saw each other, I have a feeling like we were just together. Happy to be your cousin, have a great Birthday!
45. I hope that this year you wake up with a smile on your face every single day. At least I know you will tomorrow because I got you the best birthday gift ever. Cake. Happy birthday, cousin!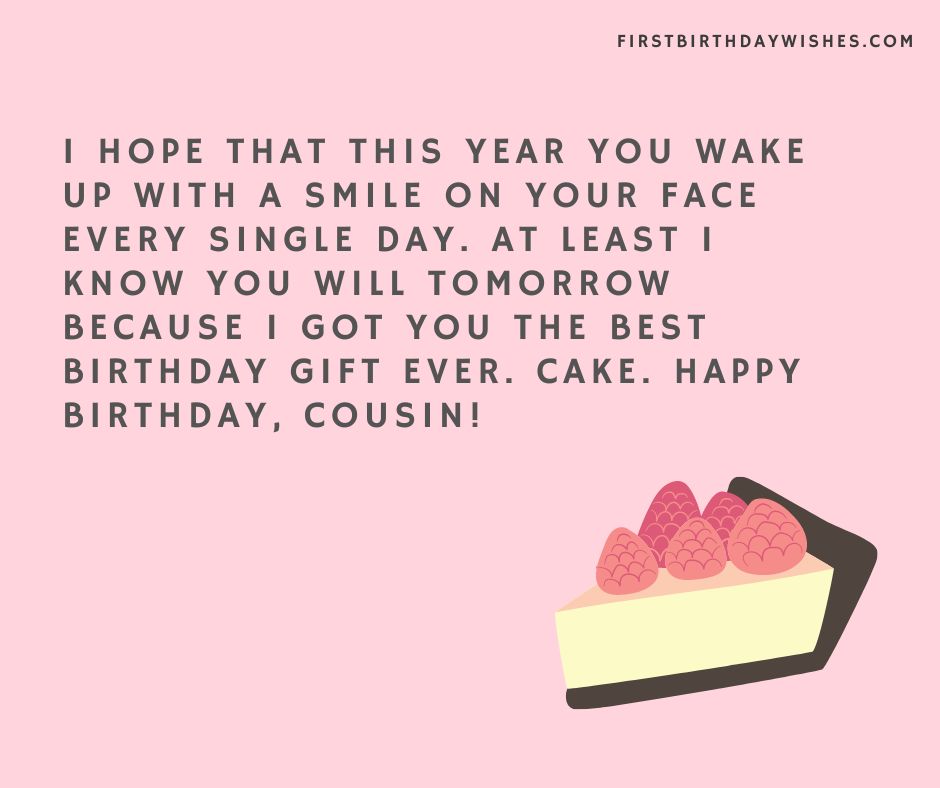 46. Cousin Brothers might not be brothers from the same mother, but they are as supportive as our own. So wish him on his birthday with these beautiful Birthday Wishes for Cousin Brother.
47. Cousin, we are definitely a family, cousins tried and true. Best Birthday Cousin. I am so happy I'm related to you.
48. Lovely Birthday. Cousins forever. My cousin's very special and loved a whole lot too. Because my cousin is you because my cousin is wonderful. Friends are forever, cousins are for life.
49. If I had the ability to give immortality to the people I love I would surely give it to you so that I can have you forever. Happy birthday to my beloved cousin
50. You are really special to all of us!! You have made our life brighter, you have filled it with more laughter and more joy with your perfect character. I want you to know that we love how much you. Happy Birthday take care of yourself.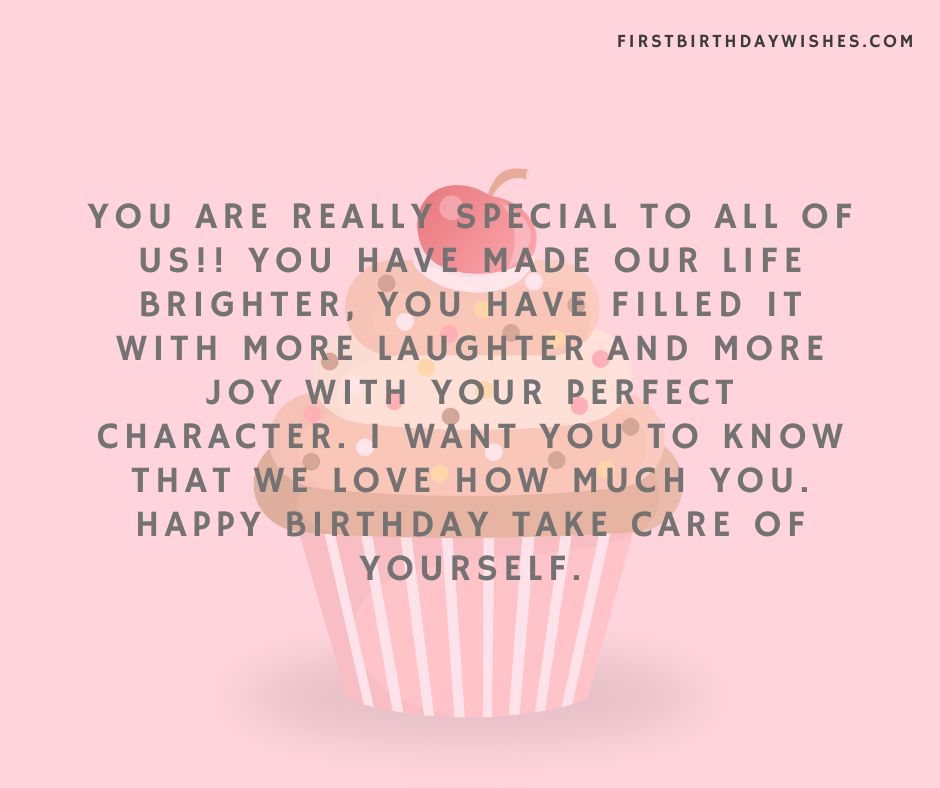 55. No matter what happens in life, never give up on chasing your dreams! You've got this bro! Happy Birthday!
56. A cousin like you is one of the best gifts I have received in my entire life. Thank you for being an inspiration. May you have a fantastic birthday celebration and may you continue to inspire more people
57. On your special day, what I really wish is your all dreams come true and be keep happy your every birthday. Happy birthday greatest cousin!!!
58. To my dearest cousin, may your future see all of your wishes and dreams come true. Happy birthday!
59. You are truly a blessing to us! We are happy every day to have you as our cousin. Happy birthday and always remember that we love you forever.
60. Growing up with you was sheer fun, When we were together we needed nothing and no one, I miss being around you, Happy Birthday my partner in crime!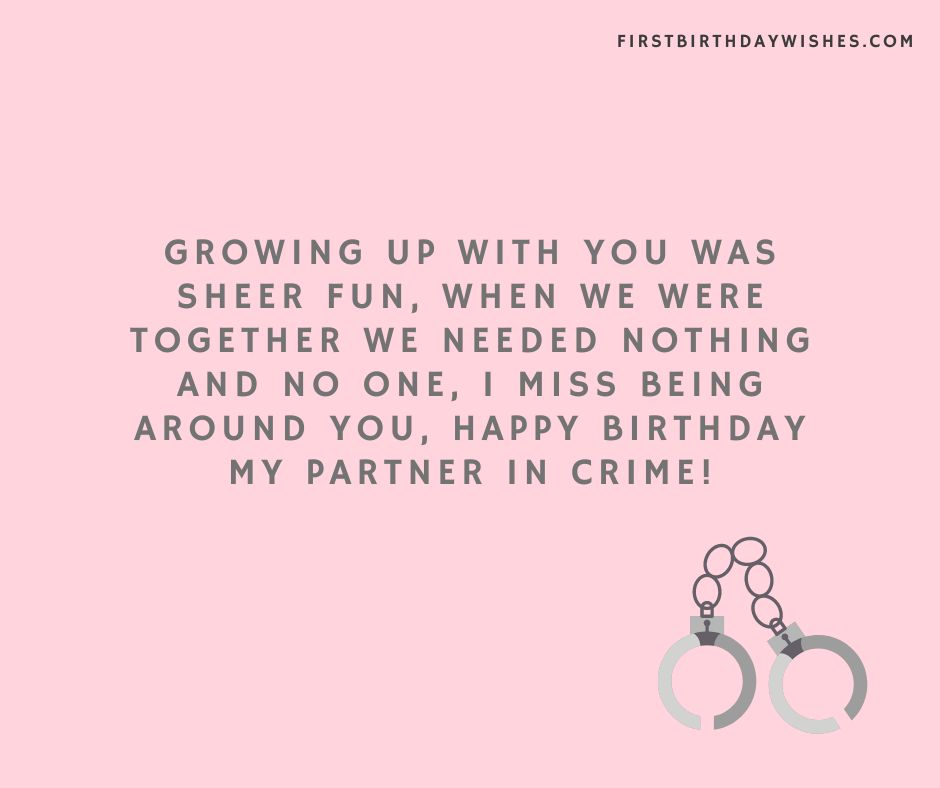 If you have liked our article on the Best Birthday Wishes for Cousin Brother, then send it to your loved ones. You can find more birthday wishes for your loved ones on this website. Just check Birthday Wishes, go and find the appropriate wishes for your friends and family.
Join us on Facebook | Pinterest
More Wishes
Birthday Wishes For Cousin – Happy Birthday Cousin Quotes and Messages