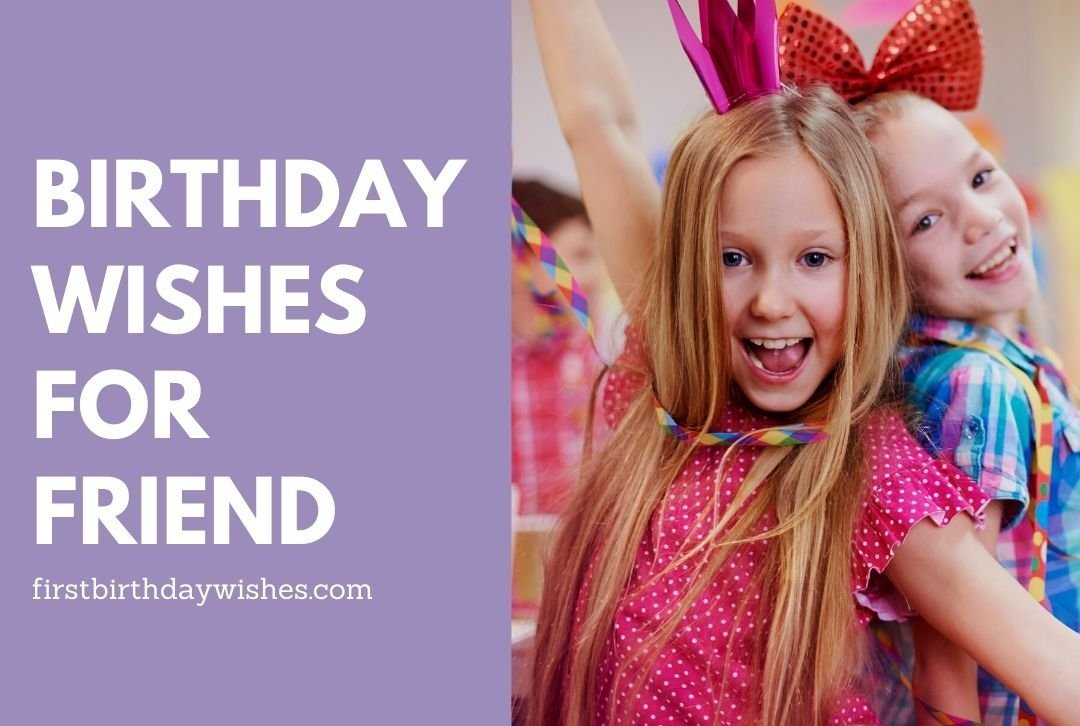 Birthday wishes for friend: Friendships are born in a million different ways, and all good friends strive to achieve the same goal: to be a source of love and support. Finding a true friend feels like a gift that keeps on giving, even when they are thousands of miles away. Through stressful classes, figuring out a career, and inevitable breakups, your best friends have been there. And yes, when you got those bangs you shouldn't have tried in the first place, they consoled you.
Whether you're celebrating life or happen to experience an unexpected bump, you can always rely on your friends to be there for you. A listening ear, a shoulder to cry on, or finding the silver lining in a less-than-ideal situation — all of it means the world to you simply knowing you have your friends supporting you every step of the way. Let yours know you love them with one of these sweet friendship quotes that perfectly describe your unique bond.
And if it is your friend's birthday, then you'll want to find just the right way to say, happy birthday friend. Finding the perfect words for someone who has played such an important role in our life can be a challenge, but never fear, this collection of birthday wishes for friends and birthday wishes for a best friend will help you do just that. We hope that you and your friend have the best birthday celebration together, and many more!
Birthday Wishes for Friend
I feel so lucky to have you as my friend. I hope your birthday is as special as you are. May all of your dreams come true. Thanks for being such a great friend. Happy birthday!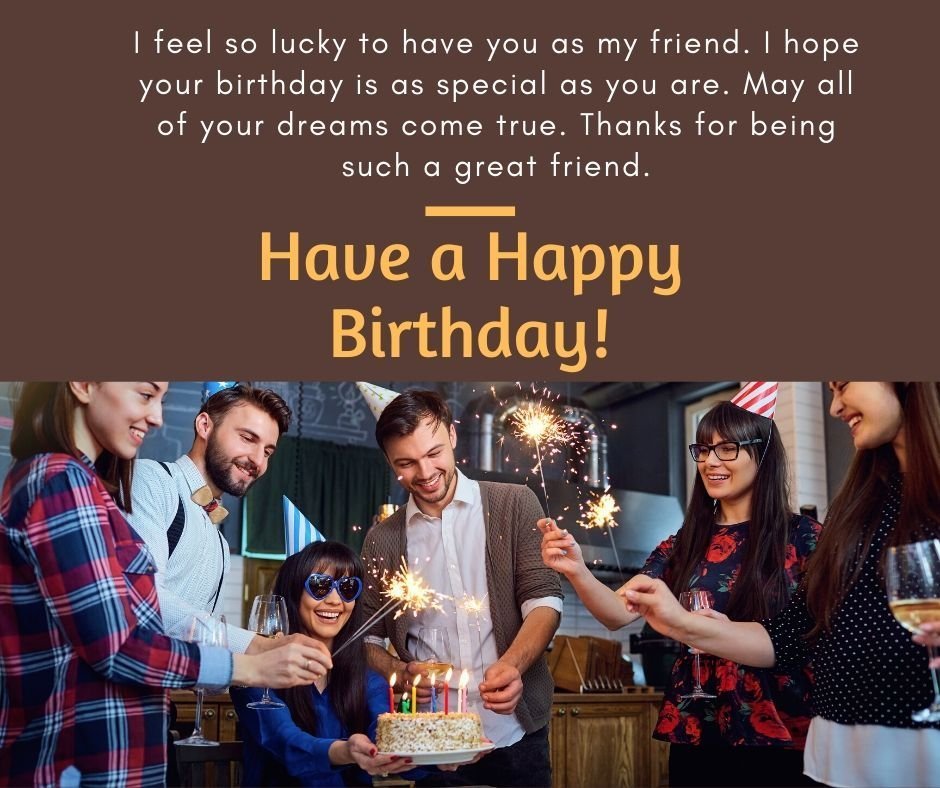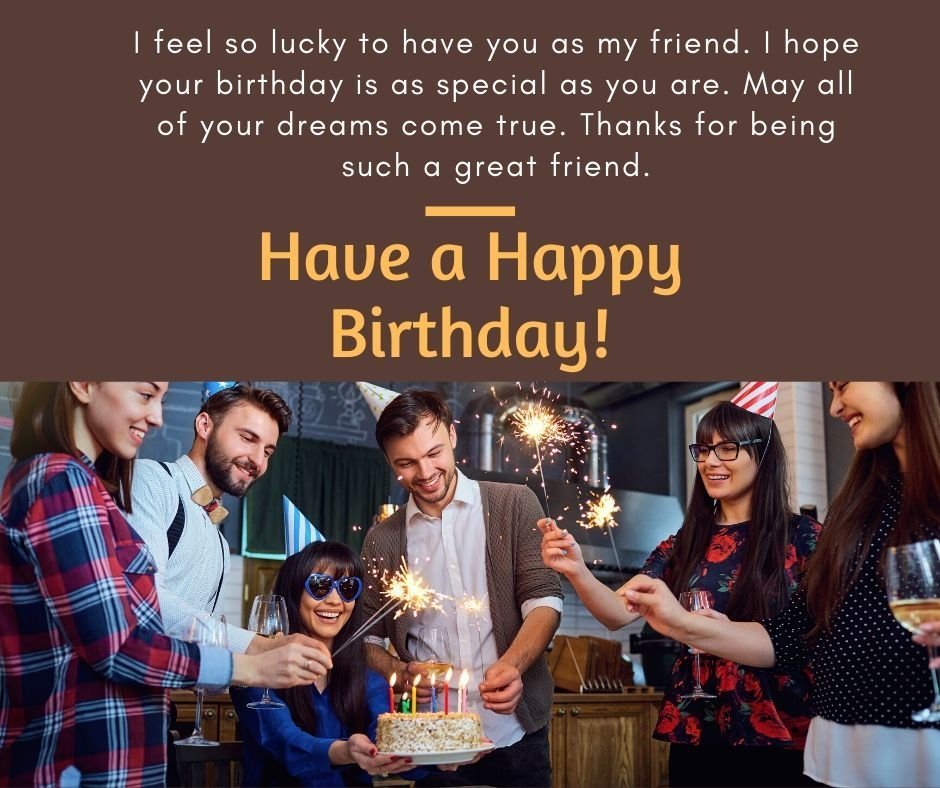 I am looking forward to many more years of friendship and birthdays with you. Have a fantastic birthday!
I want to wish you all the love and happiness in the world, all of which you deserve. Happy birthday my friend!
I am grateful that you are a part of my life. All the best on your birthday!
In good times and bad, I'll always be by your side. Happy birthday, friend!
Happy, happy birthday! You deserve all the cakes, love, hugs, and happiness today. Enjoy your day my friend!
May God shower you with blessings today and always. Happy birthday wishes to my friend!
Because I have a friend like you, every day feels like a holiday. I can't wait to celebrate your birthday like it's the most important day of the year!
Your presence in my life means a lot. I'm so glad that you are still in my life. Happy birthday, dear.
Happy, healthy, exceptional, rocking birthday to you my friend!
Every step of the way you were there for me. Through thick and thin I'll always be there for you. Happy birthday, wishes!
Thanks for another year of being an awesome friend. Happy birthday dear friend!
Happy Birthday Friend Wishes
Good friends don't just get old. They only get better as they age, like a fine wine. Wishing you a birthday full of joy.
You guided me all the way of my life and appreciated every success of mine. Happy birthday, friend.
I still remember the day I met like it was yesterday. I am the luckiest person to have friends like you and the date when you are born is a moment of great joy for me. It represents the day a very special person came to this world. Happy Birthday!
This morning I woke up early and since then my memories are reminding me that it's the birthday of the sweetest person I've ever met in my life. Happy birthday.
The most important day of the year has come and you know why it is so important? Because it's the birthday of the most important person in my life. Happy birthday, buddy.
You can find one superhero in a million or billion. True friends like you are rarer than that and maybe found once in a lifetime. Happy birthday.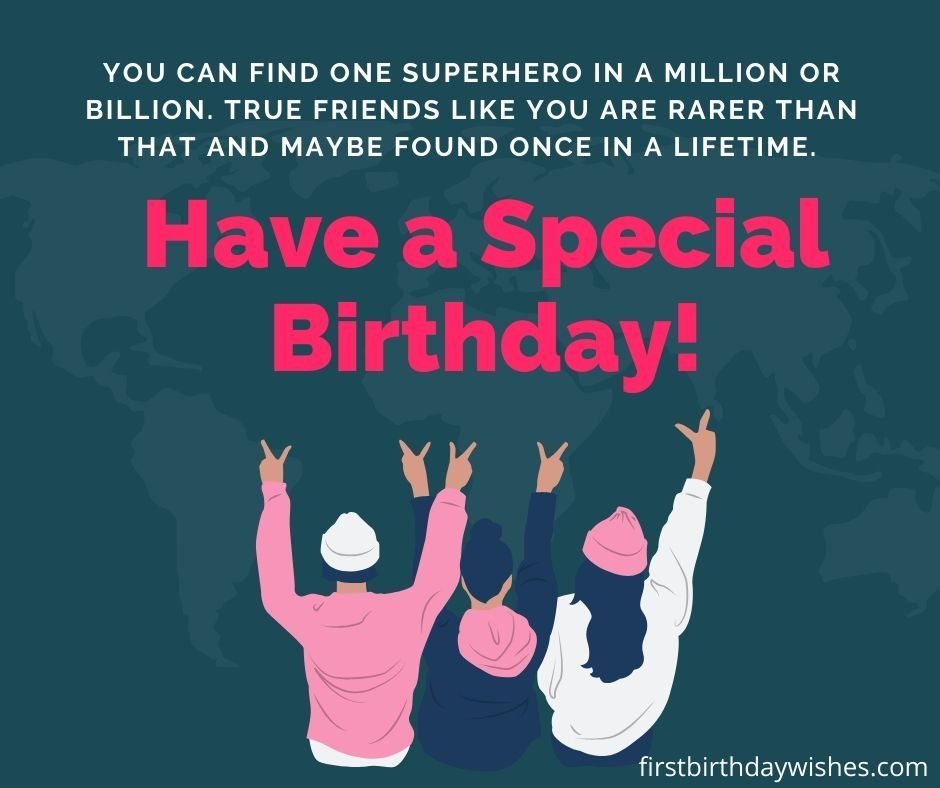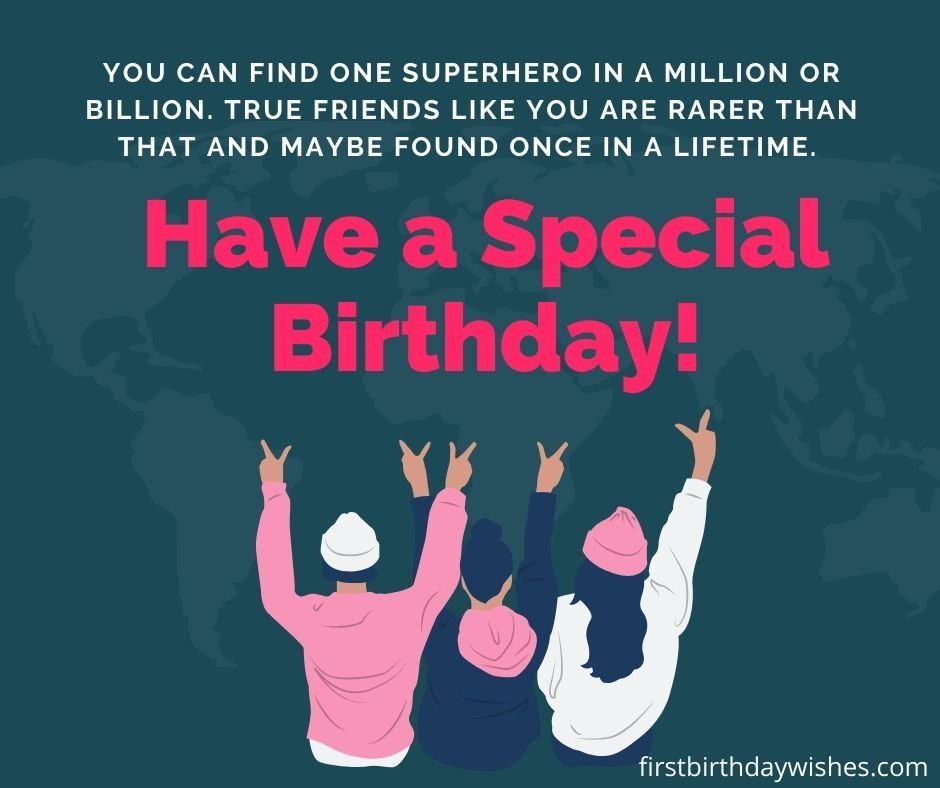 I am grateful for your true friendship. I hope your birthday is amazing as you are my best friend!
You understand me like nobody else. I have a sibling in you, my friend. Happy birthday to my best friend!
I wish you love, hope, and everlasting joy and happiness. Thank you for being my best friend!
Thank you for always being there to listen. I am so lucky to have you as my best friend. Enjoy your birthday!
I am so thankful and happy that we are best friends. Enjoy your birthday and happy birthday wishes to my best friend!
Your simple hug has wiped my tears many times and your simple laugh has brought happiness into my face. Happy birthday.
I am so proud to be your best friend. May you have a happy and healthy birthday!
Maybe tonight you've become a year old, but still, you are my true and best buddy. Anyway, happy birthday.
Birthday Wishes for Best Friend
Your birthday gives all the people whose lives you've improved, a designated day to tell you how happy we are that you entered the world on this day.
For all these years you've been my true friend and guide. Please remain forever. Happy birthday.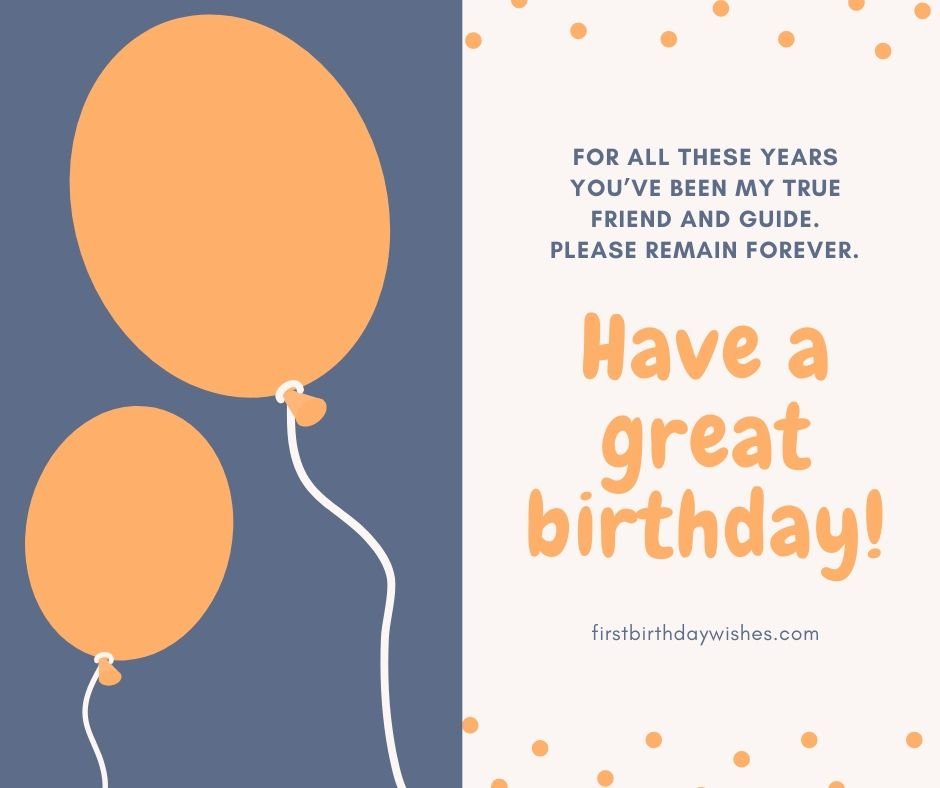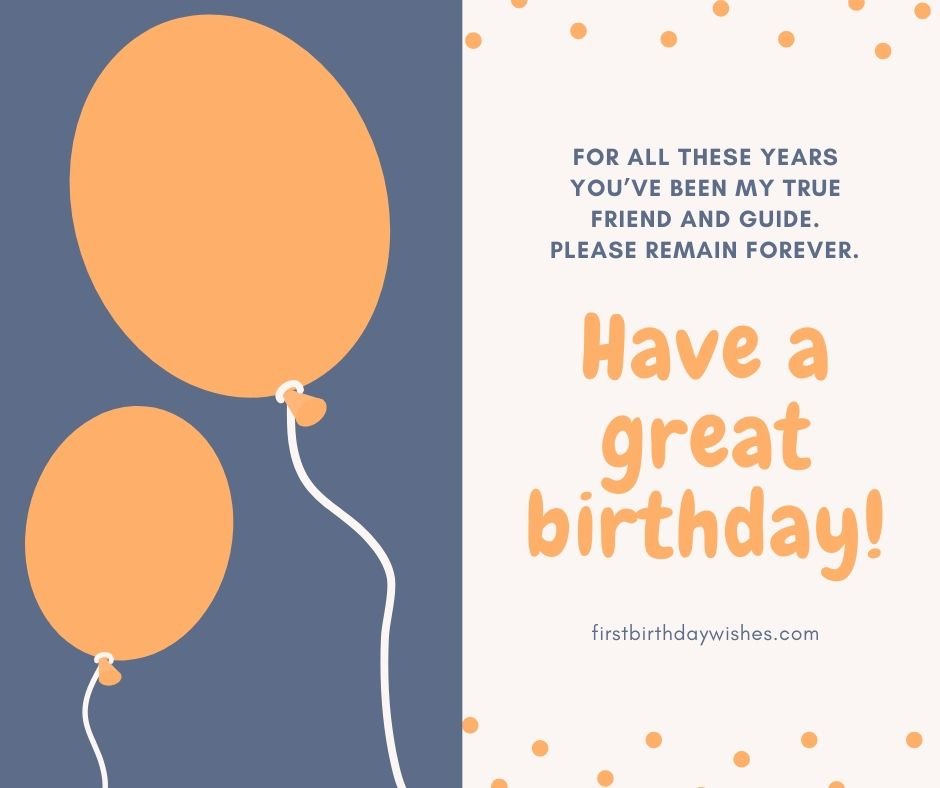 We fought many times, but it was you who make up every time. You are truly special. Happy birthday.
We have arranged a huge celebration because a special person like you always deserves the best birthday celebration party. Happy birthday.
You are the one who understands me best. You guided me through the rough way of life. Thanks, buddy. Wishing you a happy birthday.
This is the day when my best buddy came into this lovely world. I'm so lucky that God sent you in my life. Happy birthday.
You're the best because you're the greatest friend in all the land. I know that I'm not wrong. Happy birthday.
I had many friends but all I needed was to find a true friend like you. Let's celebrate your birthday.
You and your birthday, are truly very special in my life. All I need is your presence throughout life. Happy birthday buddy.
You are such a wonderful friend that needs no description. I hope many more blessings will follow you in the coming years.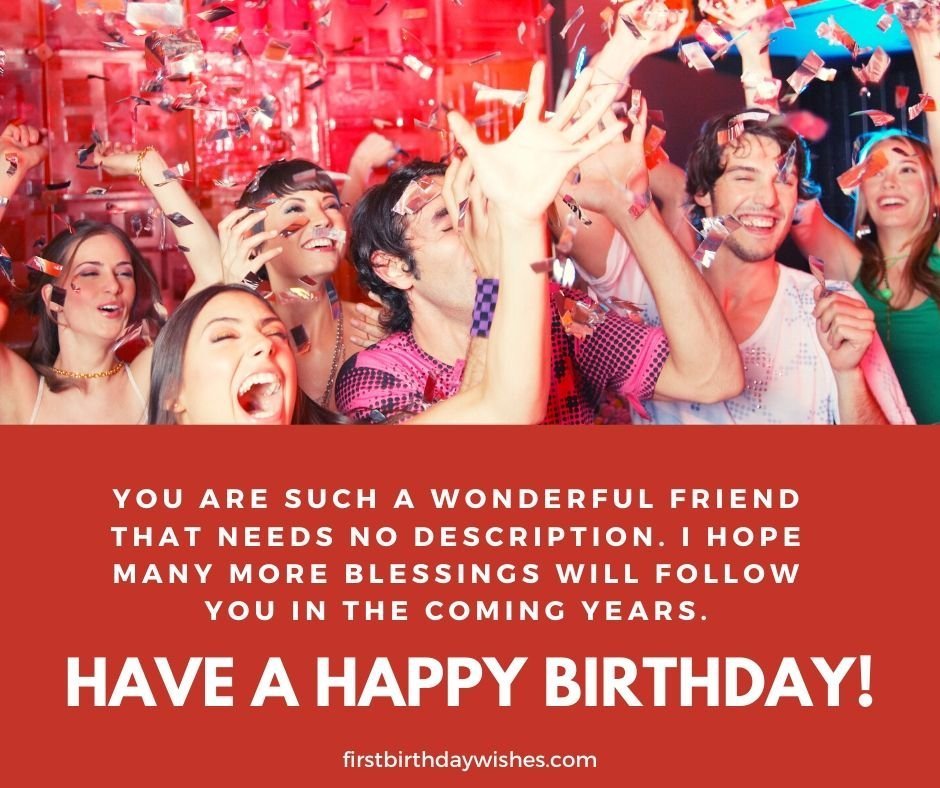 Let's celebrate your birthday party and get started to another remarkable year of your life. Live long, my dear friend. Happy birthday.
Your birthdays come around every year, but it's very true that friends like you can only be found once in a lifetime. Wishing you a colorful birthday party this evening.
Your loyalty and integrity cannot be compared to anyone else. You are truly different in every aspect. Wishing a very happy and colorful birthday to the person who admires me the most.
My birthday wishes for you is that you continue to love life and never stop dreaming. May beauty and happiness surround you, not only on your special day but always.
Happy Birthday Best Friend Wishes
For many people, the word friend is just a sequence of letters. For me, it is a source of happiness and strength because of you. Happy Birthday, buddy!
A friend like you is more priceless than the most beautiful diamond. You are not only strong and wise but kind and thoughtful as well. Your birthday is the perfect opportunity to show you much I care and how grateful I am to have you in my life.
Your birthday is a wonderful occasion all by itself. But for me, it's a special day allowing me to thank God for all that your friendship has meant to me
You are a great friend of mine, so I hope you'll have the greatest birthday celebration tonight. Happy birthday.
I'm wishing you all the best my best friend, on this very special day. Keep your eyes open to watch all the surprises that I've arranged for you. Happy birthday.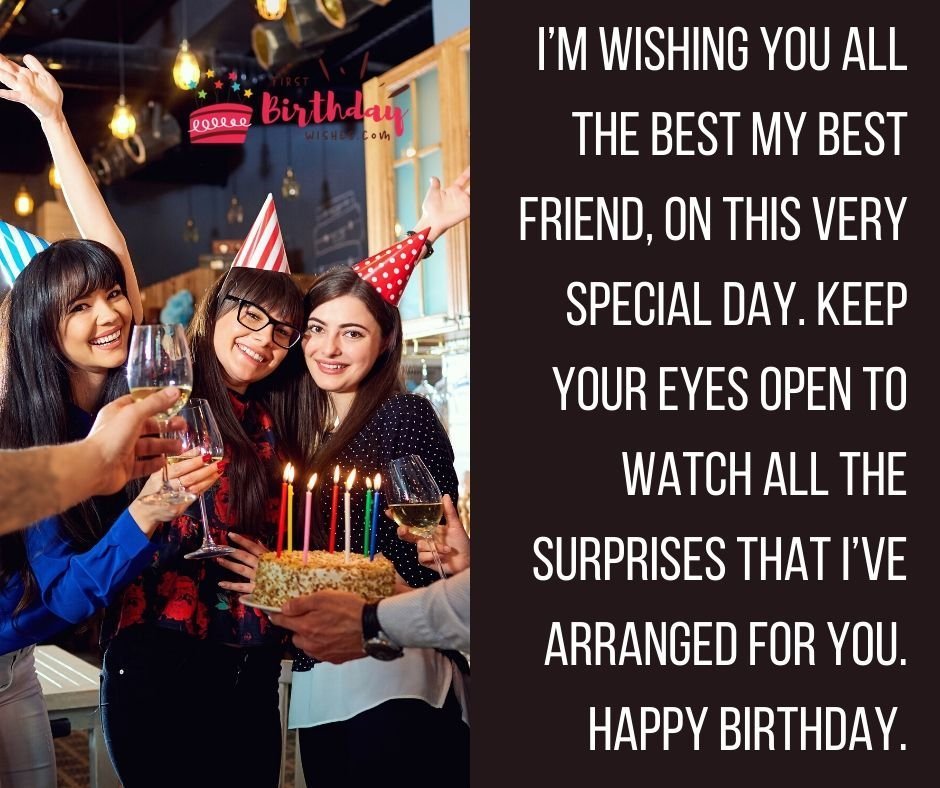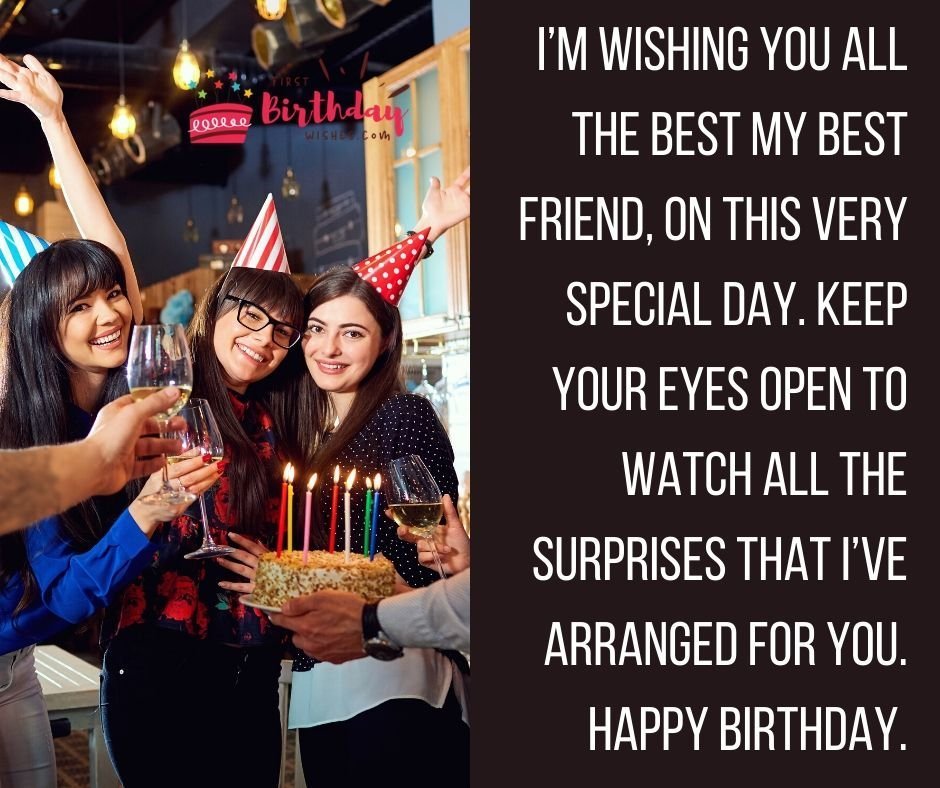 We talk every day, meet every day, and still, it feels that I need your company. Friend, I've placed you in my heart. Have a nice birthday.
You cannot stop having birthdays and of course, you cannot stop being my best friend. It's really great to have a friend like you in my life. Happy birthday.
Whether you have known them for a day or a decade, your friends are some of the most important people in your life. As you celebrate the years of their lives on their birthdays, be sure to tell them how thankful you are for their friendship and support. Birthdays are a special day of the year, so make this a celebration your friends will always remember with fondness and joy.
To celebrate your next holiday or birthday celebration, be sure to visit our blog for more articles with our best wishes for any occasion!
More Wishes