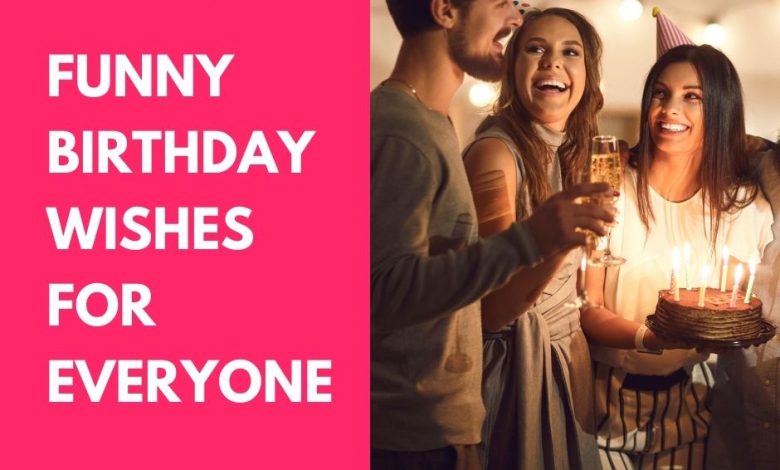 Have you ever heard of birthday blues? Well, most of people experience them. Birthday blues are a situation when people feel extremely low on their birthdays mostly without any reason. Well, help your close ones say goodbye to their birthday blues by sending them the Funniest Birthday Wishes on their Birthday. So here we have brought the best collection of Funny Birthday Wishes and Messages that you can send to a family member or friend to bring a smile on their face on their special day.
Birthday is a special occasion which arrives only once a year for everyone. And somehow we want to make our loved ones feel loved and happy by celebrating this day. One way you can make them happy is by wishing them in a funny way. So if you love them then help them in releasing some happy hormones that will make them look younger in spite of growing older one year.
So here is the coolest collection of amazing Funny Birthday Wishes and Messages for your people. So send them these wishes and bring a smile on their face:
Funny Birthday Wishes
On your birthday don't forget to set goals that are sky high, and spend the rest of the year miserably trying to build a rocket to get there.
It's OK to light the candles on your birthday cake now; I've already alerted the fire department.
I can't believe how big you're getting! Long gone are the days when I could steal cake from your plate and no one would ever be the wiser. Happy Birthday!
It's better to live a short but memorable life than to live for a thousand years. Yet, the way your life has been progressing, you seem to be going for both! Happy Birthday my friend!
Don't worry about the future, I'm sure you'll have a bright one. Don't worry about the past, you can't change it. Don't worry about the present, I don't have one for you!
Forget the past, forget the future and please forget the present too as I did forget to get you one. But happy birthday, dear.
Happy birthday! Today, I would advise you to be nice to your kids. Remember, the older you get, the closer you get to having them choose a nursing home.
Age is just a number, but in your case it's quite a large number indeed. Have a great birthday, my friend!
You've got more than half a century of accumulated knowledge and wisdom! That would be awesome… if you could remember any of it.
I hope you have low expectations for your meal and cake this year, I hear dad's having a go at being the chef. Happy Birthday!
Another birthday comes by with more candles on your cake and less hairs on your head! Happy Birthday!
I always limit my budget on buying birthday gifts according to what that person gave me as a gift on my birthday. Enjoy your gift of nothing!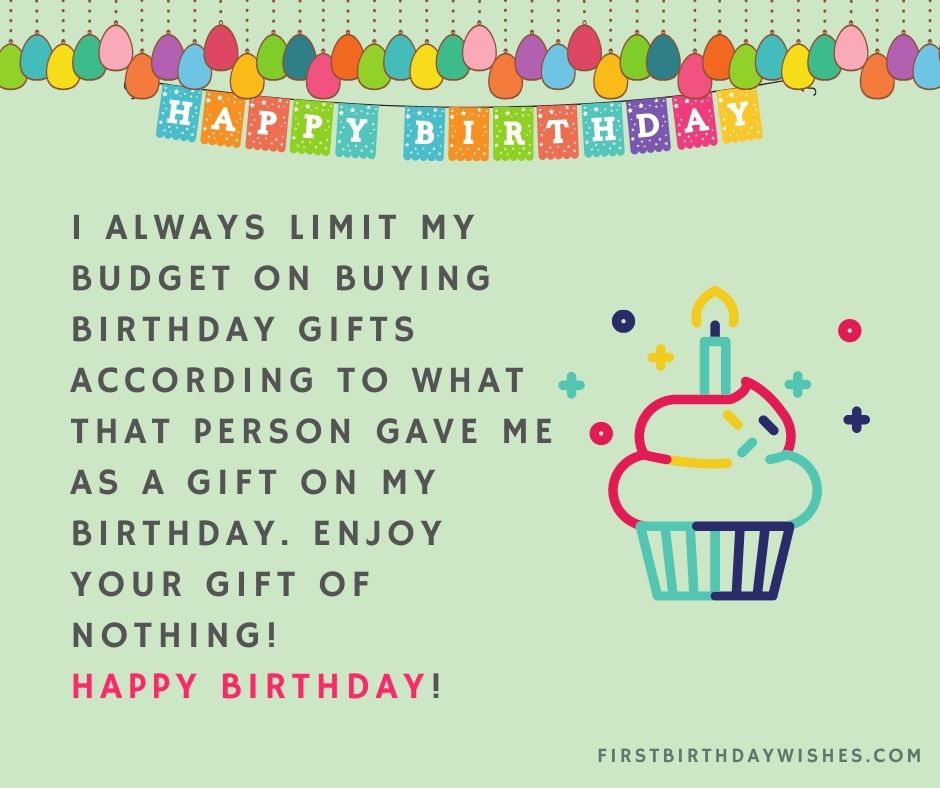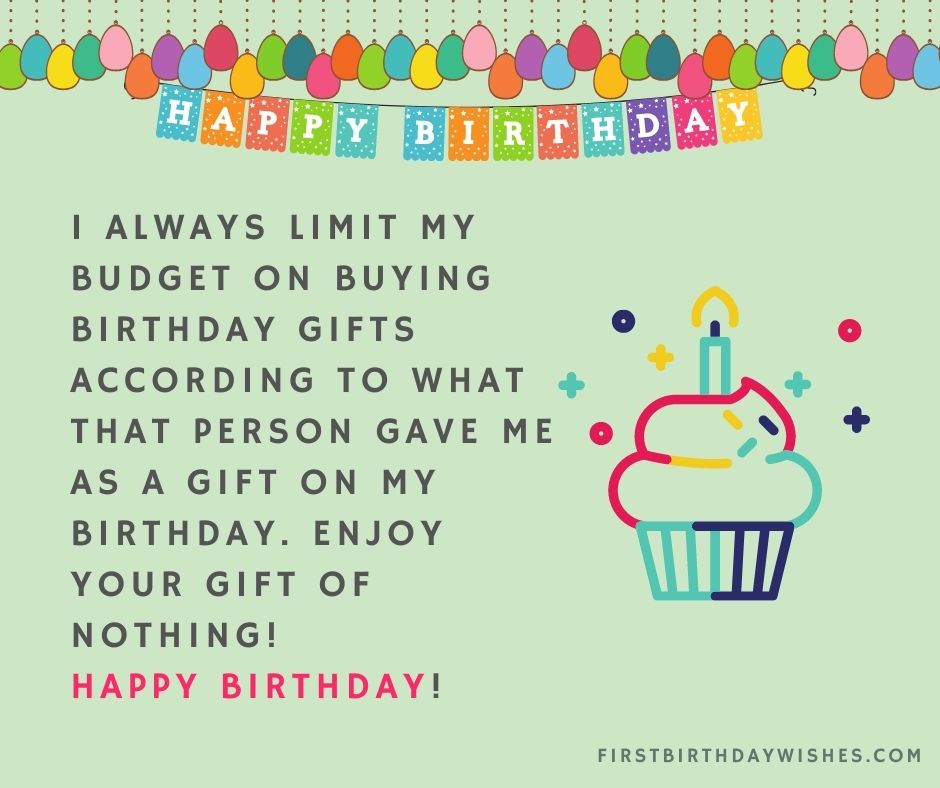 Time runs out faster than a birthday cake on a candy lovers' Birthday in this short lifespan. So you have to make sure to enjoy whatever little there is of it left! Happy Birthday!
Happy birthday to someone I've known forever! You're so lucky to have had such a wonderful, close friend like me in your life since childhood!
Happy birthday to the only person I would rescue in the event of a zombie apocalypse.
You know, I would be a whole lot more excited about you turning one year older if I was in your will. Happy Birthday!
The emergency department is on speed dial just in case you have an unexpected asthma attack blowing the candles.
On your birthday I'm going to share the secret to staying young: lie about your age. Happy Birthday!
Dear hubby, You define my past and my future. And as for the present, I could find nothing for you. So I bought one for myself.
Happy birthday to my bestie; the holder of all my secrets! I promise not to reveal your true age if you agree not to reveal mine!
We all knew this day was coming. It's best to just suck it up and accept it's no longer acceptable for you to eat a happy meal in public.
The secret to staying young is make up… make up an age, then stick with it! Happy Birthday!
If anyone calls you old this birthday, just hit him with your walking stick and throw your teeth at him.
If walking up the stairs to your apartment tonight seems tiring, then you know that this Birthday is the sign that you are getting old. Happy Birthday!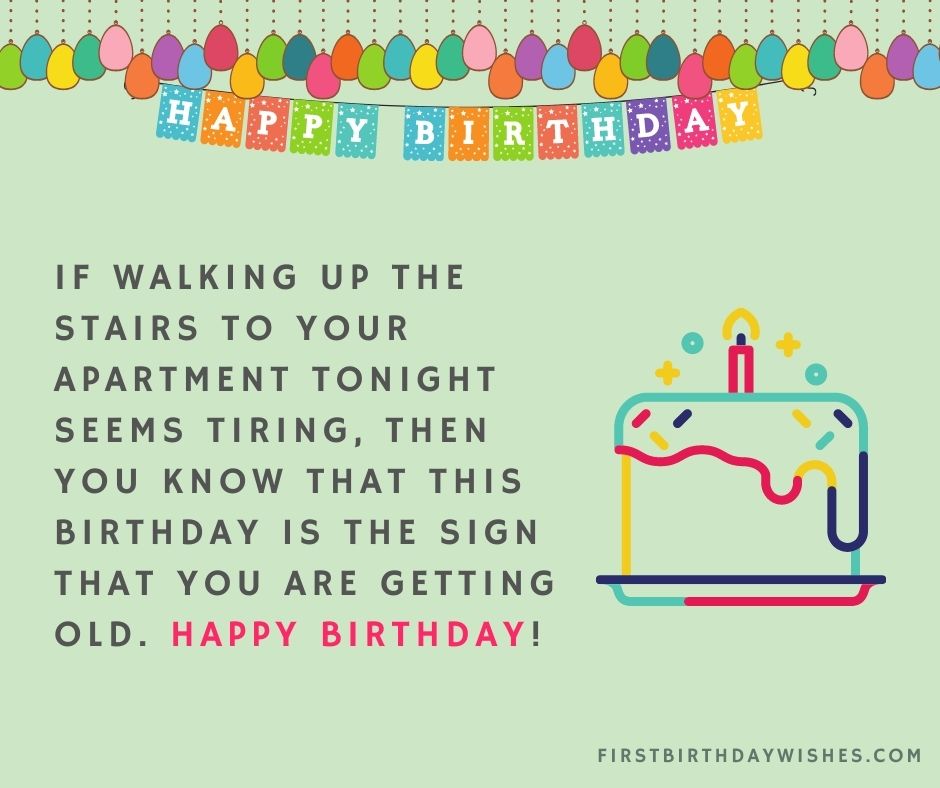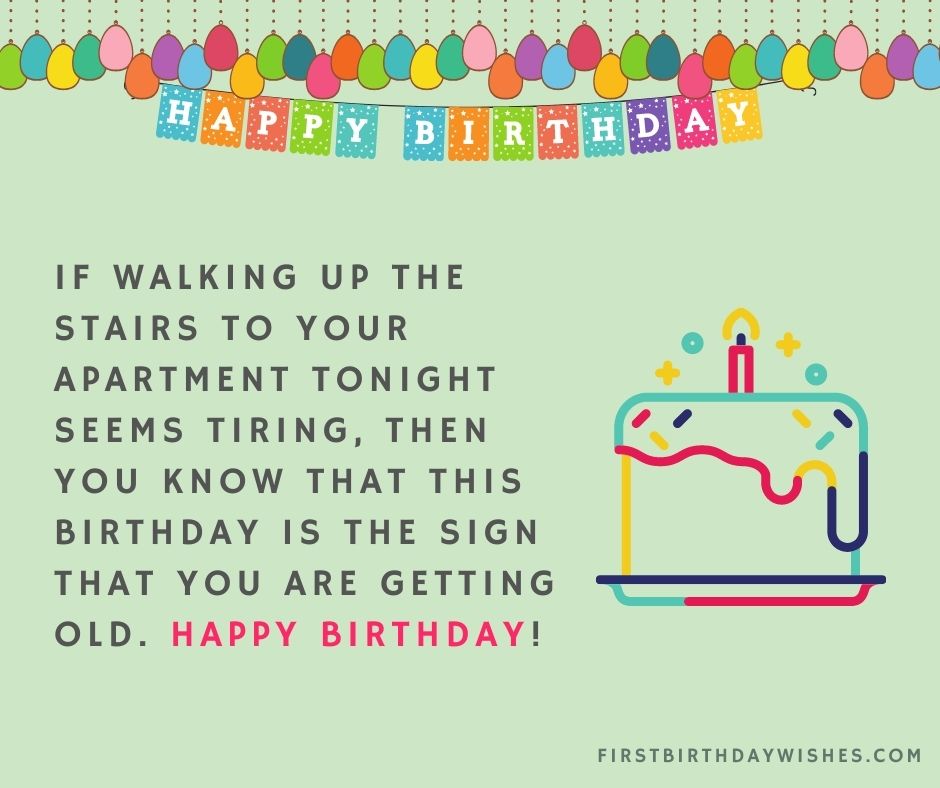 Remember when we stayed up late running from the law? No? Good. I don't either. Happy Birthday oldie!
I was going to give you something awesome for your birthday, but they wouldn't let me courier myself to you. Hence, Happy Birthday!
If reading this message required you to go fetch your glasses, I have sad news. You are old! Happy Birthday!
You are my best friend and because of that, I feel it's my responsibility to remind you not to blow out your candles too hard today as you wouldn't want your false teeth to come out! Happy birthday, buddy!
Getting someone as awesome as me to send a birthday message to you, has undoubtedly been your biggest achievement this year.
I will stop making age jokes on your birthday now… you've reached the age where it's genuinely not funny anymore.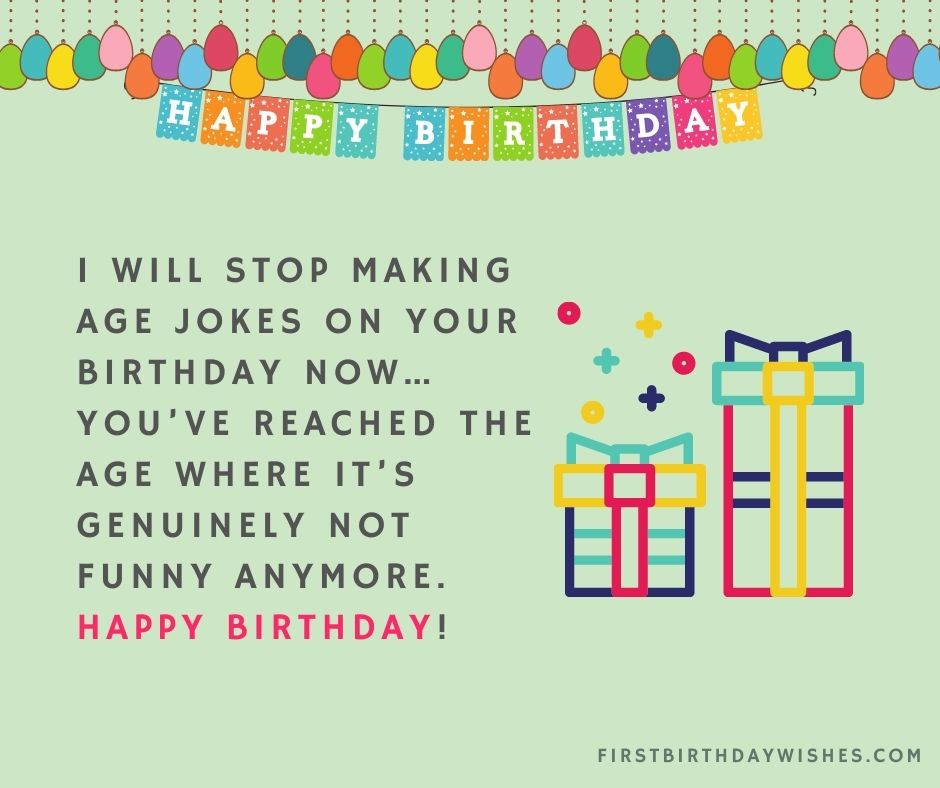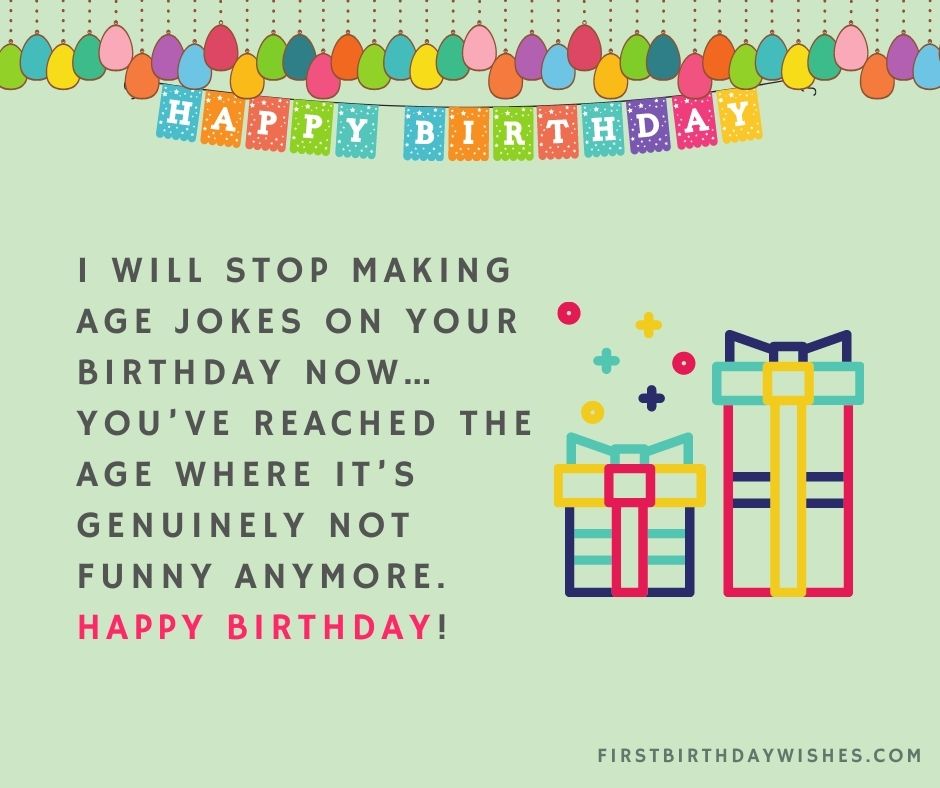 Some say the glass is half empty, others say the glass is half full. It's your birthday, just drink whatever's in the glass!
I made a list about the words of wisdom I wanted to give you for your birthday. It's still blank. Maybe next year.
You should probably enjoy this year's birthday cake. It may actually be the last one you eat with your own teeth! Happy Birthday!
I would wish you, "May all your dreams come true," but I am afraid that, if they do come true, I will have nothing to wish you next year.
The memories we have from our childhood can never be erased… Trust me, I've tried! Happy birthday to you, my old friend!
I wish almighty embraces you with luck to follow up those dreams and also a bucket of water to wake you up from them.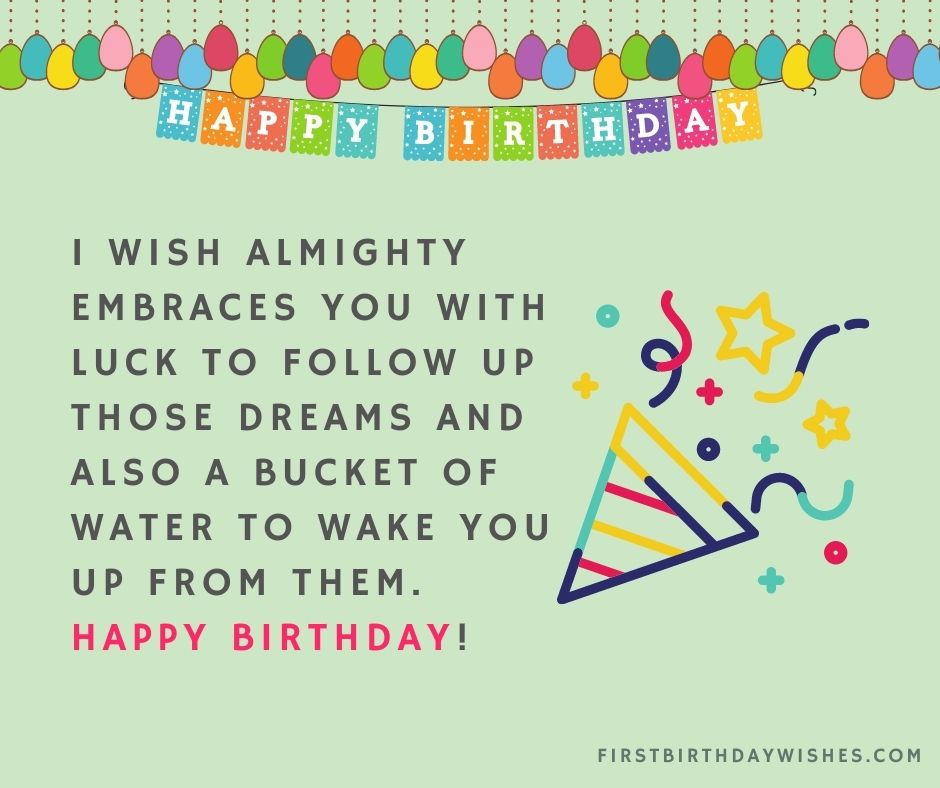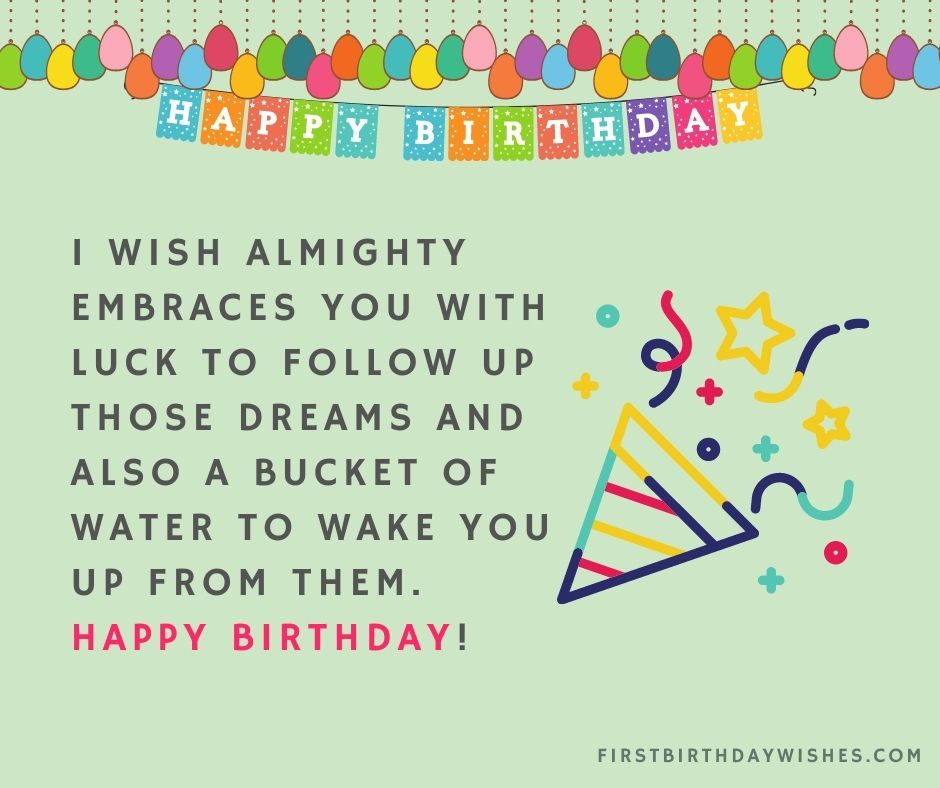 Life was meant to be celebrated more often than just one day a year. Man, you're missing opportunities the other 364 days!
I tried to find something that represented the year you were born. Unfortunately, the thrift shops were closed. Happy Birthday.
Wishing the most beautiful and intelligent person I know a great day. That's me. And to you a very happy birthday.
People may wish you many things. I only wish you two: never and always. To never be sad, and to always be happy.
For your birthday, I wanted to give you something that was both funny and charming, but then I remembered you already have me in your life.
On your special day, I wish you peace, love, insight, relaxation, fun, knowledge, romance, friendship… and all that stuff that doesn't cost anything.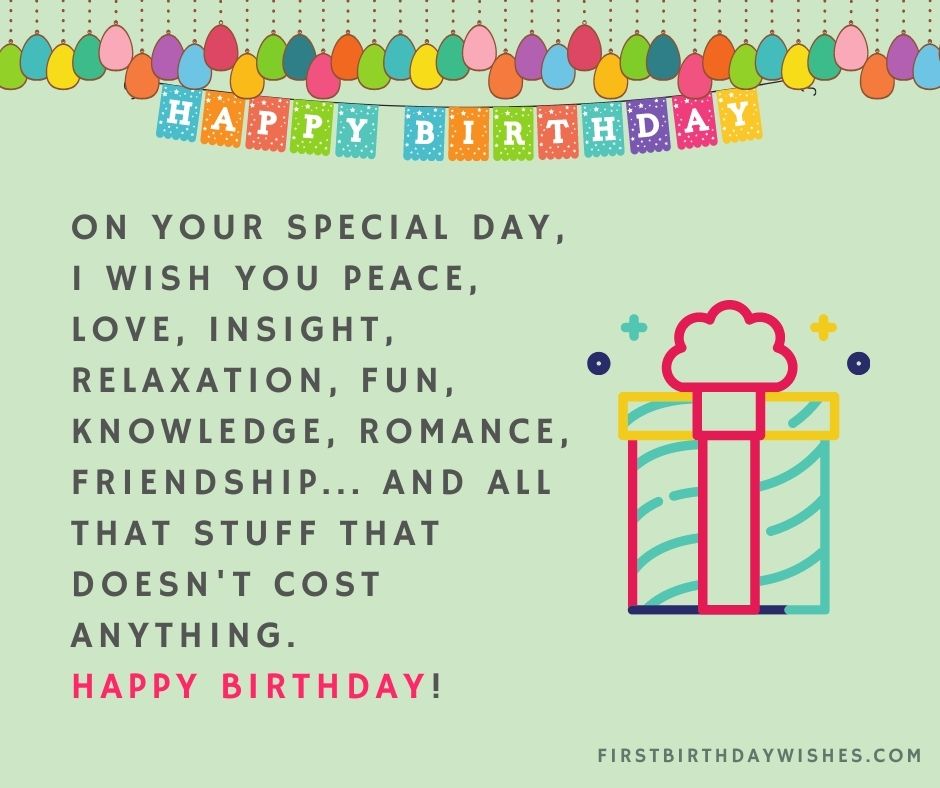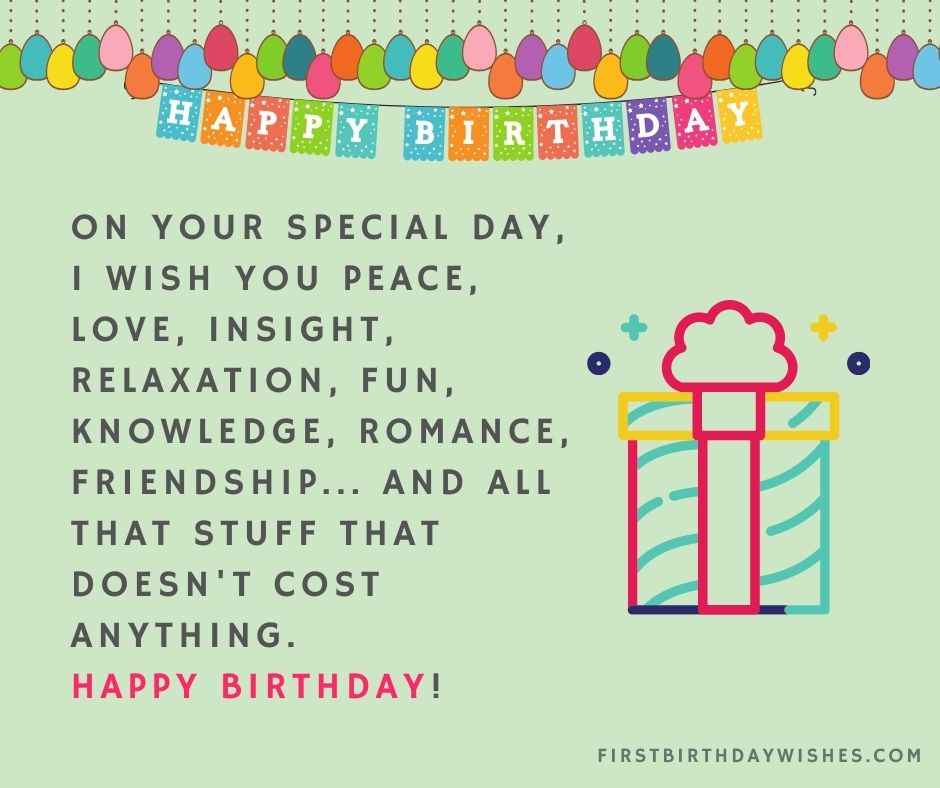 I can never forget your birthday. It always comes after the day you remind me of it. Happy birthday.
Wishing you the happiest of birthdays. May you have the energy and excitement of a 2-year-old but not the amount of their teeth.
Do you know someone I should send a Happy Birthday message to, an anniversary, or anything like that? If you know of some parties, let me know, because I have not eaten cake lately and my blood sugar level is starting to drop!
If birthdays only happen once a year, how do you always manage to look so old? I wish you a great birthday, my friend!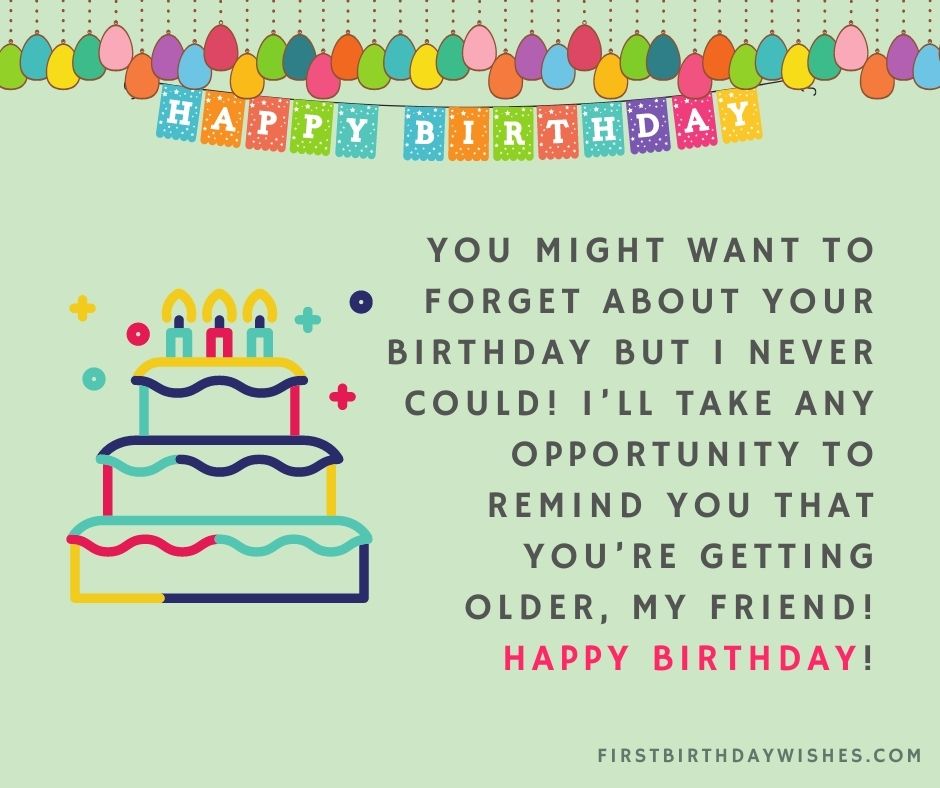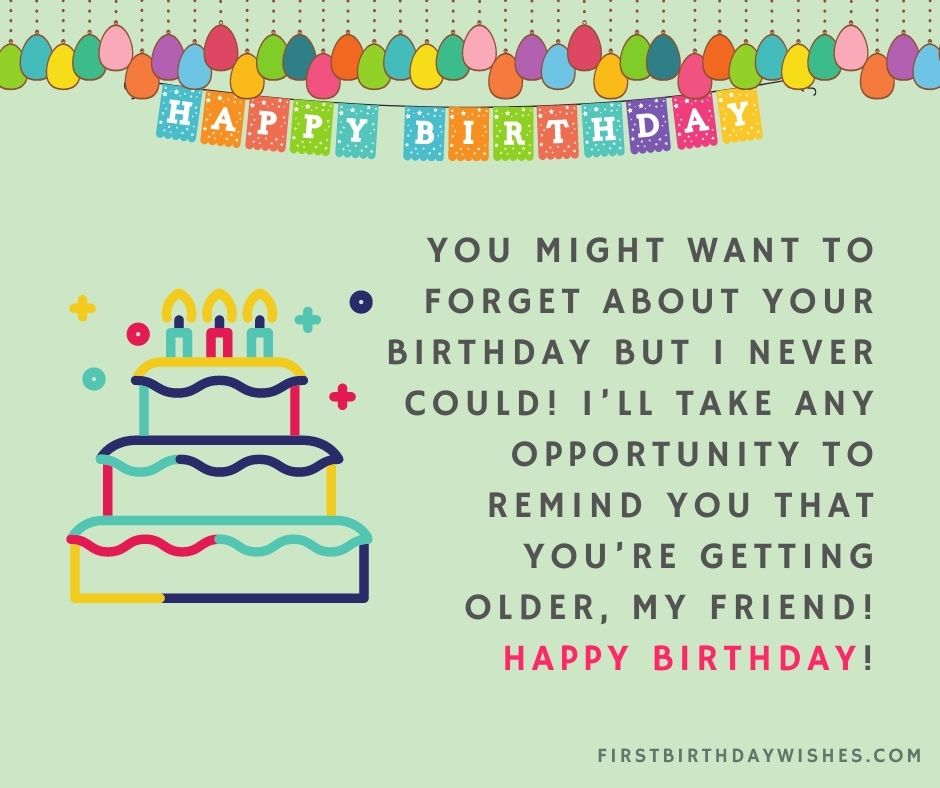 If you feel a bit lonely, forgotten, or just need someone to cheer you up remember…You can always change your birthday on Facebook!
Now it's time to fall in love, get married, and make me a grandparent. And hopefully, do all those things in this order! Until then Happy Birthday!
I bet if you knew at 18 years old what you know now, you'd have still done the same stupid things that you did. Here's to staying young. Happy Birthday.
We have brought this article to try our reverse aging alchemy. Make them laugh so even if they just turned one year older, but *boom*, laughing just made them glow. So make everyone laugh and have a great day ahead.
If you have liked our article on the Best Funny Birthday Wishes, then send it to your loved ones. And also bookmark our site we have posted and will post many articles related to best birthday wishes.
You May Like Also