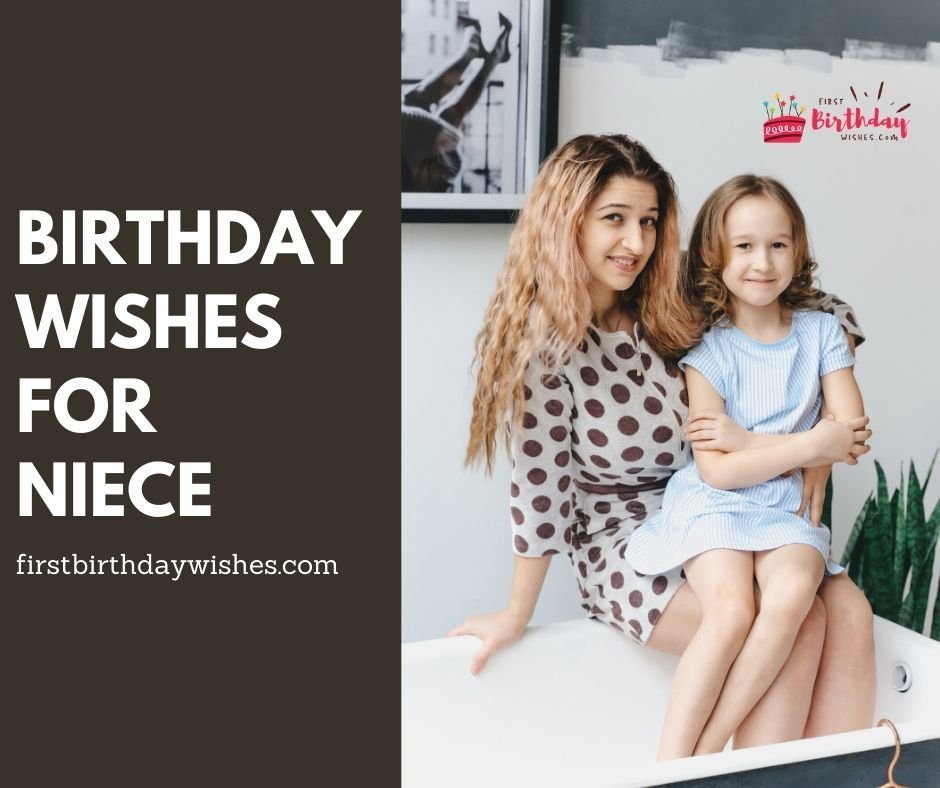 Nieces are wonderful because they are as close to being your own children as you can get without actually being your children! For your niece's birthday, send these happy birthday wishes for niece with an image guaranteed to excite her!
You might not see her very often, but through photos, phone calls, and too-rare visits you have been following her life. You've watched her grow and explore her interests. So make herself happy on her birthday.
Birthdays are the perfect day to let your niece know how much you love and appreciate them. Finding the perfect birthday wishes for niece that are guaranteed to put a smile on their faces and make their day!
Birthday Wishes for Niece
---
Happy birthday to the most
stylish niece on the planet!
A niece is someone as beautiful, talented, and intelligent as her favorite aunt—me of course! Happy Birthday to my amazing niece!
Is it your birthday AGAIN? Stop getting older! You're starting to catch up to me! Happy Birthday to my beautiful niece! Another year older and another year wiser!
Happy Birthday. Niece, you are as sweet as a cupcake! I hope you have an absolutely scrumptious birthday!
I have a particular set of skills. Skills that make me a nightmare for people like you. I don't know where you live and I don't know who you are but I will find you… and wish you a joyful birthday, niece.
Best Wishes to a wonderful girl with the most amazing aunt in the world! You sure are one lucky girl! I hope your birthday is as wonderful as we are!
Happy Birthday my niece. You are a special brand of kid. Stay bright and stay smart.
Wishing you a marvelous birthday, my lovely niece! May this day bring you happiness and tons of wonderful surprises. I love you very much!
For My Niece, Happy Birthday. You are more beautiful with every passing year. Celebrate with your whole heart today and enjoy each and every moment to its fullest.
You're almost as beautiful in your super filtered selfies as you are in real life!
For My Brilliant Niece, Happy Birthday. You've always been a shining star! May you always believe in the beauty of your dreams and follow your heart!
Happy Birthday To My Amazing Niece. I hope your birthday is decadent and outrageous! Indulge in the finer things, howl at the moon, and dance the night away!
Today we add one more candle to your cake, our beautiful niece! Have the best birthday ever, dear!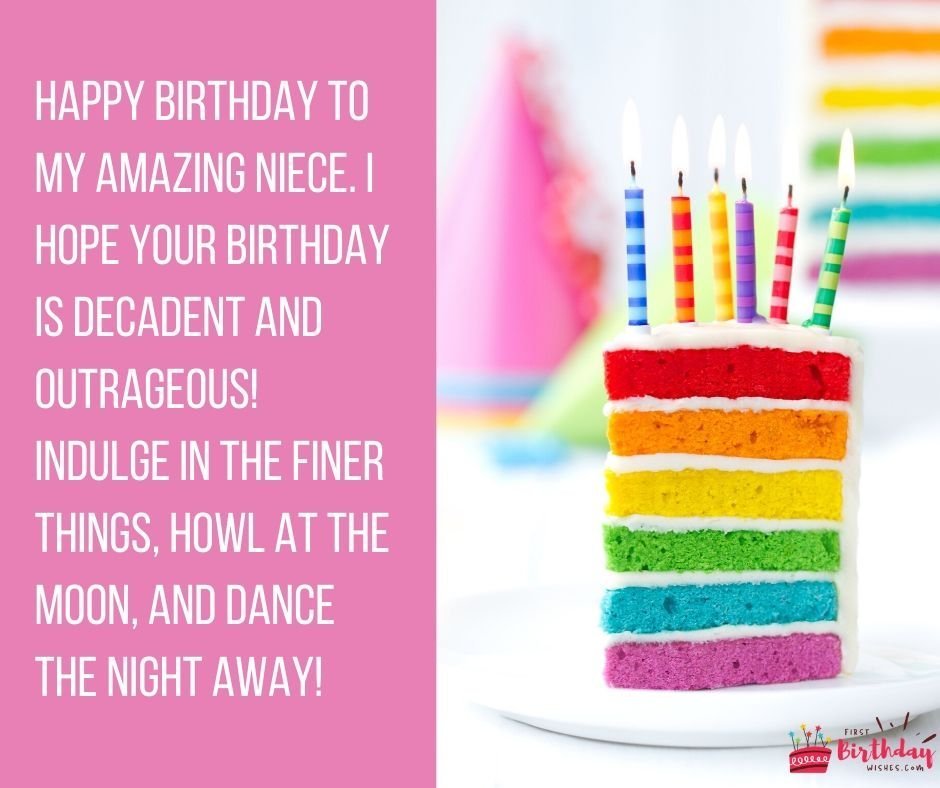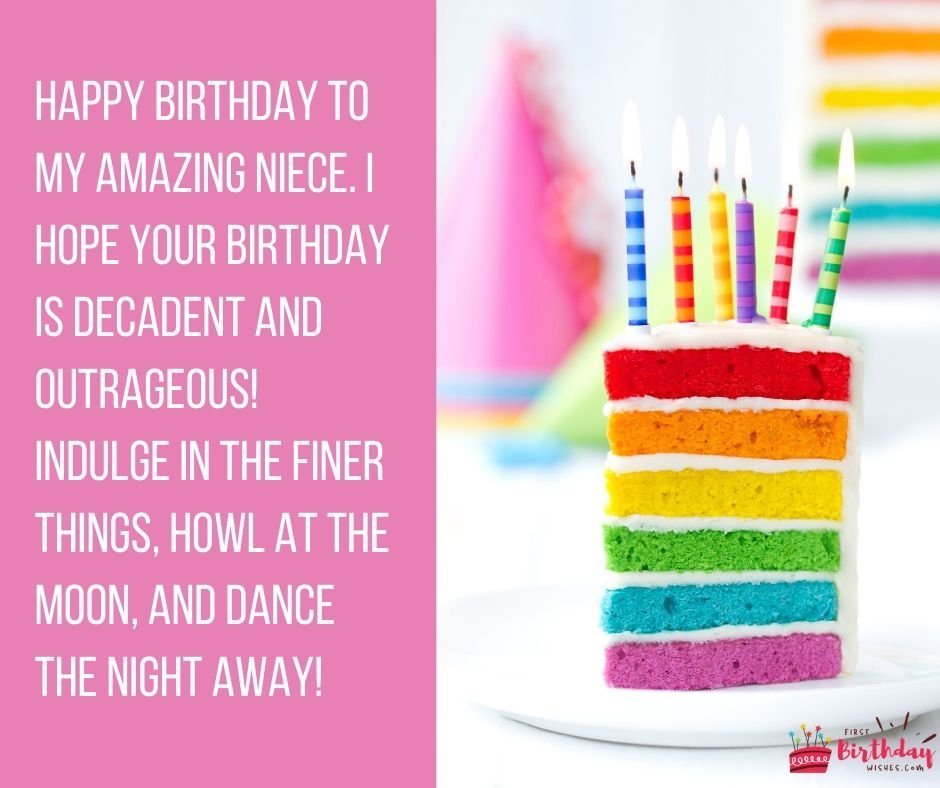 Birthday Wishes Niece Poems
---
I remember the
the day you were born
and how much you
changed the lives
of those around you.
Since then you
have brought tons
of joy and love to
my heart, and for
that reason I have
only thanks for you.
Happy birthday,
my dearest niece!
Birthday Message to my Niece
---
Do not let anyone ever brings you down. Stay bright. Stay positive and stay happy! You are incredible. Happy Birthday to you.
It means so much to me that I get to see you grow older, I wish you the happiest birthday my little princess, you are the star of my life.
Have a hearty birthday my little niece, it's a beautiful day to celebrate a beautiful young lady. Have a happy one dear.
Happy Birthday To My Dear Niece. Hurray! It's your special day! I'm wishing you a day full of happiness and a year full of love.
You're little eyes warm my heart, your little laugh warms my spirit, have an amazing birthday my beautiful niece.
Wishing you blessings as bountiful as the hairs on your head for your birthday, your future, and all the days in between.
There is not a day that passes by which doesn't find me in awe of you. You are a celebration of life in all you do, today on your birthday and in all your tomorrows.
Happy Birthday. Niece, you had me wrapped around your little finger since day one. Only the best will do for you, so enjoy the best birthday cake I could find!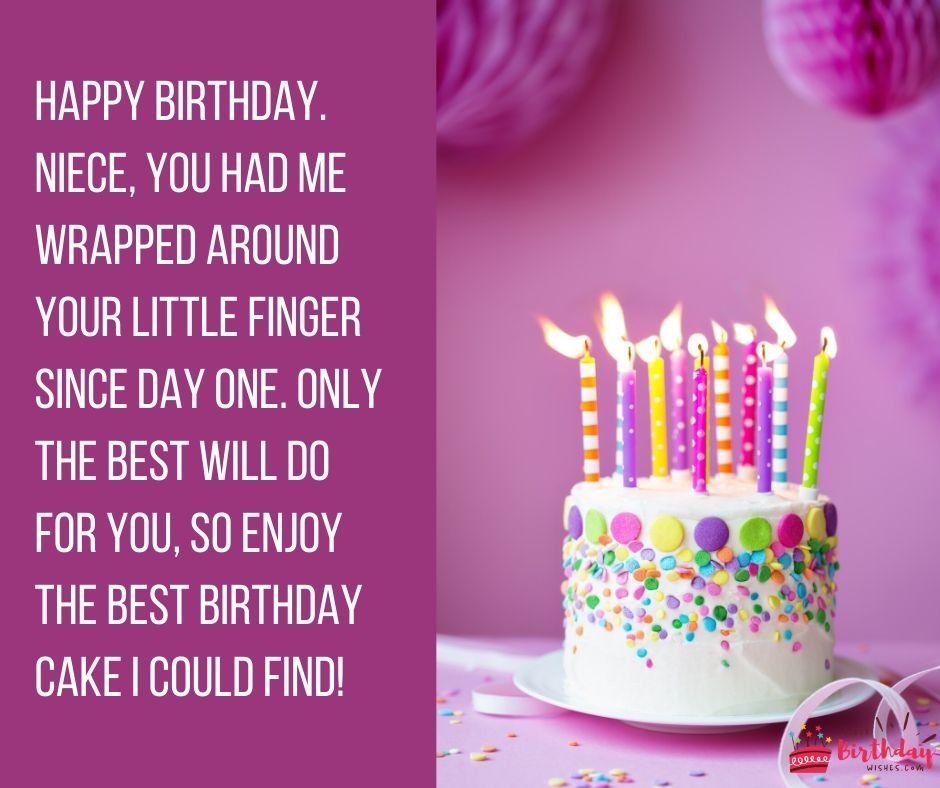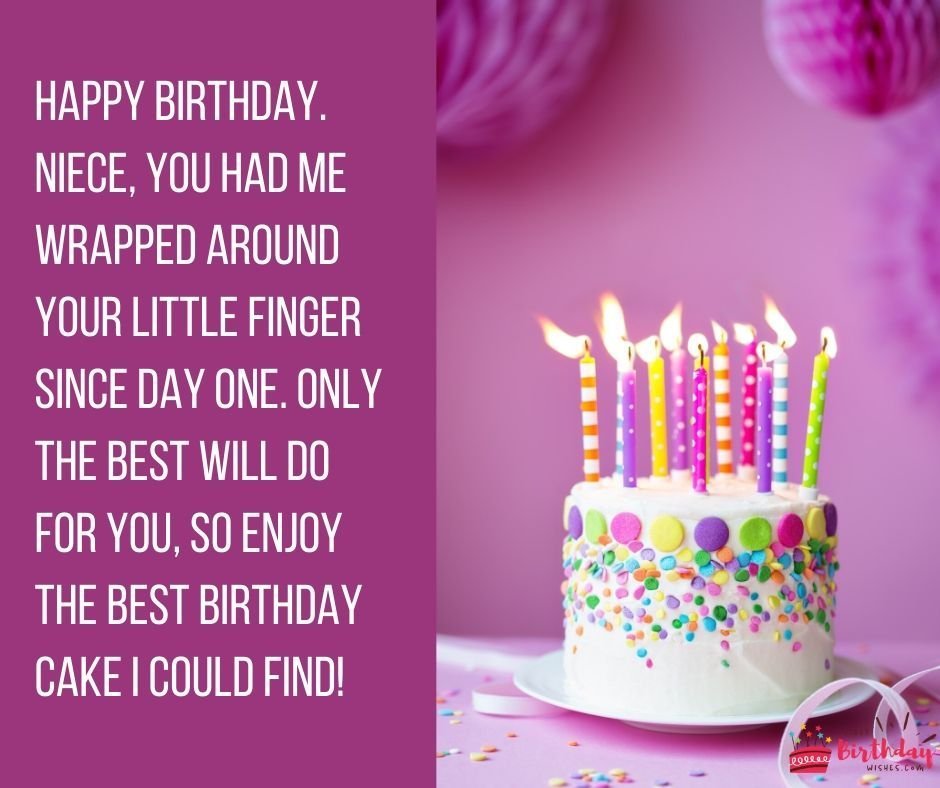 Birthday Wishes to My Niece
---
You make your aunt and uncle
proud each and every day! Happy Birthday, Sweety.
Happy Birthday To My Wonderful Niece. I hope your day is filled with fun and lots of sweet surprises! You are amazing and I love you so much!
Today is your birthday, you must enjoy everything. Have a beautiful birthday my beloved niece.
Raising kids isn't a palatable thing to do, several challenges can make one give up but you've never made it hard for my sister to raise you up. Happy Birthday. Enjoy your special day.
Happy Birthday my niece. You are not aware of how many things were done for you in order to make this birthday as great as it will be. Enjoy it!
Not every lady is as lucky as you are, you have the best parents and you have the best boyfriend. I hope that will always be to your advantage. Happy Birthday.
Beautiful girl, it is yet another time we celebrate your birthday. May you have the sweetest and most wonderful Birthday ever.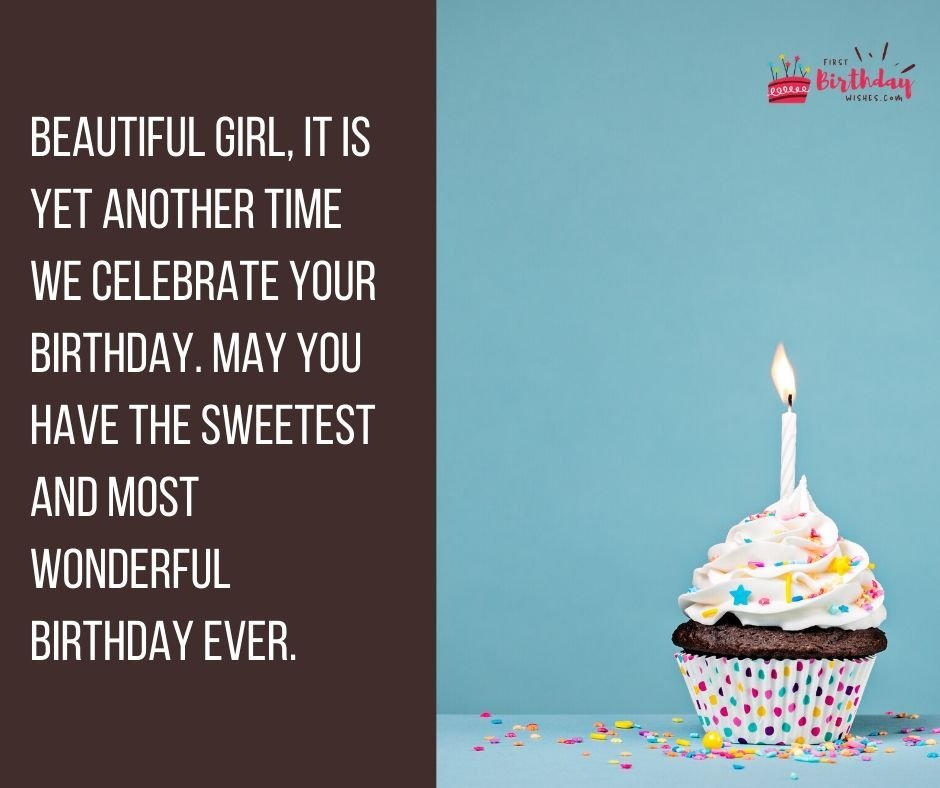 My Beautiful Niece's Quotes
---
You are the best niece ever, your thoughtfulness and caring ways make you special in many ways.
Never forget, my Niece, you can do anything that you put your mind to.
No matter what life throws at you my Niece, I am always here for you.
An aunt and a niece, there is a special bond that grows with time.
My Niece, watching you learn and grow over the years is a privilege that only an Aunt would know.
Never quit my Niece
Integrity you always show
Enthusiasm in all you do
Choose to be happy
Example to others you are!
The day our Niece was born our family was blessed.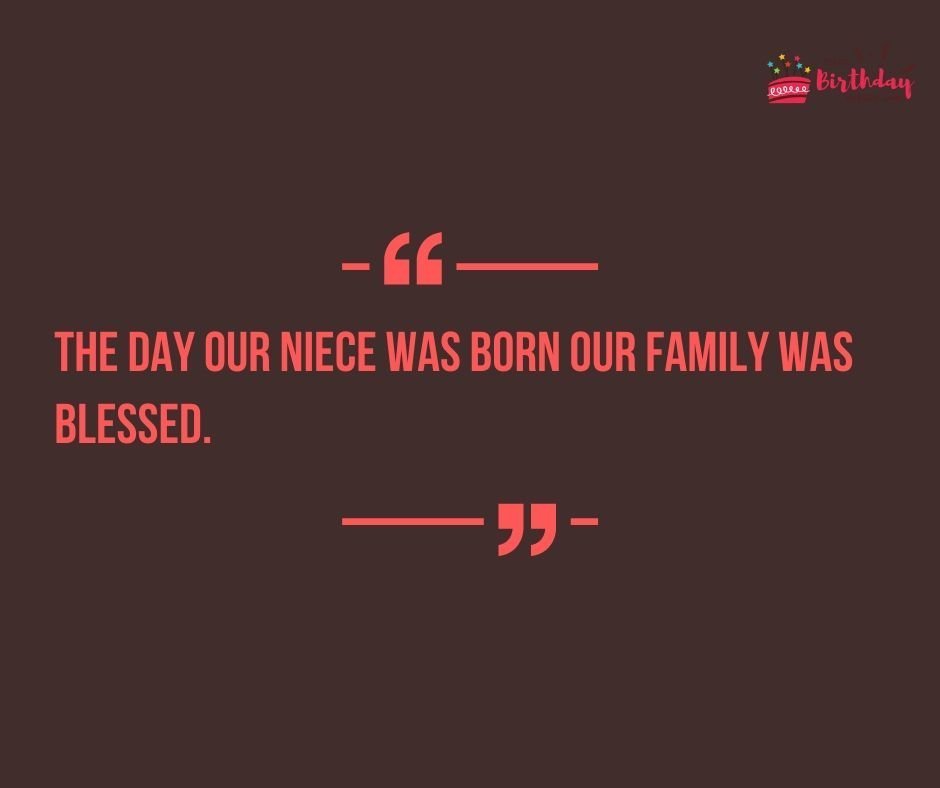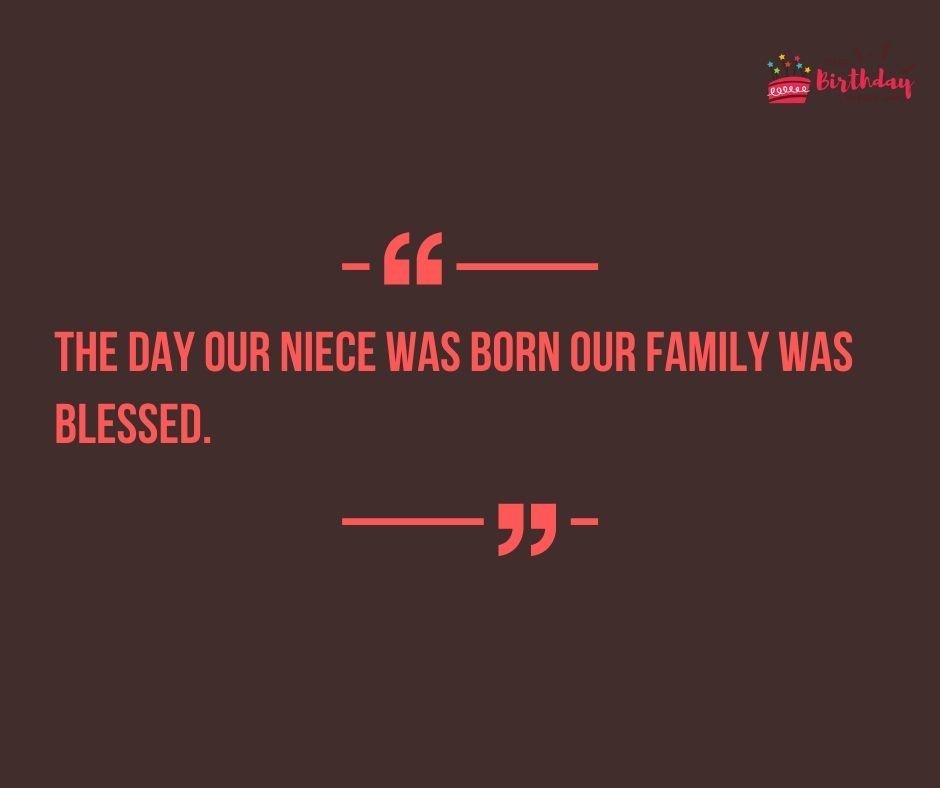 Niece Birthday Wish
---
Niece Happy Birthday. You are a special little girl. I love seeing your smiling face and hearing your beautiful laugh. Every time I see you, the world is beautiful because you make it so.
I love our long conversations and
when you give me fashion advice.
To me, you aren't just a niece,
but a really great friend.
Happy birthday to my sweet niece,
your beautiful smile is infectious!
Always be happy and never
stop smiling, my dear!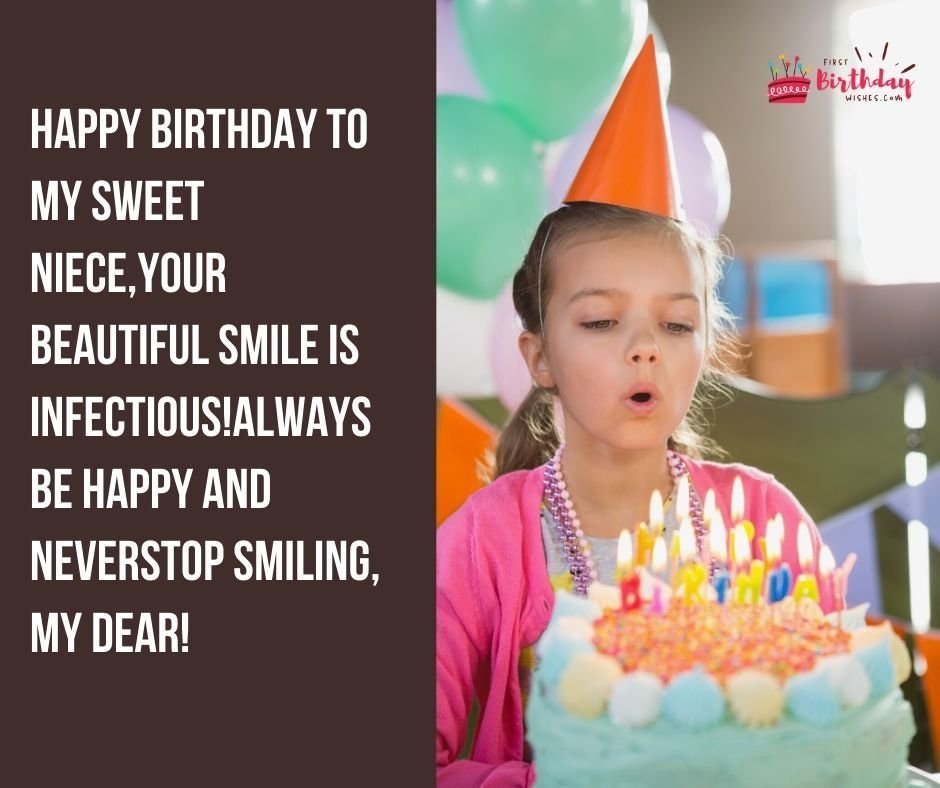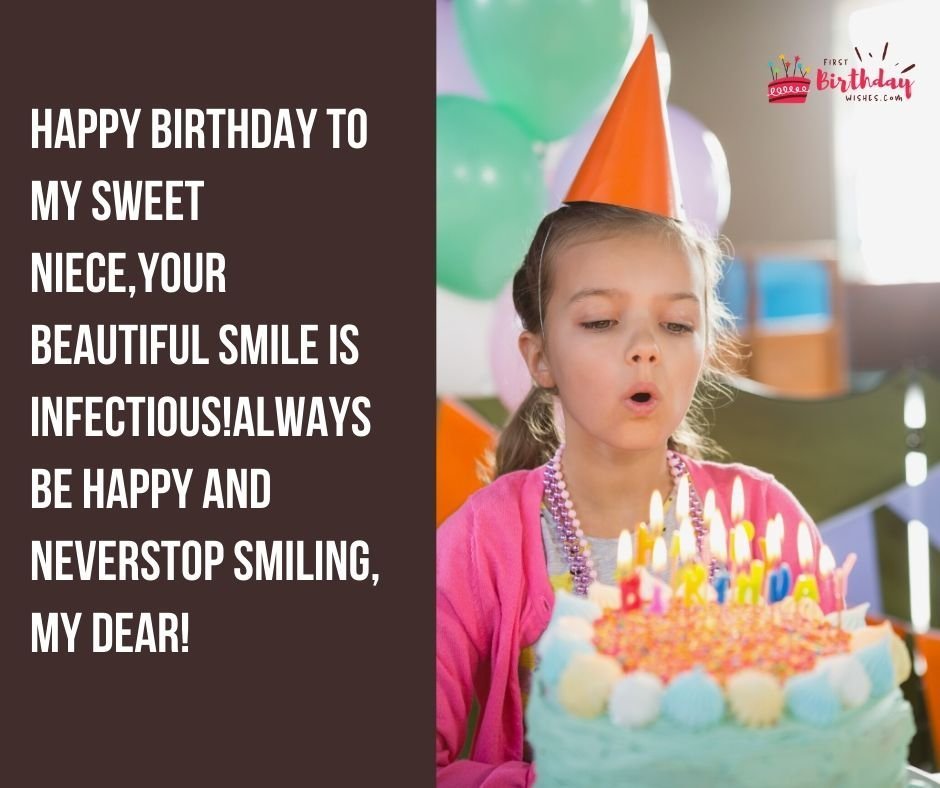 Happy birthday, my darling niece!
Birthday Prayers For my Niece
---
Dear niece, as you celebrate the momentous occasion of your birthday, may God bless you beyond measure and give you the strength and courage to always pursue your dreams and aspirations in life. Many happy returns and have an awesome life.
I pray that this special day of your ushers at the beginning of success, prosperity, and happiness in your life. May the Lord pour his choicest blessings on your life. Have a blessed birthday.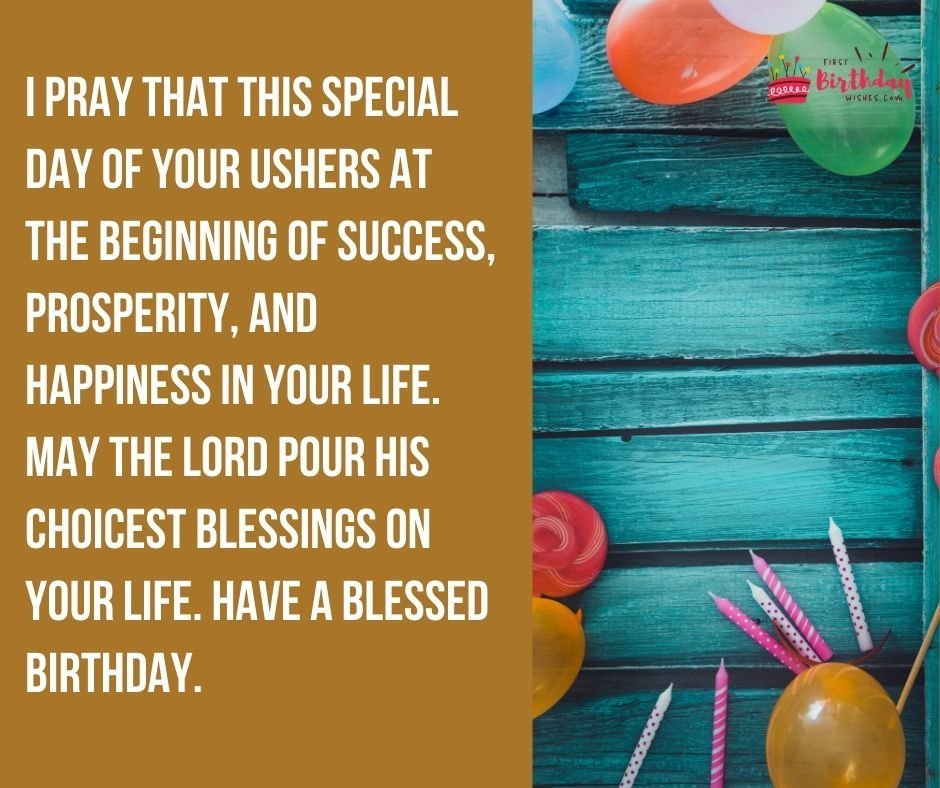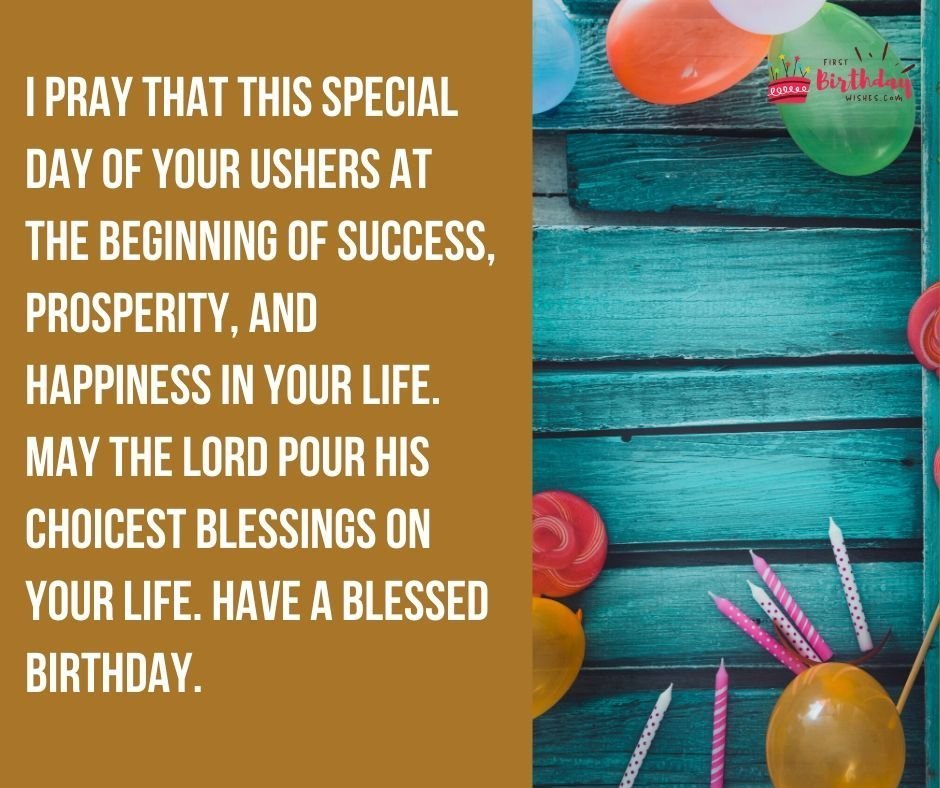 Birthday Wishes for Niece Turning 1
---
Dear niece. The love I feel for you is so great, I love you and I wish you many congratulations on your birthday, remember that you will be very happy as long as you follow God's commandments.
You have been singing of this day since the year began, now that it is finally here, I hope it is everything you wanted and more. Happy 1st Birthday Niece!
Darling niece, it is another birthday and I am blessed enough to share this day with you. You make me proud to be an auntie.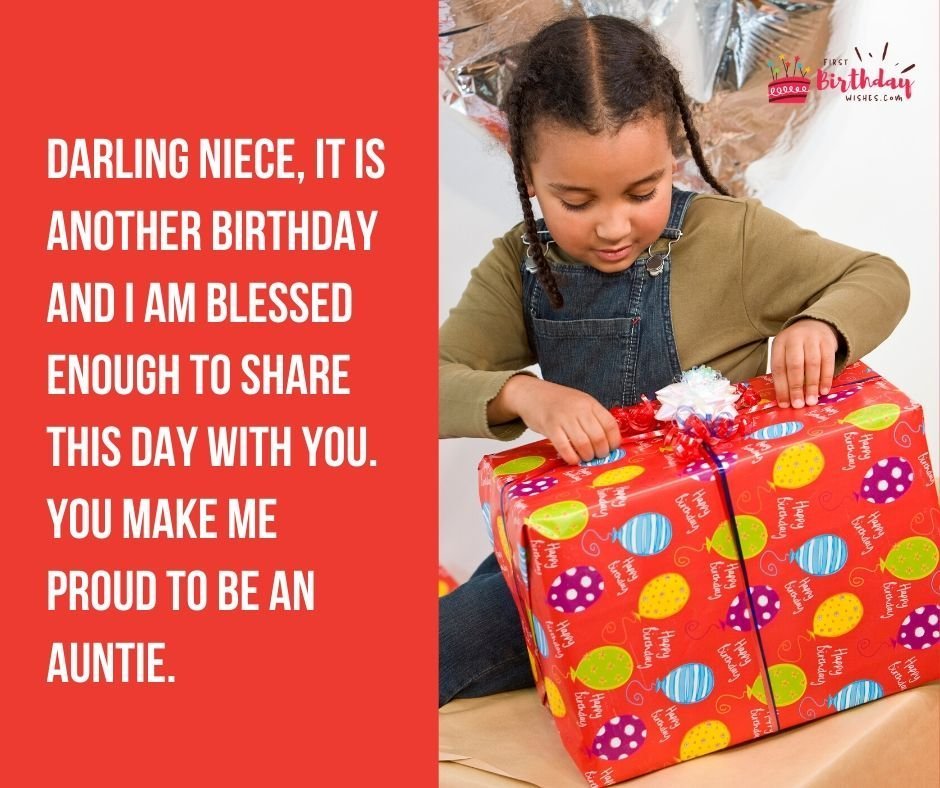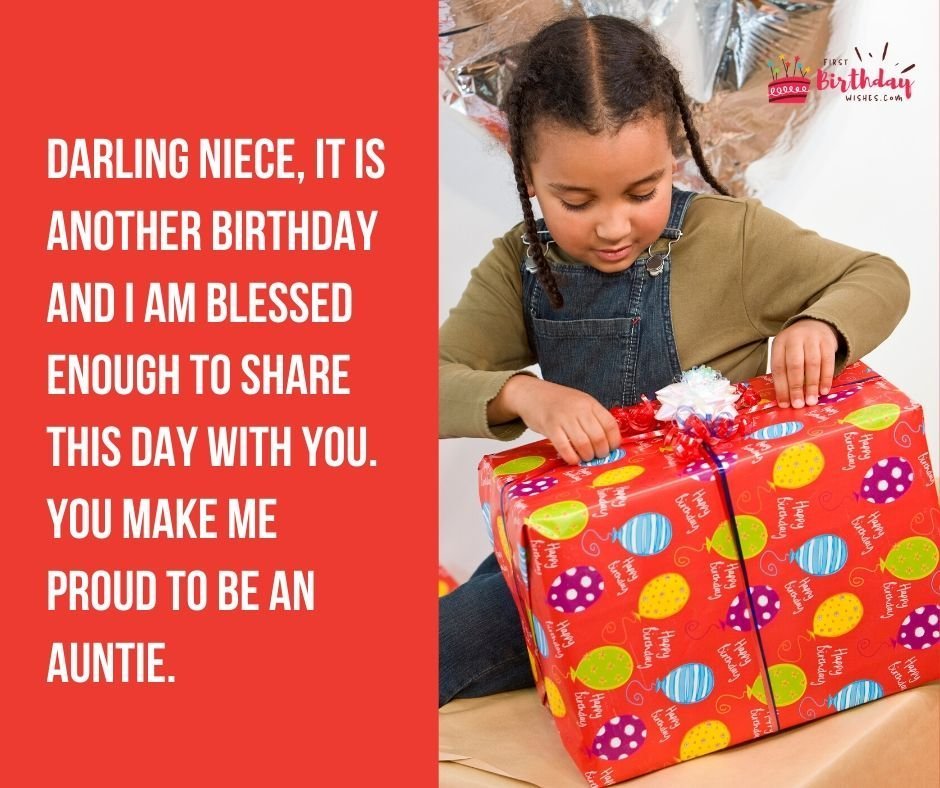 Birthday Wishes for Niece Turning 2
---
Dear niece, on this day of your birthday, do not forget to thank the Lord for all the blessings he has given you, all of us also appreciate as has blessed us with a wonderful niece that makes us very happy. Congratulations on your 2nd birthday.
You know that you are an incredibly gifted child with such a bright future. Happy 2nd Birthday my niece. I wish you the best of years.
Baby, you are a blessing to those around you. You give us joy and you fill our hearts with so much pride. I love you niece. Happy 2nd Birthday!
No matter how old you just remember that I will always be here for you. You can always come to me for hugs, movie dates, or late-night gossip sessions! That's what Aunts are for! Happy 2nd Birthday to my remarkably brilliant niece.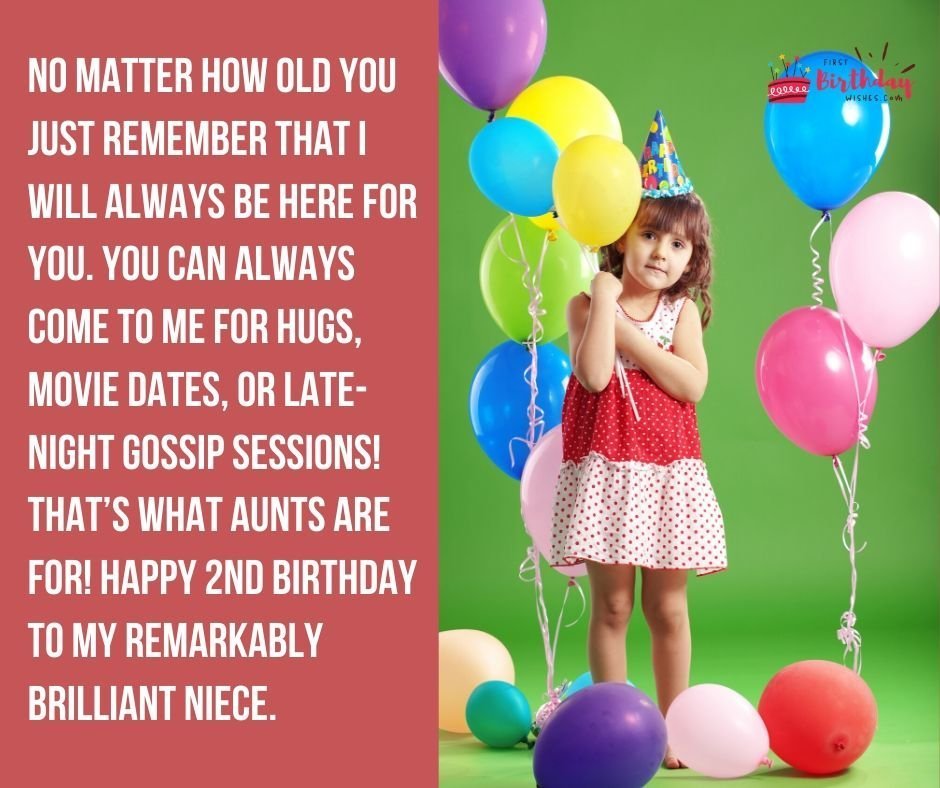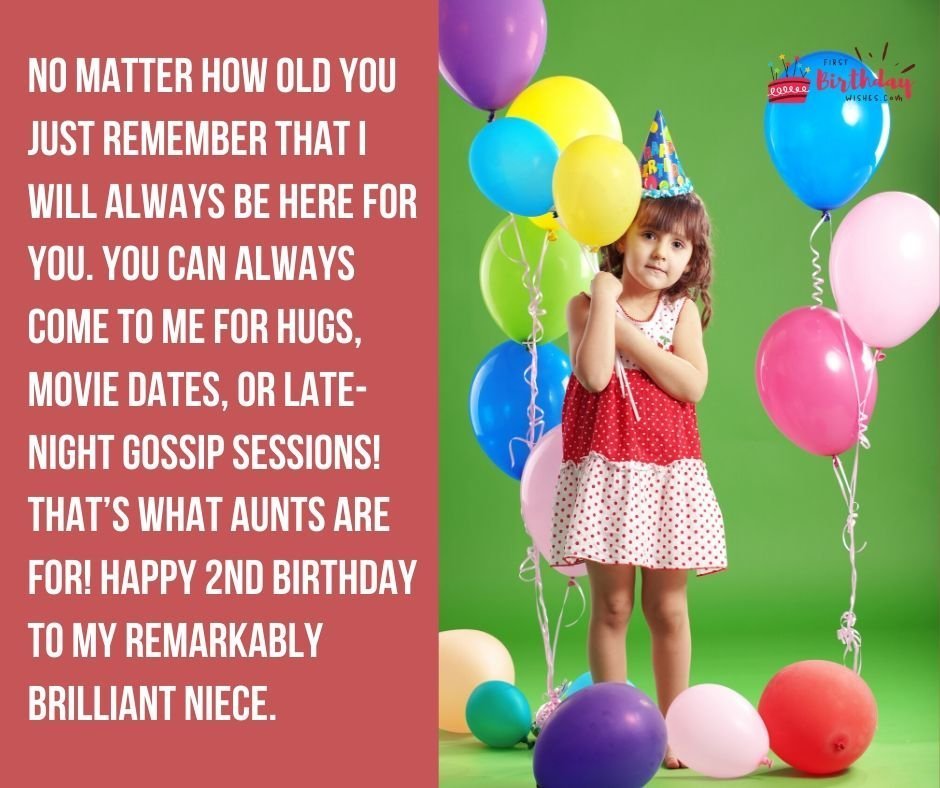 Birthday Wishes for Niece Turning 3
---
To the most beautiful princess in all the land, happy 3rd birthday, I hope you get to enjoy this day and everything it offers. Enjoy yourself.
My little niece is all grown up; nothing gives me more joy than the fact that I was there to see you through it all. Happy 3rd Birthday baby, have a wonderful day!
You must feel very happy because you have wonderful parents who do everything possible to see you smile. My cute little niece. Have a lovely day.
May this day fulfill all your heart's desires, may it make you brave, and may it make you happy. Have a beautiful 3rd birthday my little niece.
You are more beautiful than a rainbow on a rainy day and more vibrant than a sunflower, Happy 3rd Birthday to someone who deserves the world.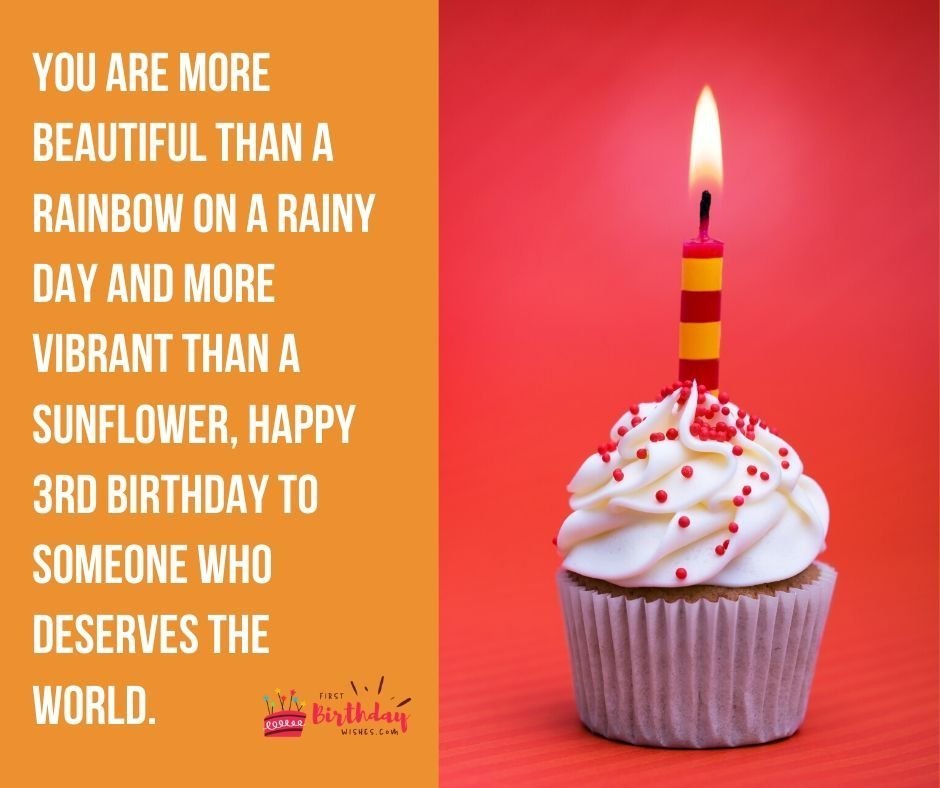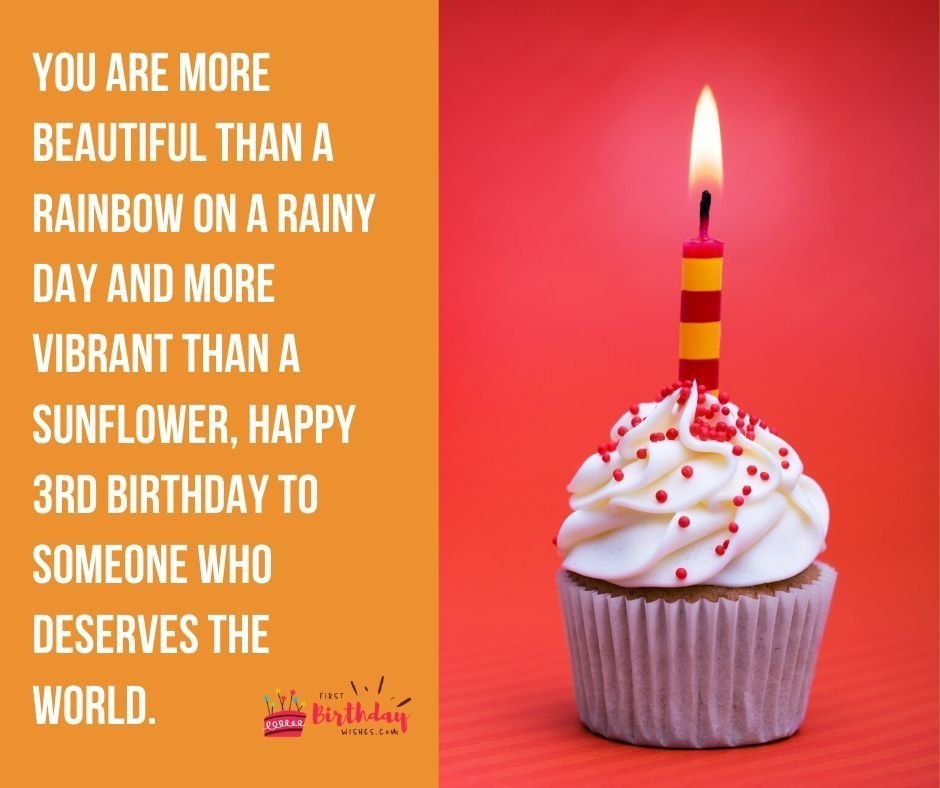 I hope you like these collections of birthday wishes for niece. Share these awesome wishes and greeting to your niece to make her feel special.
*Some of the links in this post may be affiliate links. If make a purchase through these links, we receive a commission at no extra cost to you. Please see our disclosure for more info.*