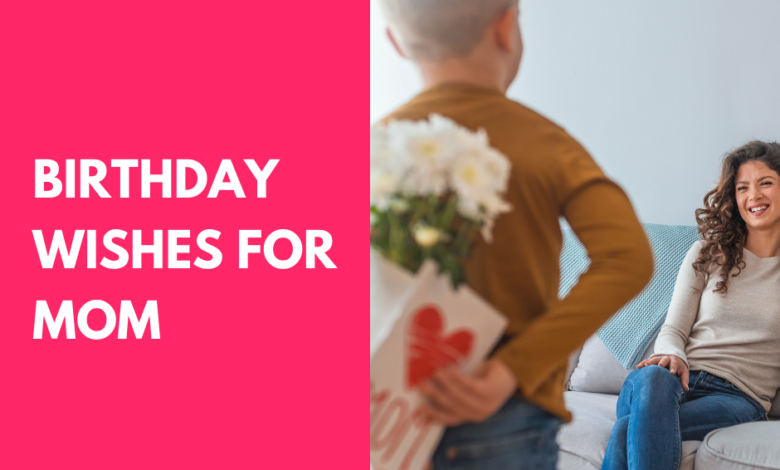 This article contains some beautiful Birthday Wishes for Mom. The list is not very long, but all the wishes were carefully chosen. Read on, and select one for your mom on her birthday.
The bond between a mother and her children is sometimes incomprehensible. There are no words or enough gifts in the world to give the one person who brought you into this world and took good care of you.
Celebrating the woman who taught you the basics of life calls for special wishes, not just on her birthday but on all occasions that concern her.
Our list today comprises of some of the most special wishes and messages, just to make your mom understand how special she is.
Birthday Quotes for Mother
1. Every day I wake up, I always have you to thank. I have your guidance, your warmth, your love, and your heart: someone who loves me unconditionally. Right or wrong, you are always my Mom.
2. I often shake my head in disbelief Mum when it hits me just how big of an inspirational figure you really are. Happy birthday, my inspiration. Keep inspiring!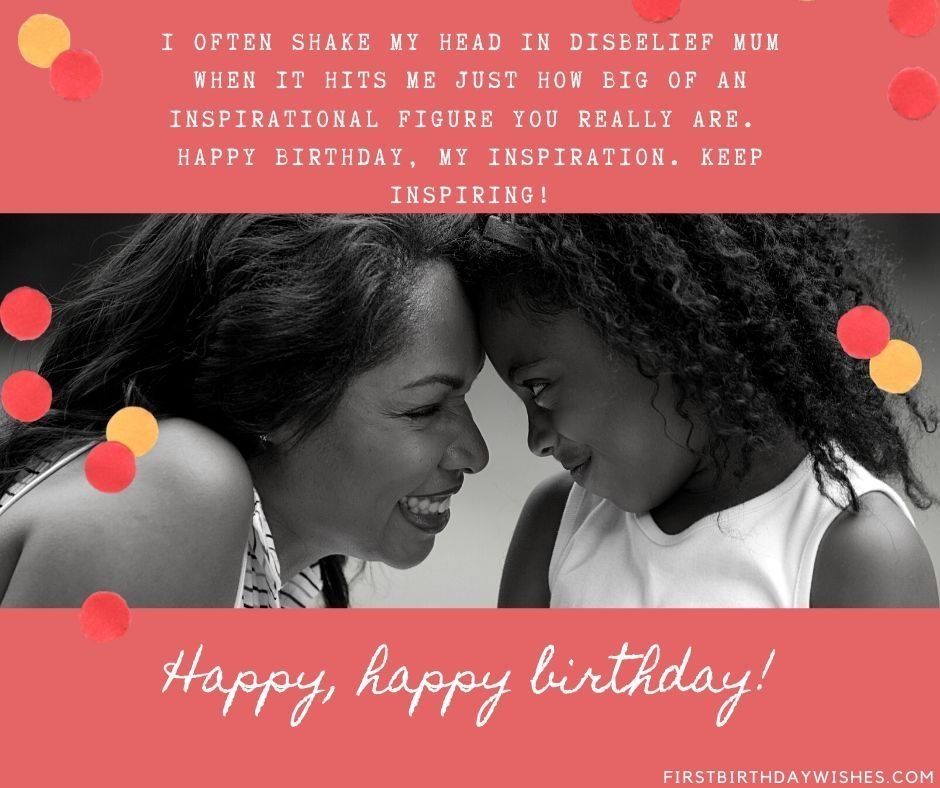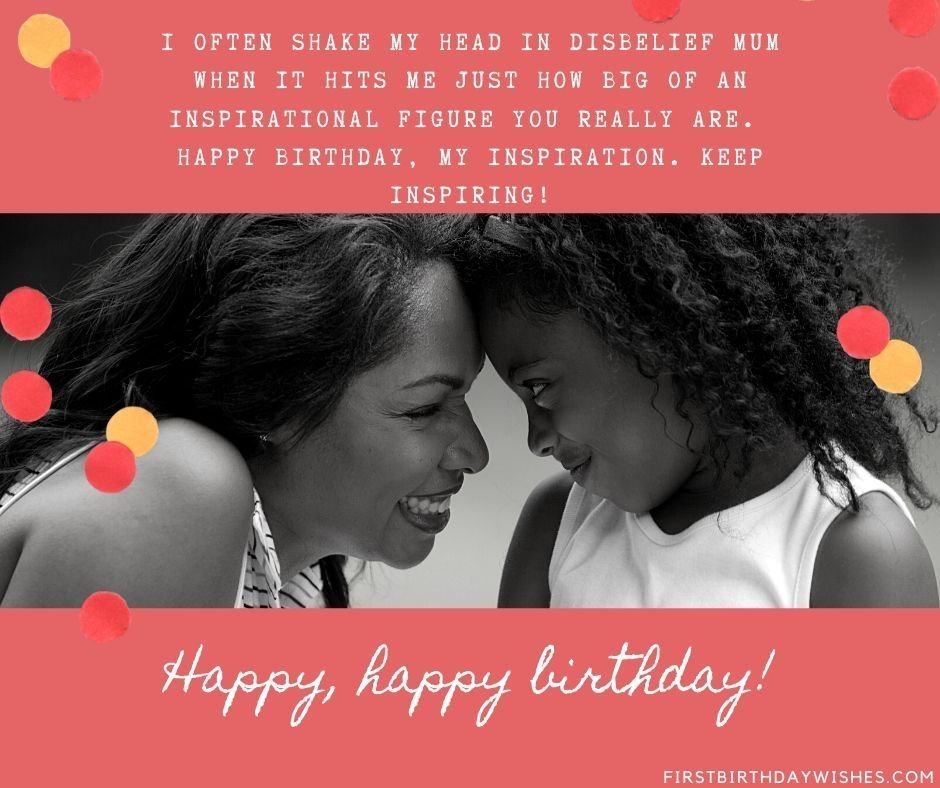 3. How surprisingly you keep a smile on your face even at the toughest moments! May this spirit be always there! Happy Birthday.
4. It's a blessing to have a mom like you to look up to, to find a shelter when life turns upside down, and to speak my mind when no one is there to listen. Happy birthday!
5. Your support and blessings are so precious to me and I am grateful to you for your sacrifices which are countless. Warm and best wishes for the great lady!
6. It's hard to take credit for any of the successes I have in life. As hard as I have worked to become the best I can be, you worked even harder to help me reach my dreams. Thank you and Happy Birthday, Mother!
7. Never have I been more grateful to have a wonderful woman like you to call Mom. Happy Birthday and I wish you many more to come!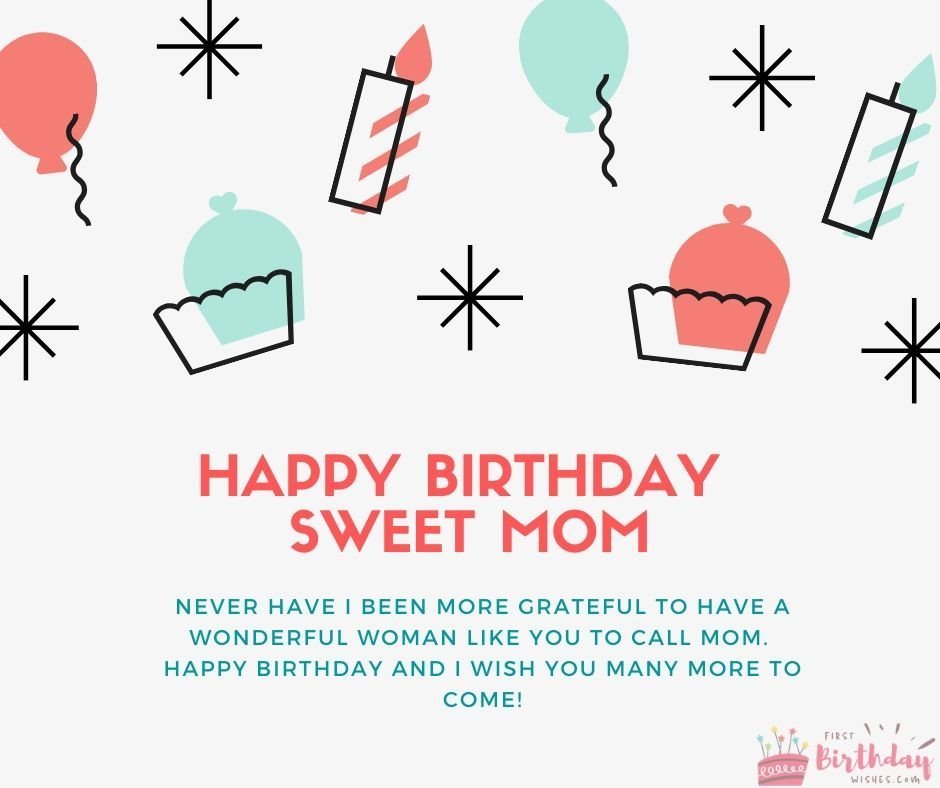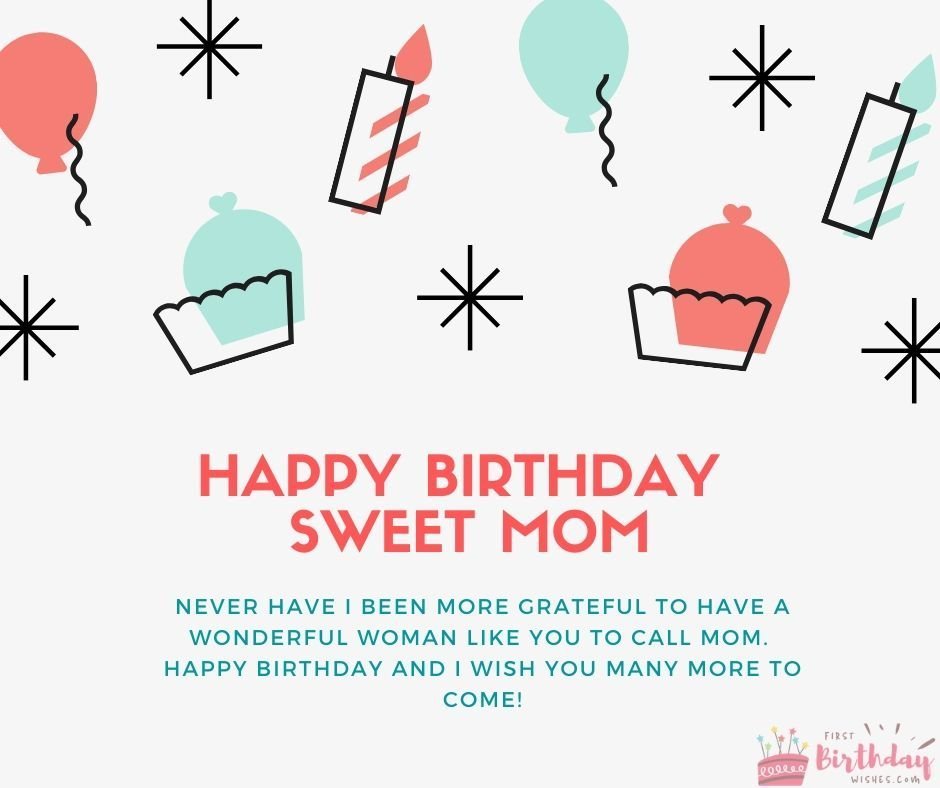 8. Mom, through the years I've watched you grow older and wiser. Even as the years go by, your love grows stronger and unfaltering.
Short Birthday Message for Mom
9. You'll always be the first woman I have ever loved. You are the best mom in every way possible. Happy birthday!
10. Dear mother, just know that everything you do for me is appreciated more than you know! Happy birthday!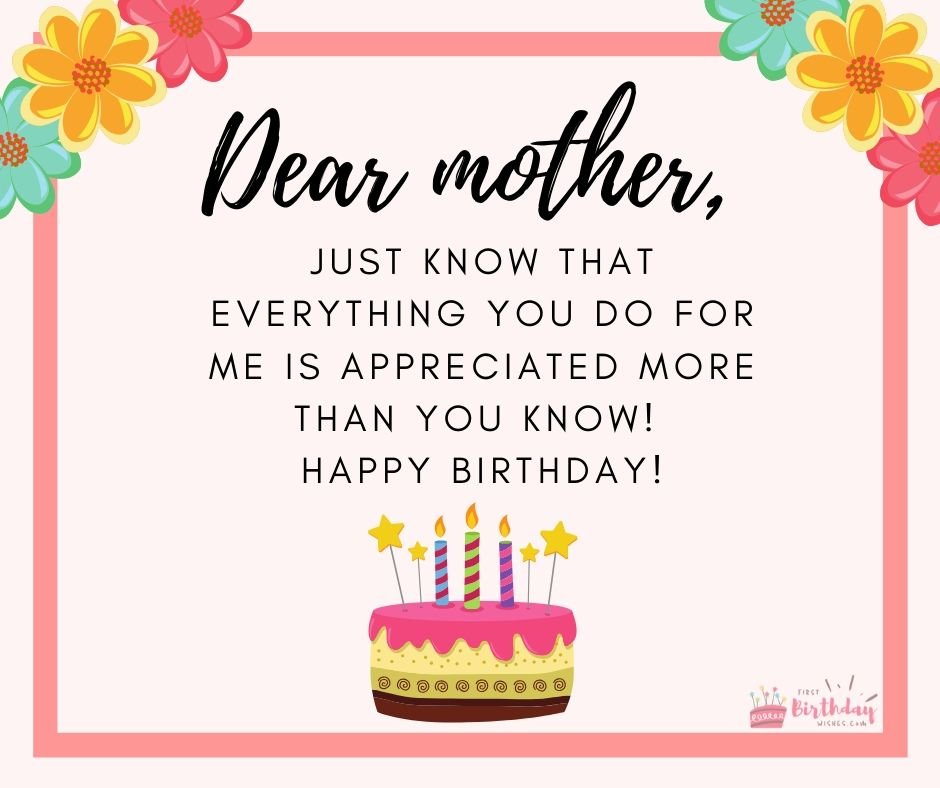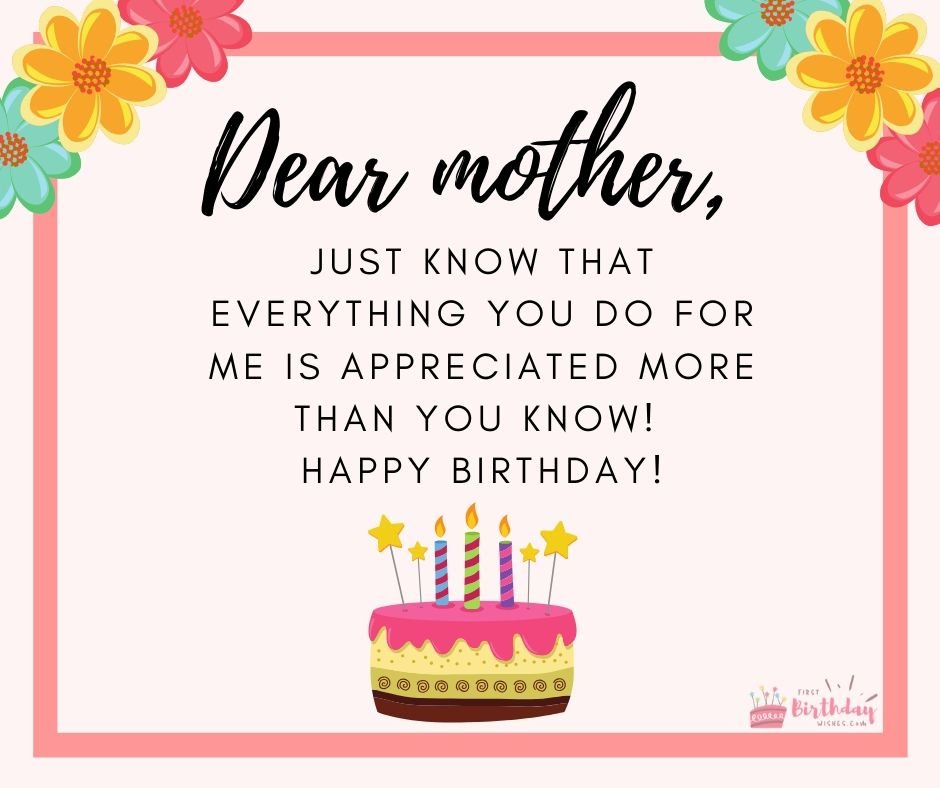 11. I love you more than I could ever express. Happy birthday, mom, I love you.
12. May all your birthdays be spent surrounded by the souls who admire you the most. happy birthday dear mom!
13. Your smile fills my soul with happiness. Happy birthday to you and never stop smiling!
14. You such an outstanding lady who never fails to inspire me to do good things in life. Wishing you many more years of happiness!
15. My heart store is filled with your blessings. There is no such gift that can be enough as a gift on your birthday. Happy birthday, mama.
16. You're the sweetest and most caring mom ever. I am so blessed to be your kid. Wishing you many returns of the day!
Milestone Birthday Wishes to Mother
---
17. Happy 60th birthday, Mum. I can't ever repay your kindness Ma, but I'll try my best to ensure that you're happy, safe, and sound in the days to come.
18. Twinkle twinkle little star, I wonder how old you really are? Happy 70th birthday mum!
19. Happy birthday, Mum! Congrats on becoming 70 today. I hope God blesses you with good health and you live for many more years to come.
20. Happy 70th Mom. May He bless you with good health and strong bones and may we get the opportunity to celebrate every second with you.
21. Cheers to the most fantastic lady around. Let me take this moment to tell you how much you mean to all of us. Happy [40th/50th/60th/70th] birthday, dear mom!
22. Mum, I'm filled with nostalgia today. Congrats on making it 50. May you live to see many more years. Have the happiest of birthdays!
23. Mum, you've been such an inspiration in my life. Your inner beauty, courage, and resilience never cease to amaze me. Happy 50th.
24. Your 50th birthday is a landmark, mum. Of just how far we have come. Thank you for being there for us every step of the way.
Birthday Wishes For Mother
---
25. Happy Birthday to the most lovable mother in the world. May God let your life be filled with boundless joy!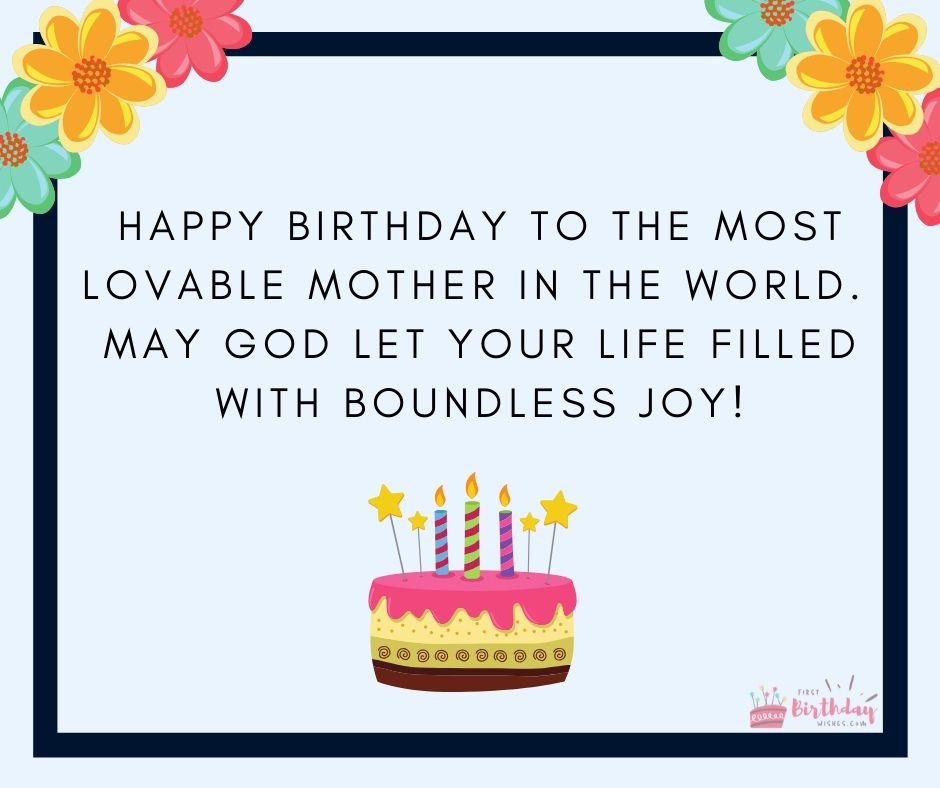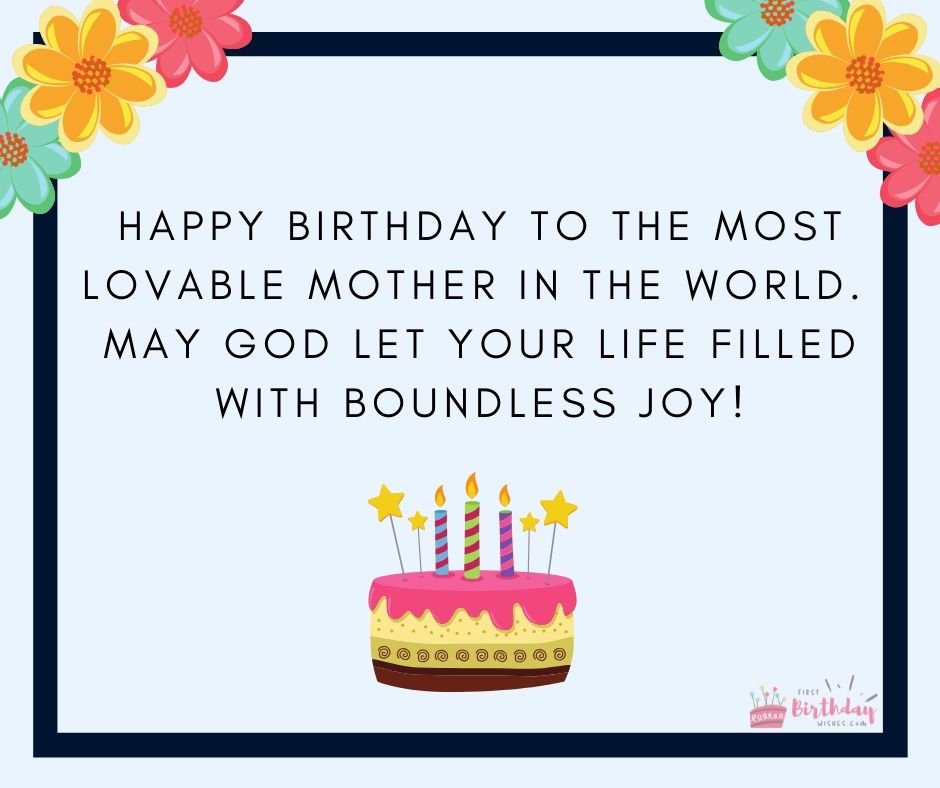 26. Happy birthday to my amazing mother. You are the best and I love you so much.
27. Heartfelt wishes from the bottom of my heart to the most beautiful woman in the entire universe. Enjoy your special day!
28. You are not the angel who only appears when I need you, you're the angel that never leaves my side. Happy birthday to my amazing mom!
29. I see my angel in you; you are my superhero; you are my blessing and good luck in my life. On this special day, I want to thank you and wish happy birthday.
30. Mom, your love and laughter fill my heart with a million moments of joy. You're the world's best Mom. Happy birthday.
31. Happy birthday to the most wholesome woman I know of. Your daughter loves you because you're beautiful, both from the inside and the outside.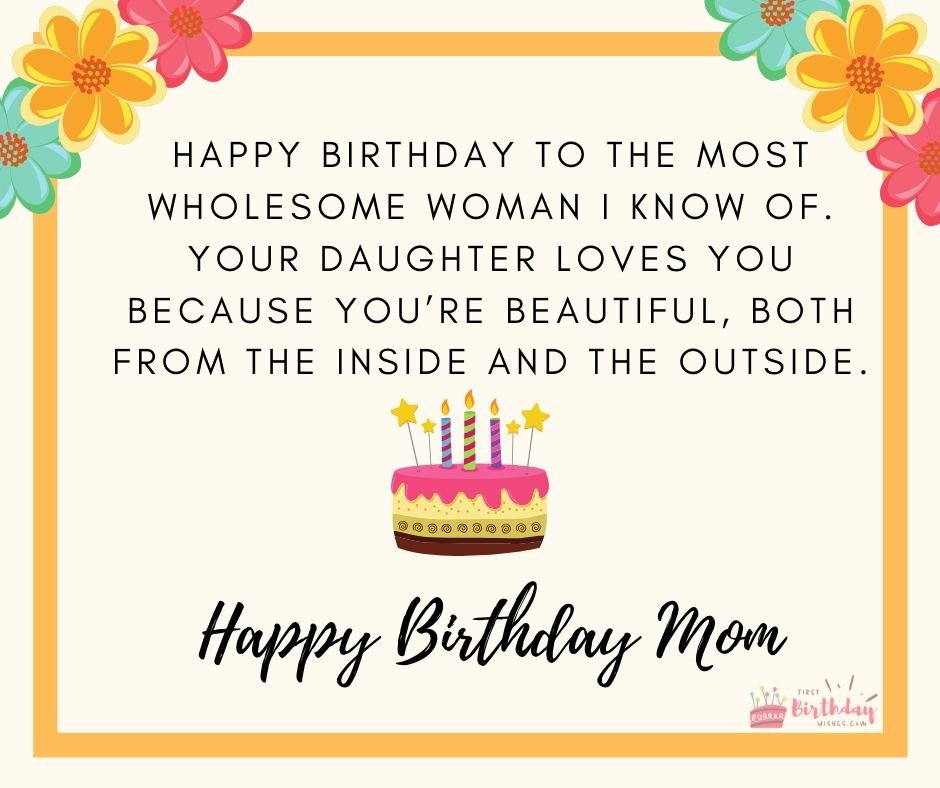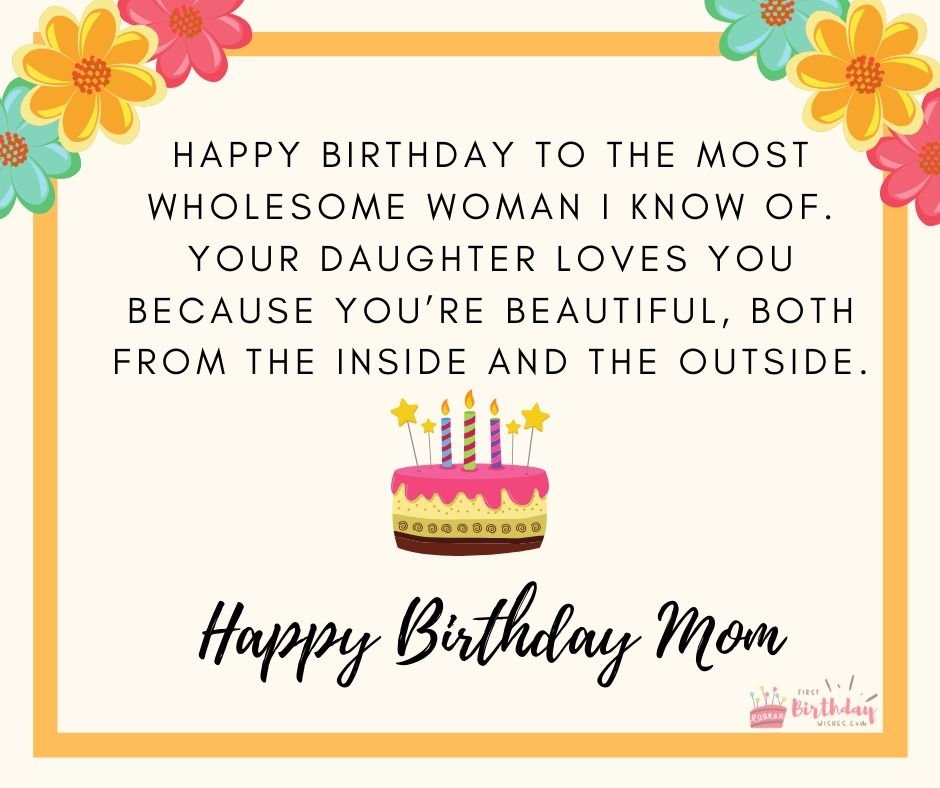 32. Wishing you the happiest of birthdays, mum. Thank you for your infinite patience and for always taking care of your son in a way that no one else ever could.
33. Take my warm wishes and love from the deepest pith of my heart. Have a nice happy birthday mom!
34. Every year I wait for this day. You are so special to me that your presence in my life is bigger than everything else. Happy birthday, mother.
35. Happy birthday, Mum! On your special day, I would just like to thank you for being such a role model in your daughter's life.
Happy Birthday Mom Messages
---
36. Today is the day to celebrate someone so important in my life. Someone who taught me the importance of faith and family. Happy birthday dear mom!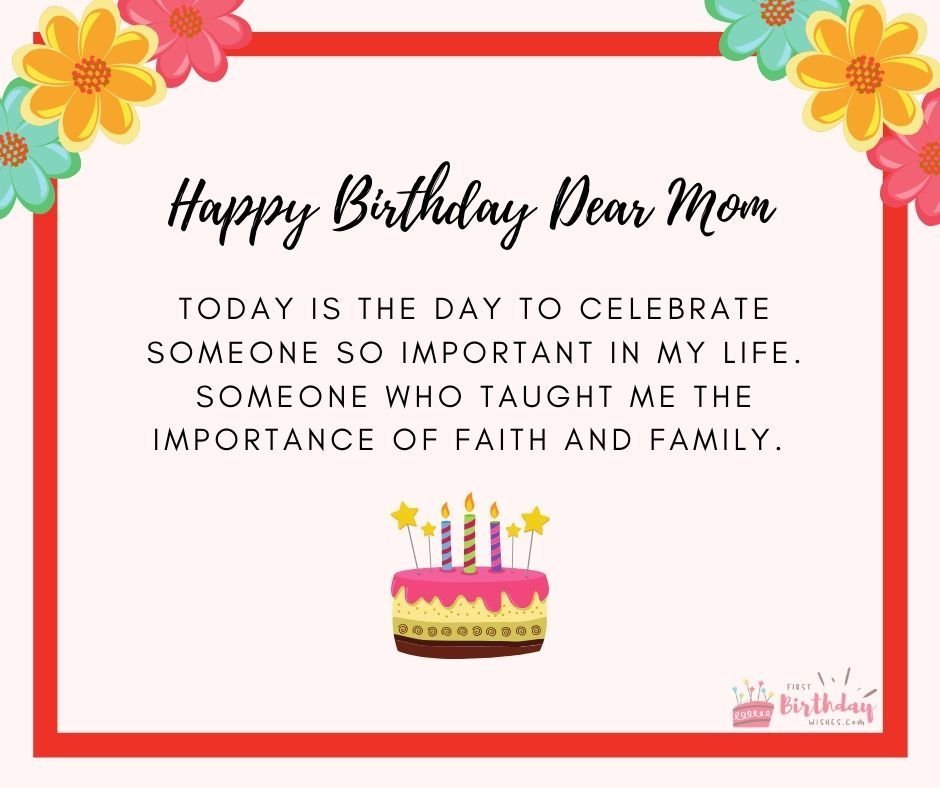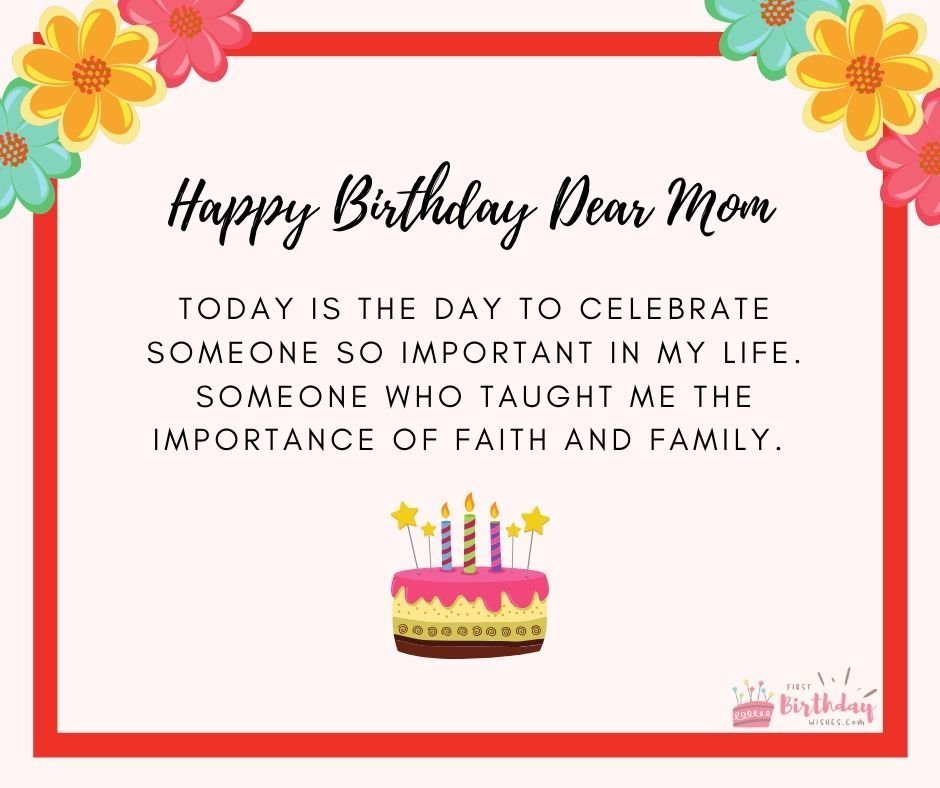 37. Growing up was awesome because of you. Thank you for giving me such a wonderful childhood. Happy birthday! May you find many reasons to smile today and every day.
38. You've always been there in all my ups and downs. I don't have words to express how much I love you. Happy birthday to you!
39. You are the perfect role model for an amazing mother. The way you handle family matters and keep us all united is unthinkable. Happy birthday!
40. My life would not be complete without you by my side. You have been with me through all the good and the bad times. Happy Birthday, Mother!
41. Mom, I'm luckier than the luckiest lottery winner to have you as my mother. Happy birthday, Mom!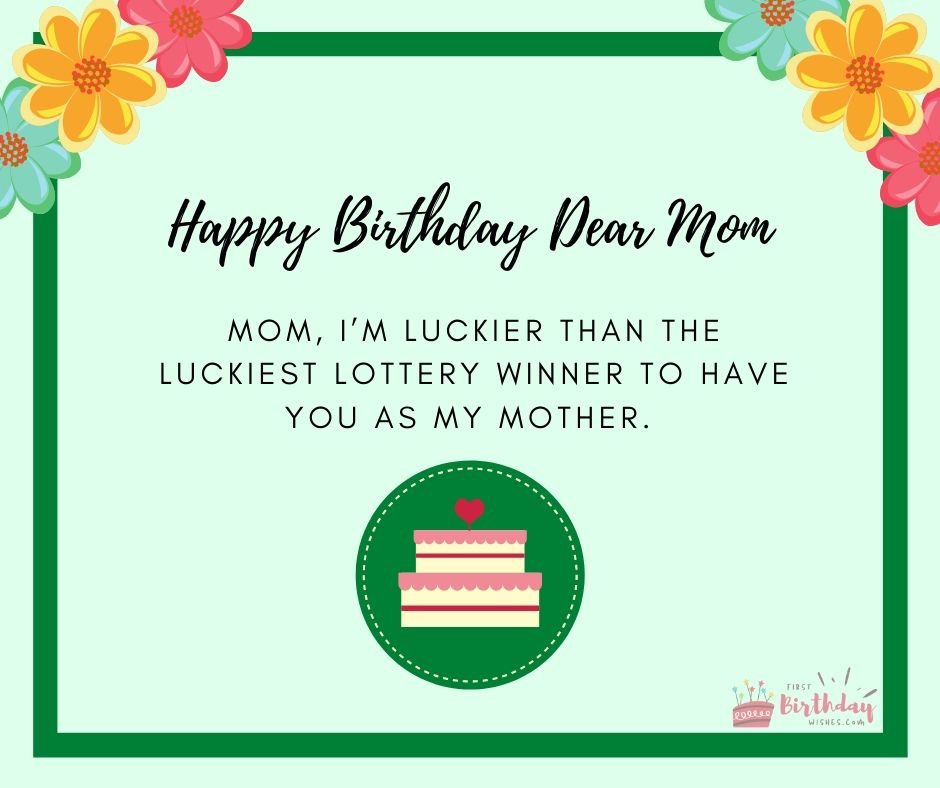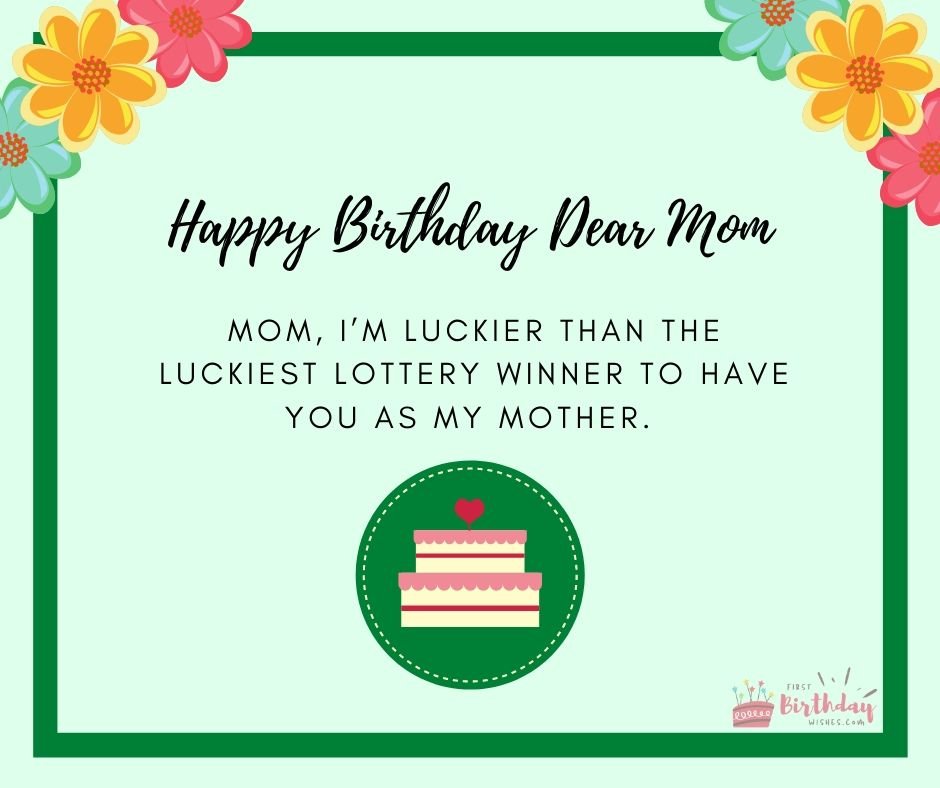 42. I want to take this special day and use it as an opportunity to thank you for all that you do. Wishing you a very happy birthday!
Birthday Wishes For Mom From Son
---
43. You gave me the best life and you are the best gift from God. Life without you is impossible for me. May God keep you healthy and happy in life!
44. I am the world's luckiest son that has a mother who supports me always even if I am hurting you! Why are you so generous Mom? I love you so much!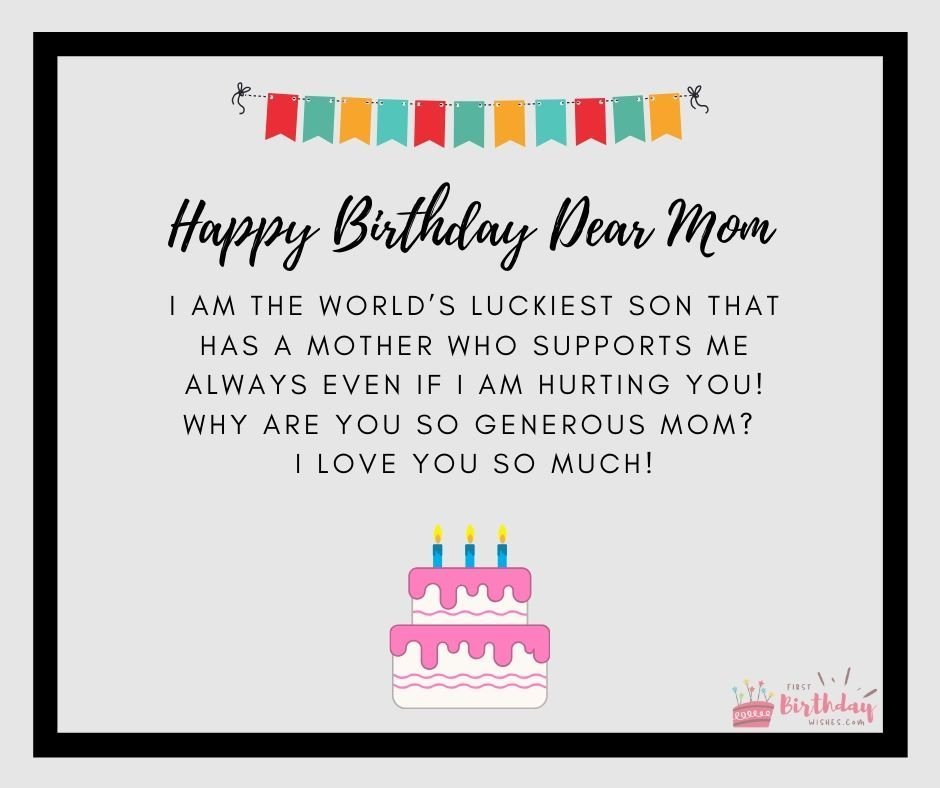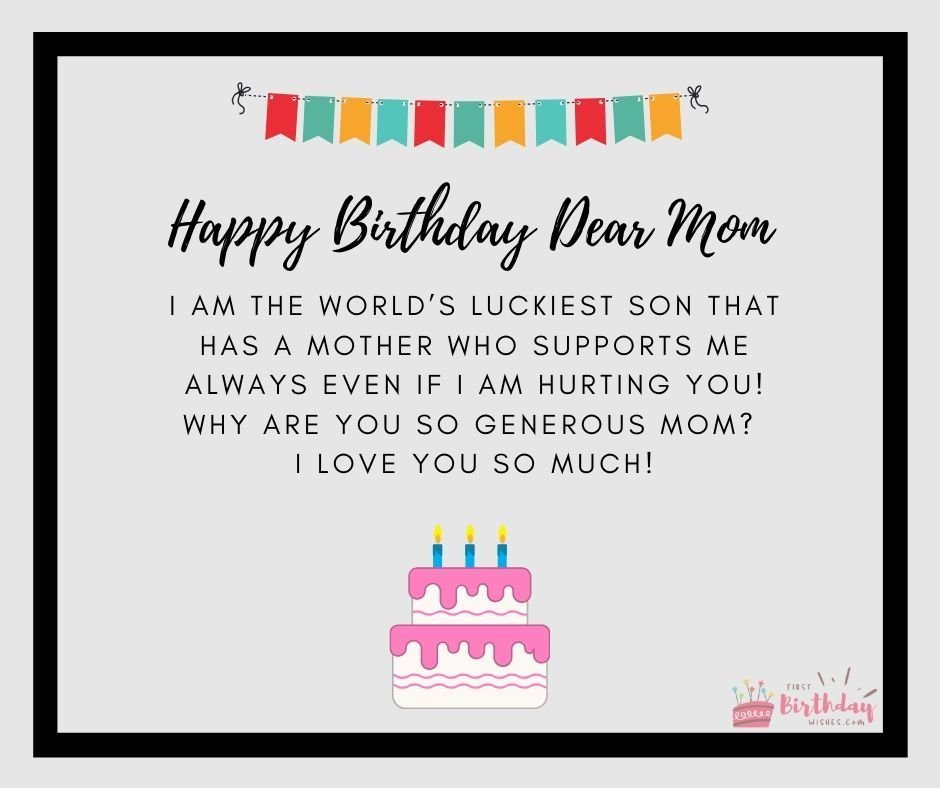 44. Mama, all I want that I could grow up like you in the future. I wish you a happy birthday and it's all your guidance for which I have become the person I'm now.
45. You're the true meaning of home for me. Thank you for raising us so wonderfully. May good wishes to you on this special day of yours!
46. Thank you, mom, for showering so much love on me. You mean the world to me. Happy birthday to you. May your day be spent with a smile on your face!
47. Today I want to wish my dearest mom all the happiness in the world. You are the architect of my life. happy birthday to you!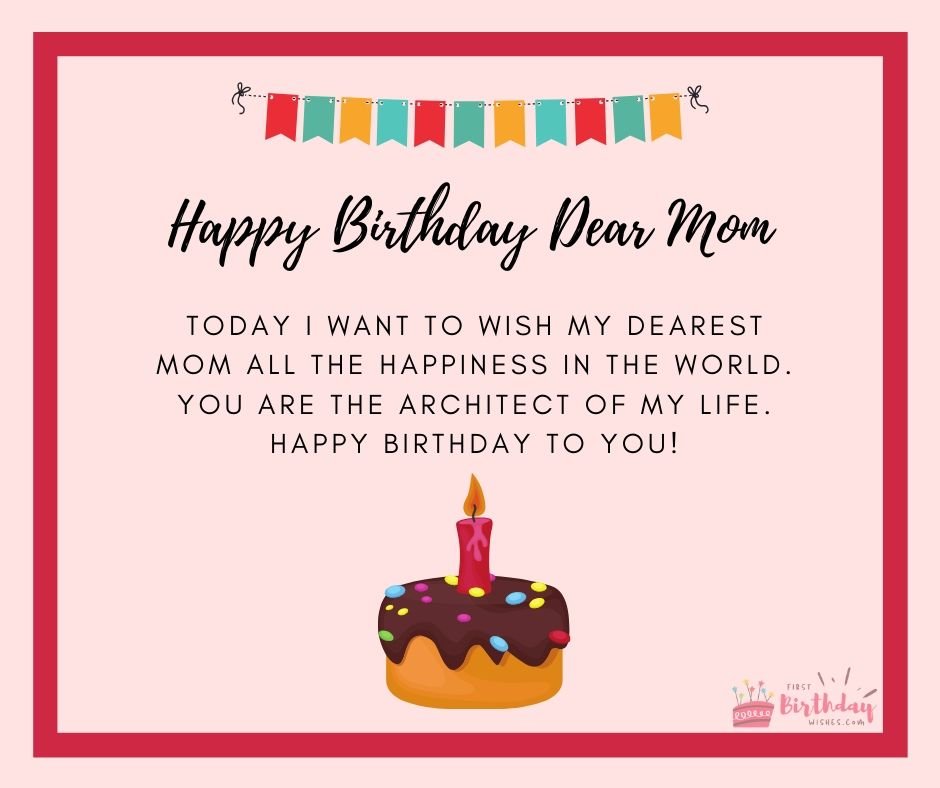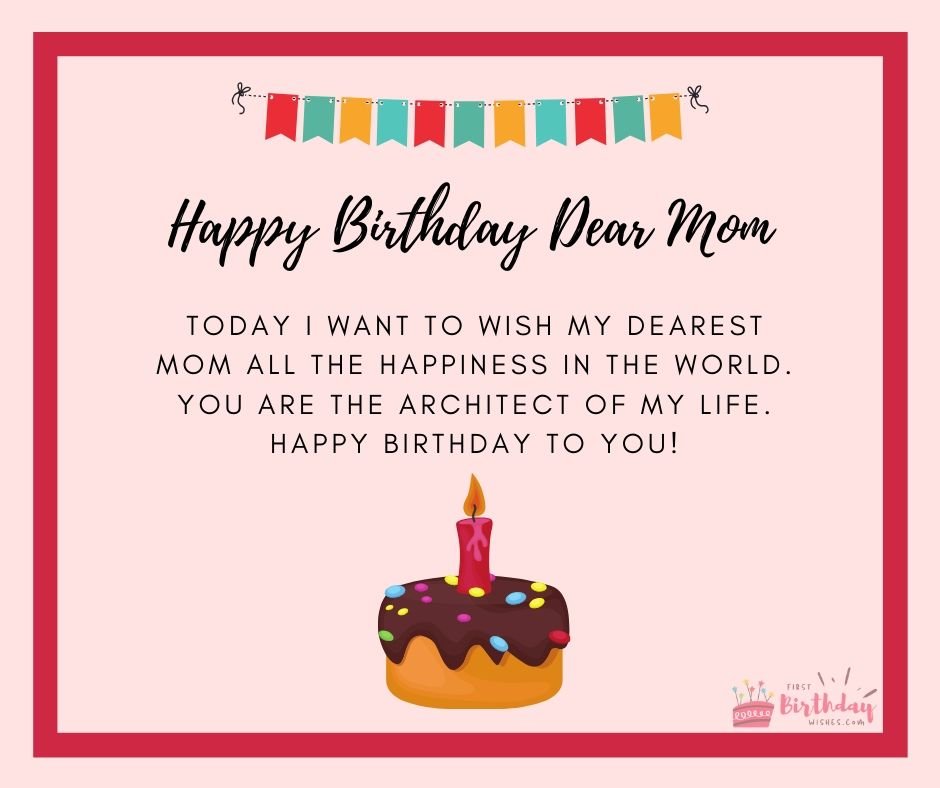 48. To the one who sits in the iron throne of my heart, know that your son loves you a lot and would do anything for you. Have a great birthday Mum!
Birthday Wishes For Mom from Daughter
---
49. May we have had different opinions, but one thing was always common and that is our love for each other. Love you Mom and have a nice happy birthday!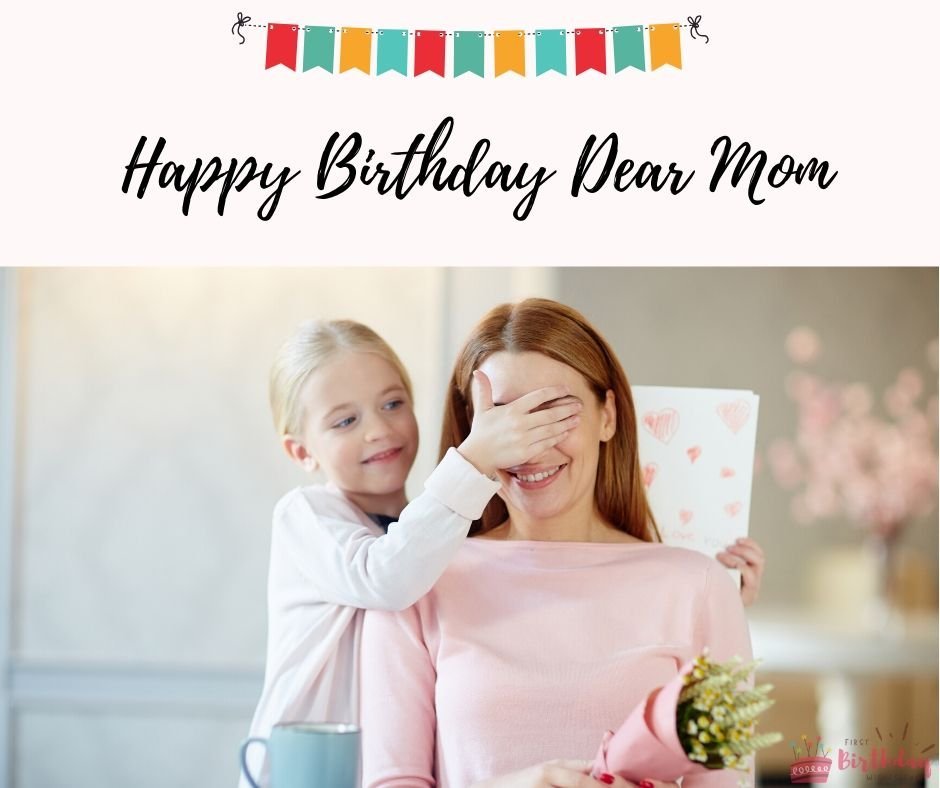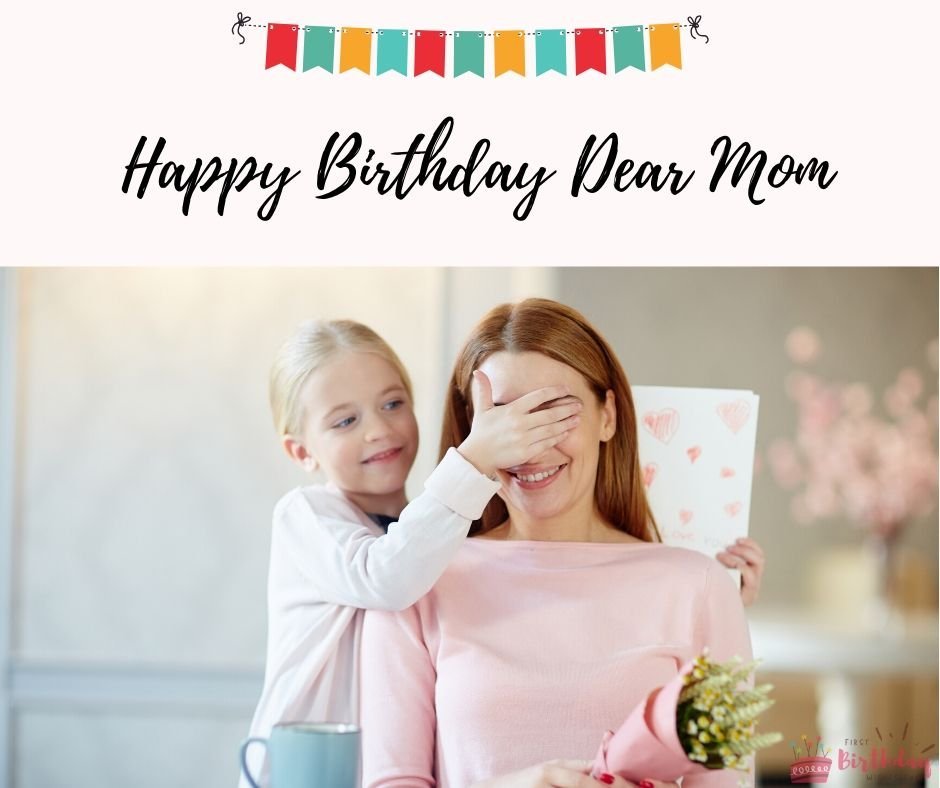 50. You are not only my mother, my philosopher, guide, and best friend. Thanks for everything and I wish you a great happy birthday!
51. Whenever I needed you, you were always there by my side, holding my hand tightly and supporting me! It is amazingly a blessing to have you as my Mom!
52. If you were not my mom already, then I would be absolutely jealous of whoever was your daughter. You're awesome, Mom. Happy Birthday!
53. God cannot be everywhere, that's why He has sent you in my life to show me right or wrong and protect me. It is a blessing to me!
54. The awesome memories of my childhood have become my shadow. They follow me wherever I go, and I hope it never stops being so. Happy birthday, mom.
55. You're the wisest and most elegant woman I have ever known. I would consider myself lucky If I could ever be half as elegant as you! Happy birthday to you!
56. My pursuit of dreams would never find its meaning if you were not there to help me. You are the reason why I'm who I am today! Happy birthday!
Funny Birthday Messages For Mom
---
57. Take my love for you and hope you will make tonight my favorite cake just like last time! I wish you a great celebration for your birthday!
58. Birthdays are like chocolate. It's best not to keep count of how many you have, and just enjoy them instead. Happy birthday to the sweetest mother I know.
59. Your birthday is incomplete without food made by you. So make a nice birthday celebration with your lovely cooking.
60. You must get a lovely birthday card as my behavior was so abhorrent over the year and may continue in the nest! Happy Birthday.
61. Dearest Mom, thanks for loving a really messy, spoiled, bratty, and stupid child as same as my sibling!
62. Don't feel overwhelmed by the number of candles on your cake. It won't trigger the fire alarm yet. Next year, maybe! Happy birthday, sweet Mom!
63. Wishing you a nice birthday and want to thank you on this special day as you gave birth to a legend like me!
64. Dear mom, thank you for passing me that beauty gene that makes you look 20 years younger always. Sending you my heartfelt good wishes on this day!
65. You are the symbol of beauty who never learned how to get older. I'd like to know how this 'reversing age' mechanism works. Happy birthday, mom!
66. Happy birthday to the fantastic mom who takes all credit for my success and always blames dad for my wrongdoings. May this day return a thousand times.
Emotional Birthday Wishes for Mother
---
67. Here's a big hug from your favorite child. I wish you a year full of surprises, presents, joys, and laughter. Happy birthday, Mom!
68. When I think about the hardship you had to go through while raising us, my eyes become teary. You deserve all the respect and love today! Happy birthday, mom!
69. Dear mom, please allow me to make this day the most wonderful day of your life. A little smile on your face on this day will make me happiest.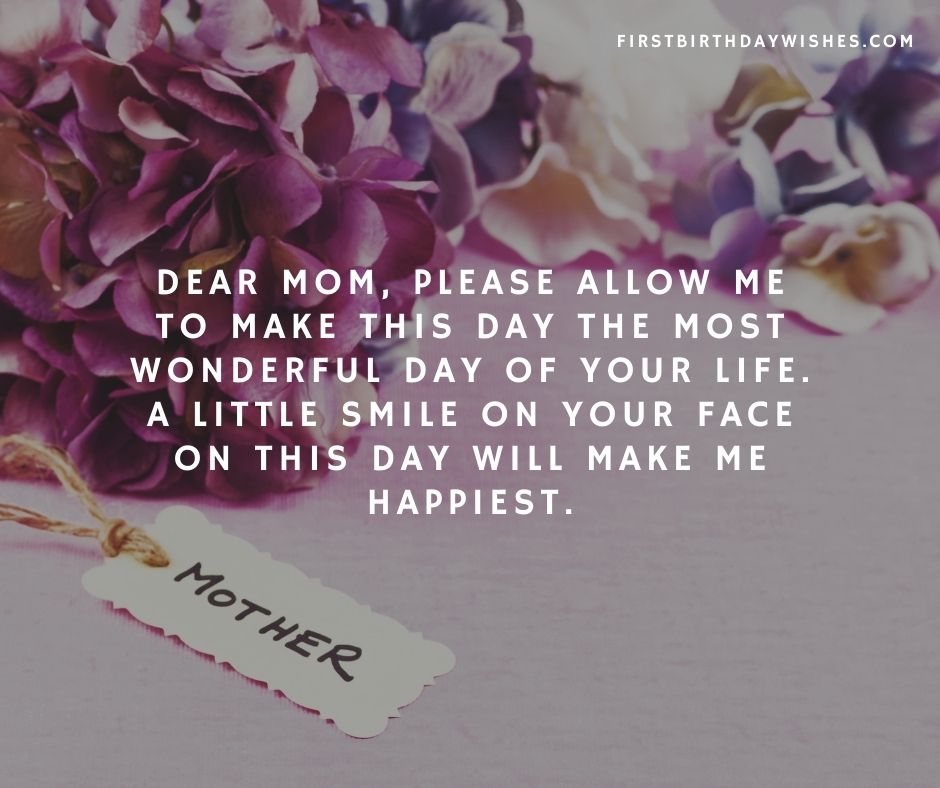 70. Your presence in my life is the biggest blessing of my life. I am who I am only because of your unconditional love and sacrifice. Happy birthday mom!
71. Every time I fell, you helped me get up. You never let me miss a step, get paralyzed by fear, or pass up love. I wouldn't be who I am without you. Happy birthday, Mom!
72. You are the one who made my childhood special, and I remember every minute of it. Thanks to you, Mom. I wish you a very warm and happy birthday. May God pour all the love and warmth on you.
73. If anyone deserves the entire credit for my success and prosperity, it's only you, my mother. You are the entire universe for me. Without your love, support, and presence, my existence has no meaning. Wishing the happiest birthday to my supermom!
74. My dear mother, you are the perennial source of love, knowledge, and wisdom for me. Unquestionably, you are the most gargantuan and never-fading blessing of my life. May I become as compassionate and selfless as you are? Wishing happy birthday to my elegant mother!!
75. As long as you are holding my hands, nothing can go out of the plan in my life. Your mere presence is the most influential factor behind all my achievements in life. Happy birthday to my adorable mother. Stay blessed!!
---
I hope you like these collections of Birthday Wishes for Mom. Also, If you've found us useful, please do consider telling your friends about it. All you have to do is send these quotes on WhatsApp and ask them to subscribe to us.
Thank you for visiting our FirstBirthdayWishes, for more birthday-related wishes, please visit regularly for more updates.