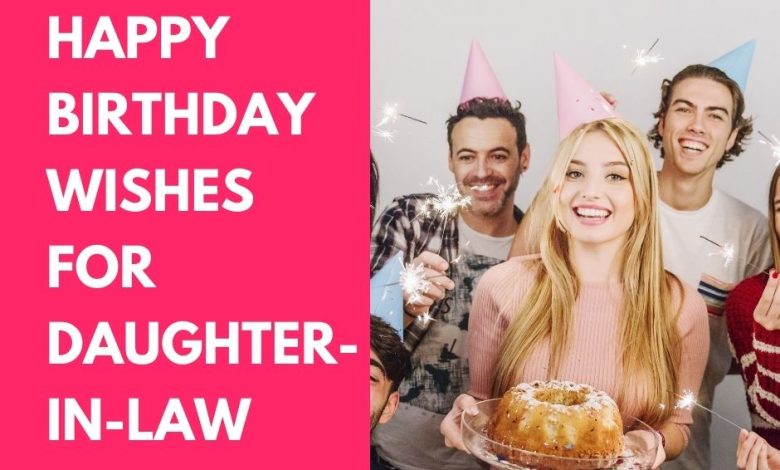 Daughters are like the life of a family, mostly chirpy and mostly angelic. And the few times they are not chirpy and angelic, then you must look out for a potential storm. And then they get married and are chirpy and angelic for their life partners and in-laws too. So if you have a daughter-in-law whose birthday is coming up then we have brought for you the best collection of Messages, Greetings, and Birthday wishes for the Daughter-in-law that you can send her to make her feel loved.
When people have kids, they always desire everything best for them, from a career to a life partner. And when they get a life partner, responsible and loving in-laws always try to develop a healthy and loving relationship with their daughters-in-law and sons-in-law, because, at the end of the day, they are going to be a companion for their kids for the rest of their lives.
So here are some amazing and lovely Birthday Wishes for Daughter-in-law, you can send these adorable birthday greetings, blessings, and messages to your daughter-in-law and bring a smile to her face:
Birthday Wishes for Daughter-in-law
To A Beautiful Daughter-in-law Happy Birthday. Wishing you a birthday celebration filled with everything you love most.
Happy birthday, to a daughter-in-law that I'm truly lucky to know. Today and every day, you deserve all the best.
You are a gift from God. I still cannot believe how amazing you are. I want you to know I appreciate you a lot. Hoping for a great birthday party later on!
My beloved daughter in law, you are a special part of my life, without which I'm not fulfilled. Today I'm so happy to celebrate your date of birth with you. Happy birthday! May God pour great blessings on you and remove all your sadness!
We welcomed you in our family as a daughter, not just a daughter in law. We are blessed to have you in our family, and we are grateful to celebrate this special day with you. Happy Birthday.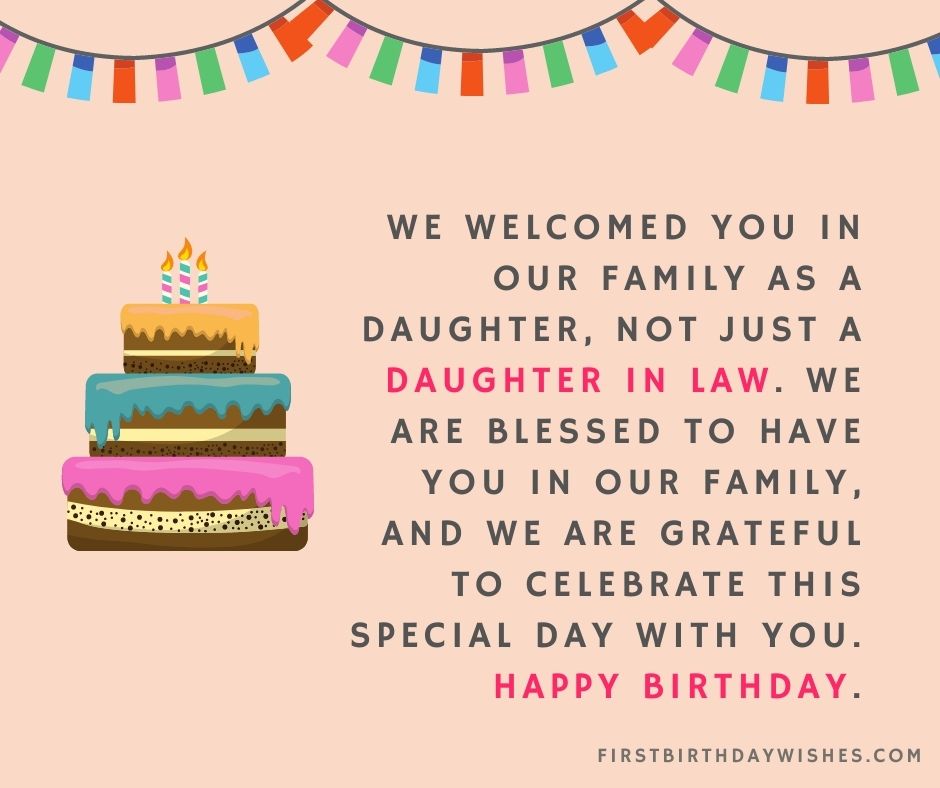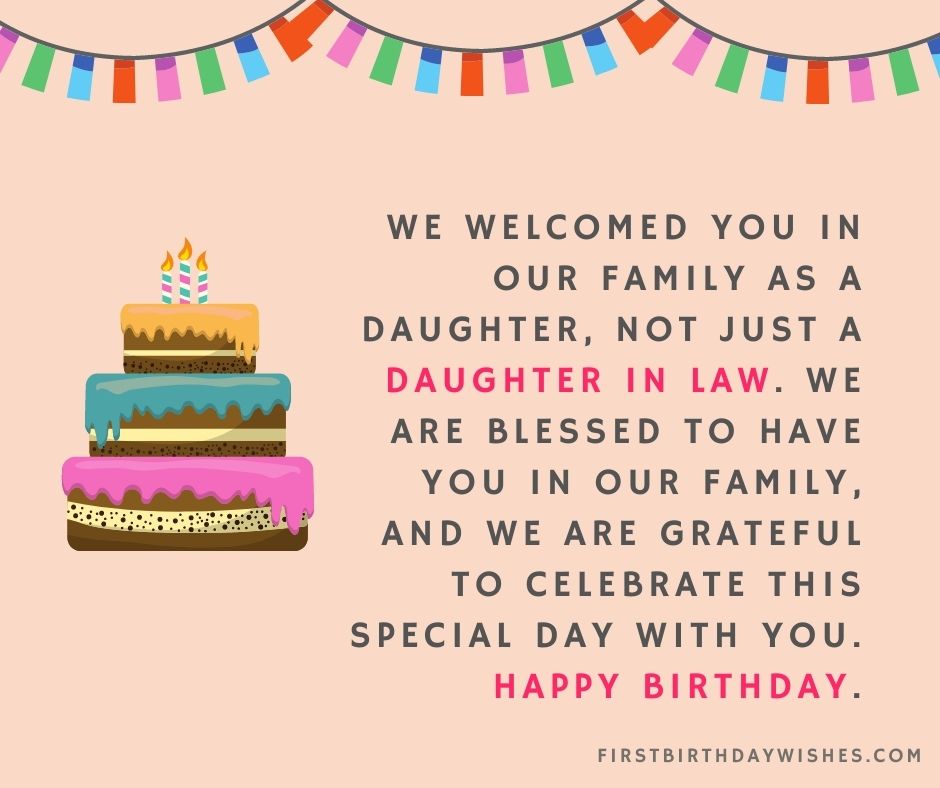 You are a kind, sweet, beautiful, and amazing woman. We are happy to have you as our daughter-in-law. Wishing you the very best Birthday.
You are such a wonderful person. It would be impossible to measure the number of blessings you should get on this day. You deserve the best. Happy birthday!
You are a great lady and so much more than just that. You are the perfect choice as my son's wife. Happy birthday!
Our Daughter-In-Law is a VIP in our family. Happy Birthday from your Proud In-Laws.
To my special daughter-in-law, happy birthday! We are so grateful for you all these years and our son is truly a lucky man to have you by his side!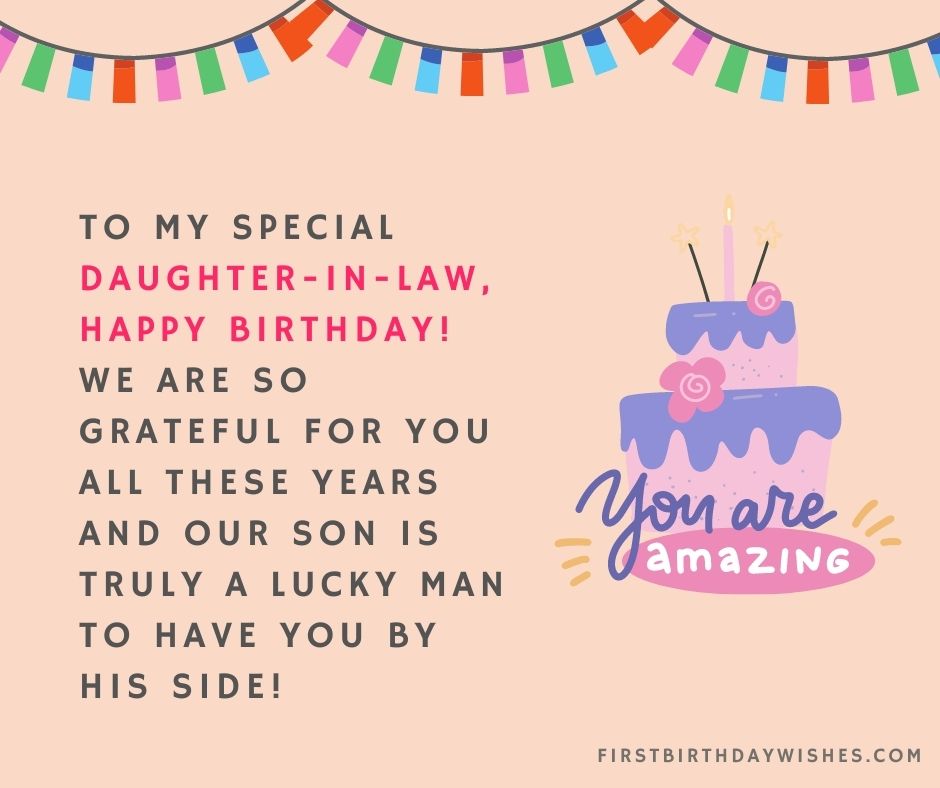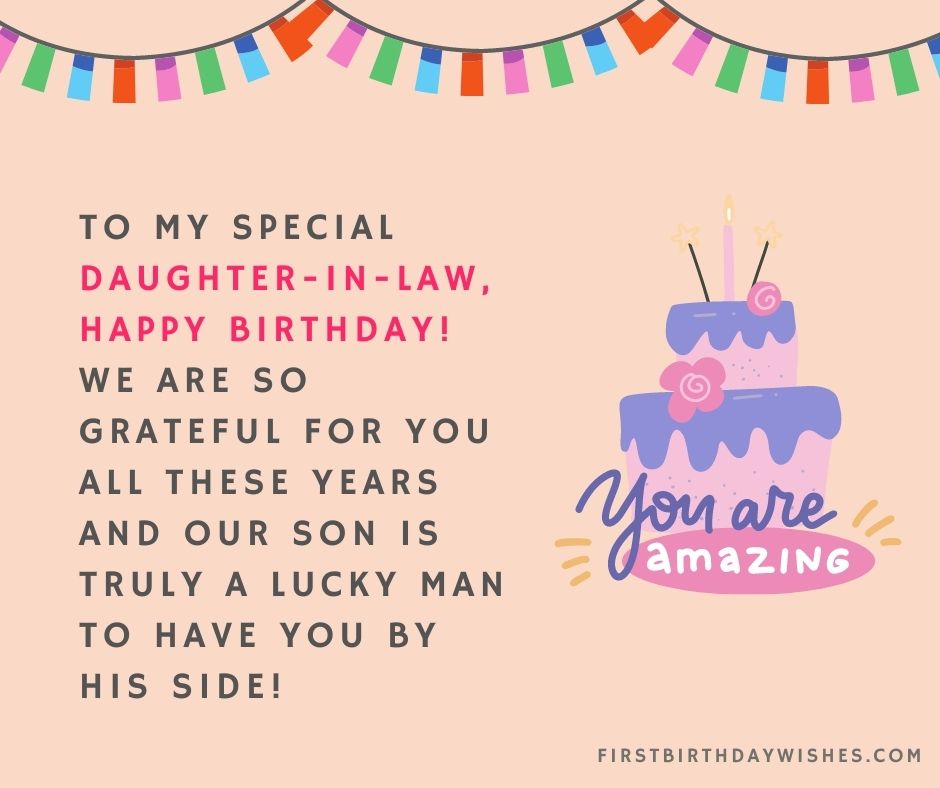 Happy Birthday. You're such a special daughter-in-law. May your birthday be filled with happiness, love & lots of wonderful surprises!
It's your birthday, and I just wanted to say that you're an amazing daughter-in-law. You have brought so much to our family, and it's such a treasure to know you.
Happy birthday, beautiful daughter-in-law! Wish you much love, peace, joy, and all the good things. Always keep in mind that, you'll always find me in all your happy and sad moments. Be happy forever!
We are lucky to have you as a daughter-in-law. And our son is lucky to have you as a wife. A wonderful woman like you comes once in a lifetime, and we are happy we hit the Jackpot.
Happy birthday, daughter-in-law! You have been everything we ever dreamed of and we are so glad to have you part of our family. May you always be happy and healthy.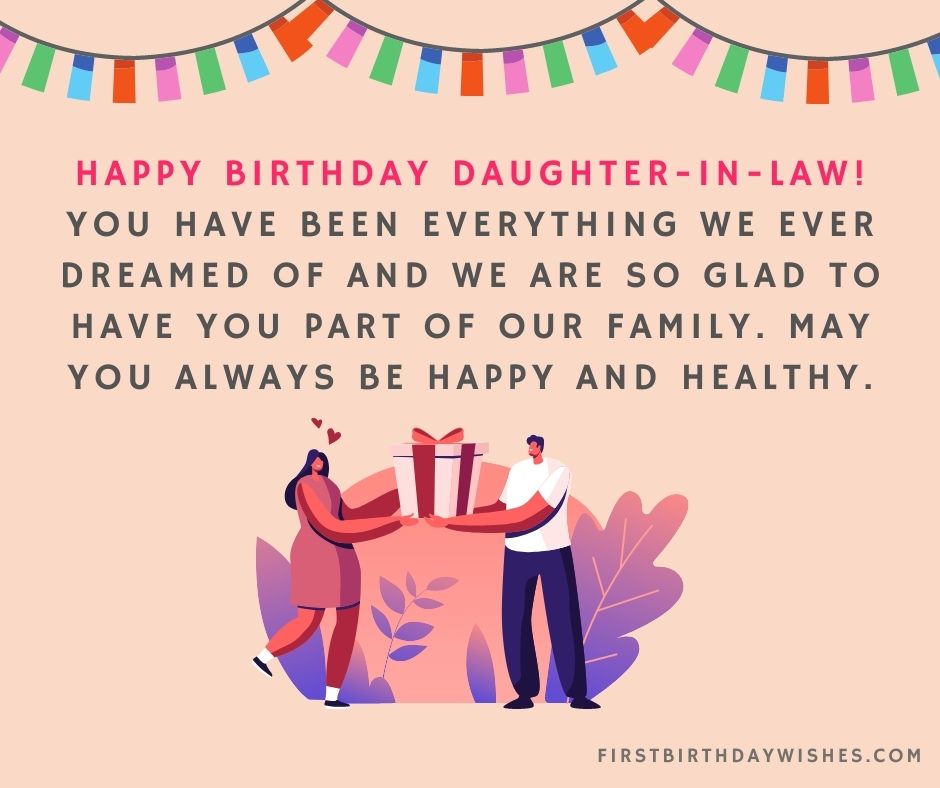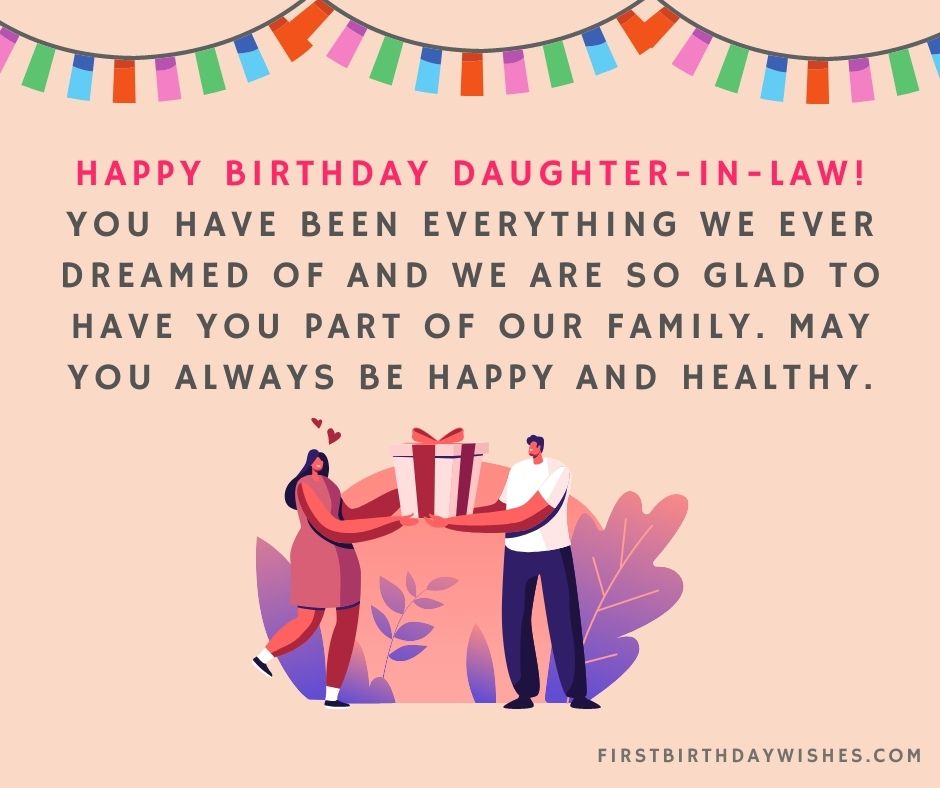 As your mother-in-law, it's my job to criticize you whenever possible. Unfortunately, you make my job exceedingly difficult. Happy Birthday to a frustratingly perfect daughter-in-law.
Happy Birthday. To My Spectacular Daughter-in-Law! From your kind ways and your sense of humor too, we love you for who you are and are thankful for you! Have a great birthday!
Wishing a very happy birthday to a sweet and caring daughter-in-law. You're a beautiful soul, and I'm so thankful to know you.
My pretty daughter-in-law, happy birthday! Since your entrance into this house, you've given only the good moments to all and the most important thing is, my son is very happy with you. May God bless you with a lovely child and fulfill your wishes!
Happy Birthday! Wishing you a day full of wine, good food, and everything else a wonderful daughter-in-law like you deserves.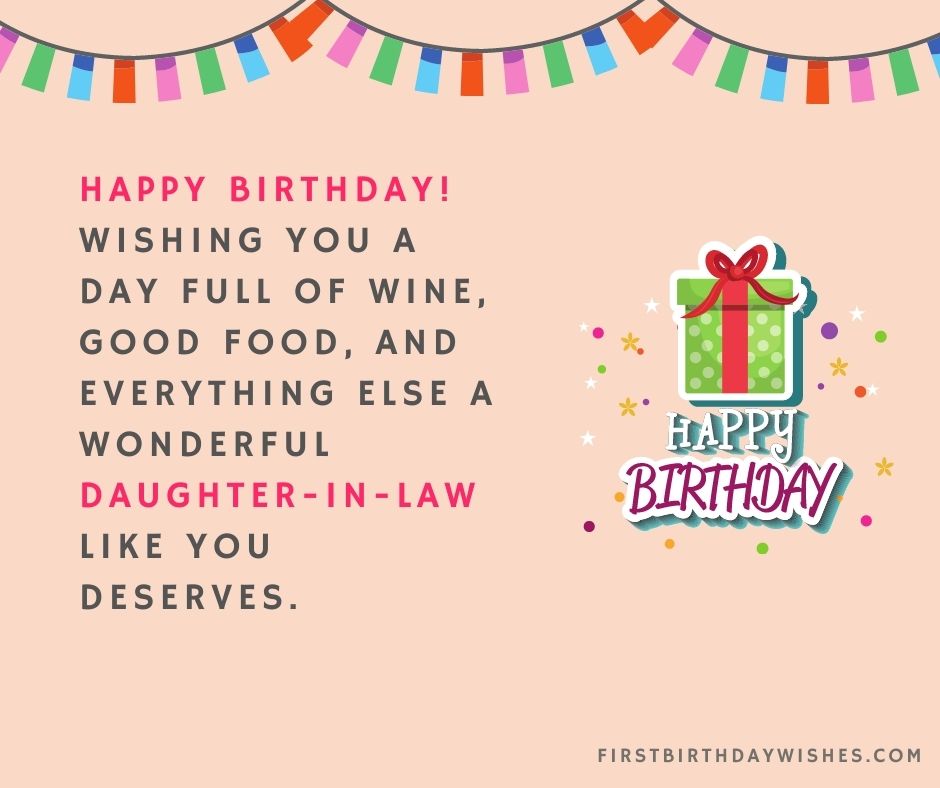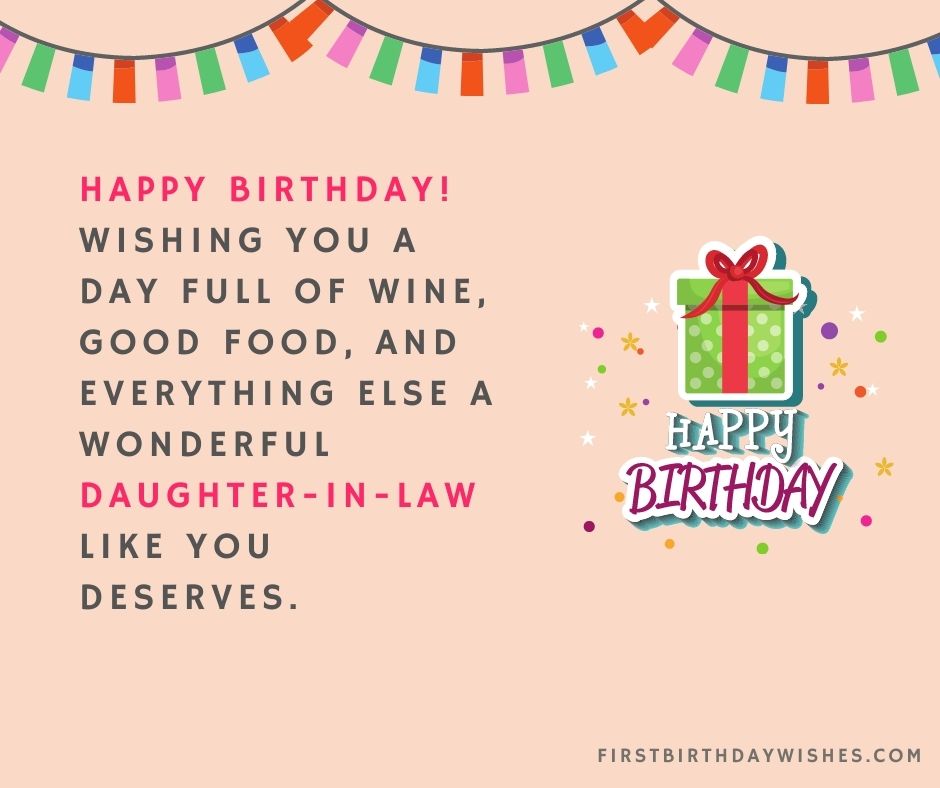 As a parent, we are happy to see that our son is so happy with you. You two are a perfect couple. You have real love and chemistry. We are very lucky that our son has chosen a wife like you. Happy birthday to you, dear!
Over the years you have worked so hard for this family and took care of your kids so well. Happy birthday! You are truly a great mother and an even better daughter-in-law.
We love you for all the things that you do, not just on your birthday but the whole year through. Happy Birthday to a daughter-in-law who does it all.
Happy Birthday, Daughter-in-Law! Hope you have a great birthday and the most spectacular year ahead. Enjoy your special day!
Happy Birthday. To my exceptional daughter-in-law! It's your big day. Dream big, reach for the stars, and know that anything is possible for the coming year! Enjoy your birthday!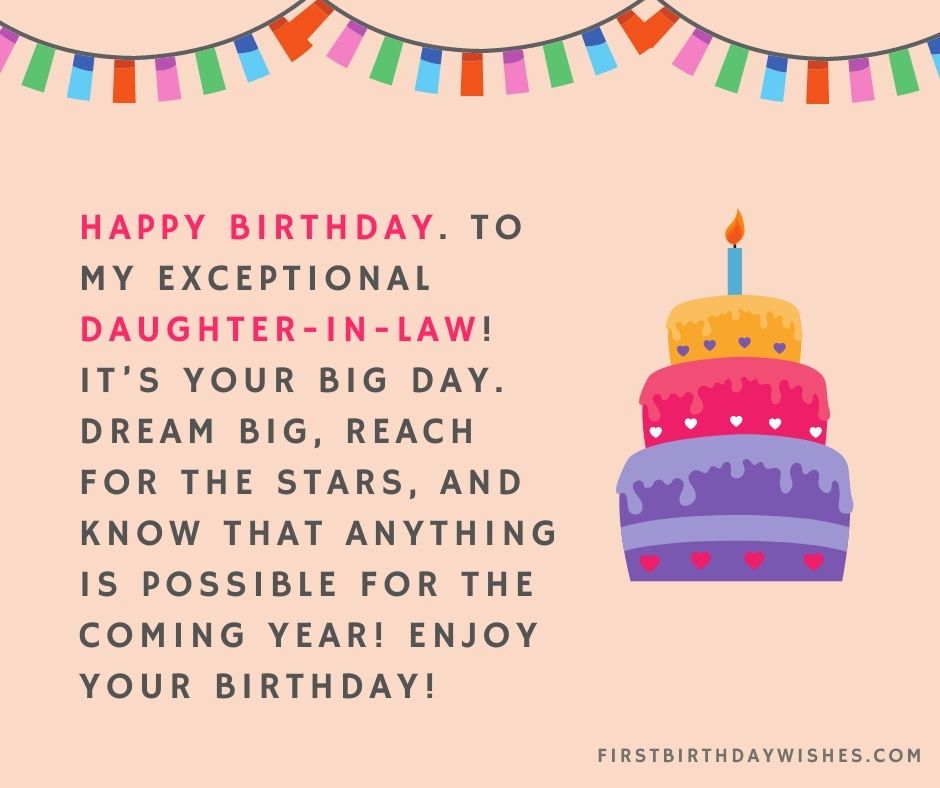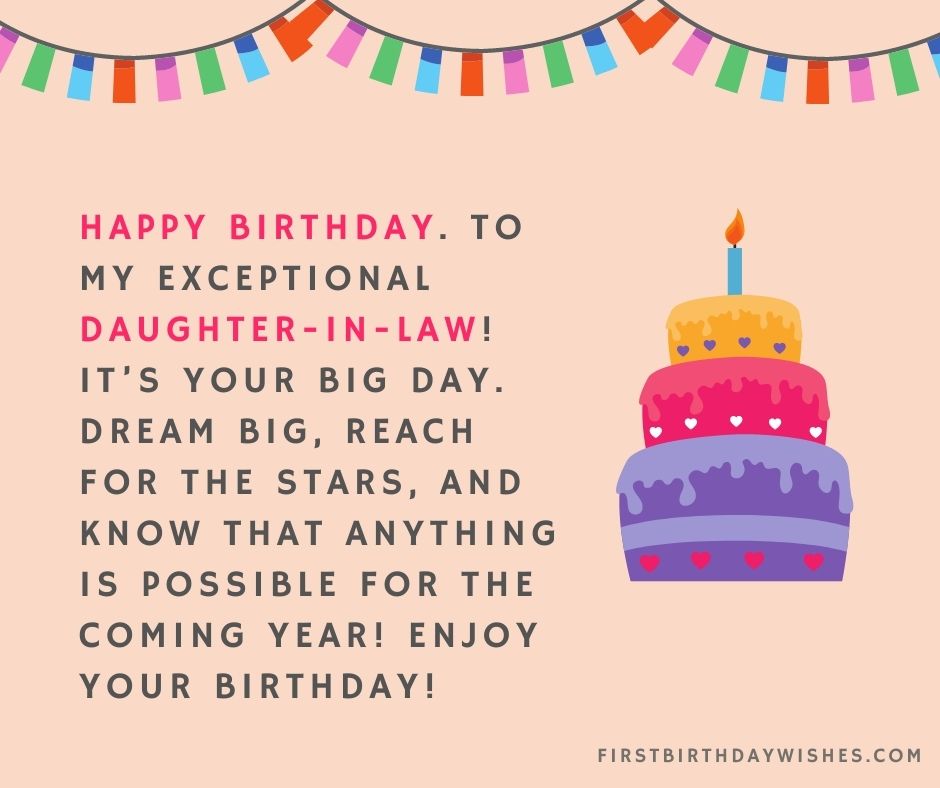 Happy birthday to a genuinely wonderful daughter-in-law. You bring light and happiness into our family, and we're so grateful that you are a part of the family.
The loveliest daughter-in-law, congratulations on your birthday! May the Almighty give you much peace, health, and love because you truly deserve it! Know that, in every situation, I'll always be with you. Celebrate the day and have fun!
Make sure your husband treats you with respect on your Birthday. If not, tell us, and we will punish him. Just kidding. You two are the best. Wishing you a great day.
Happy Birthday to a dear daughter-in-law. You continue to amaze us with your wit, kindness, energy, patience, and strength.
It is impossible to get a more perfect daughter-in-law than you. You are perfect in every sense of the word. My blessings to you on this special day!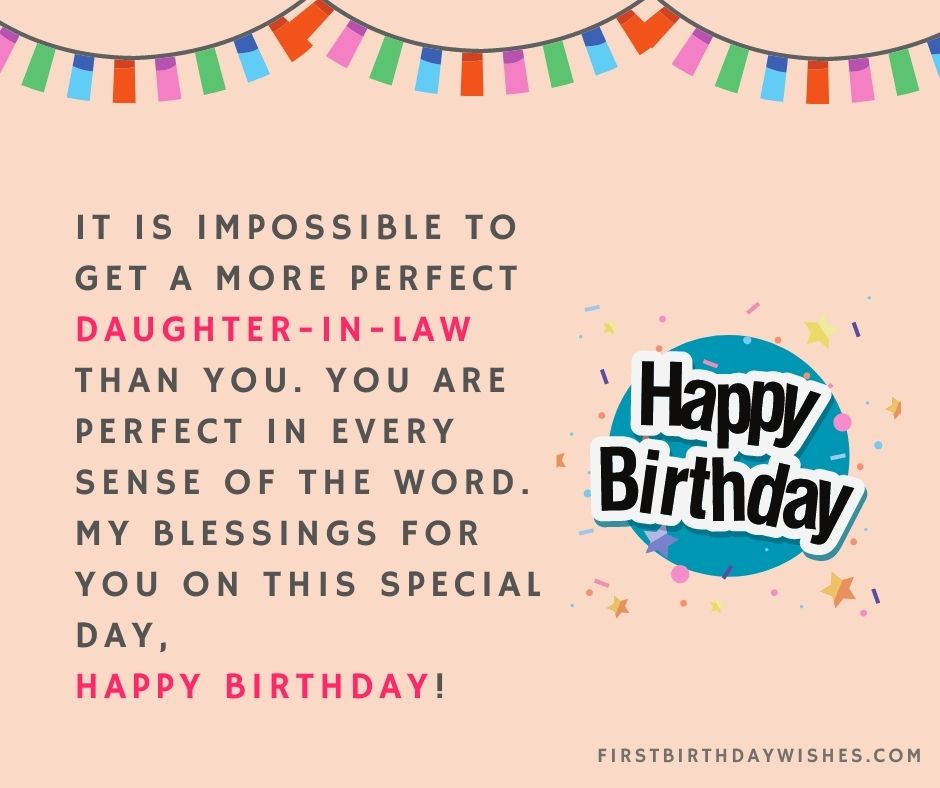 Wishing the best daughter-in-law a very happy birthday. Your sweetness, compassion, and beautiful soul is a priceless treasures to our family.
Today you're celebrating another year of existence and I'm here to wish you a very happy birthday! Congratulations dear! You spread happiness to all the people around you. I wish you to have a happy and healthy life!
You are our candidate for daughter in law of the year award. Today, however, you are the perfect candidate for the best birthday party ever.
Loving you is easier than even smelling a flower. We didn't have to put much effort into liking a lady as wonderful as you. We are sending you a lot of love and happiness.
You might be just my daughter-in-law, but you are one of my favorite people. Thank you for everything you did for my son. Happy Birthday.
One thing we can do to keep the relations lively is to remember their important days like birthdays and anniversaries and wish them and shower them with all the blessings. So send these best Daughter-in-law Birthday Wishes, Messages, Greetings, and Blessings, and be the best in-law there ever was.
If you have liked our article on the Best Birthday Wishes for Daughter-in-law, then send it to your loved ones. And also bookmark our site we have posted and will post many articles related to best birthday wishes.
You May Like Also
---