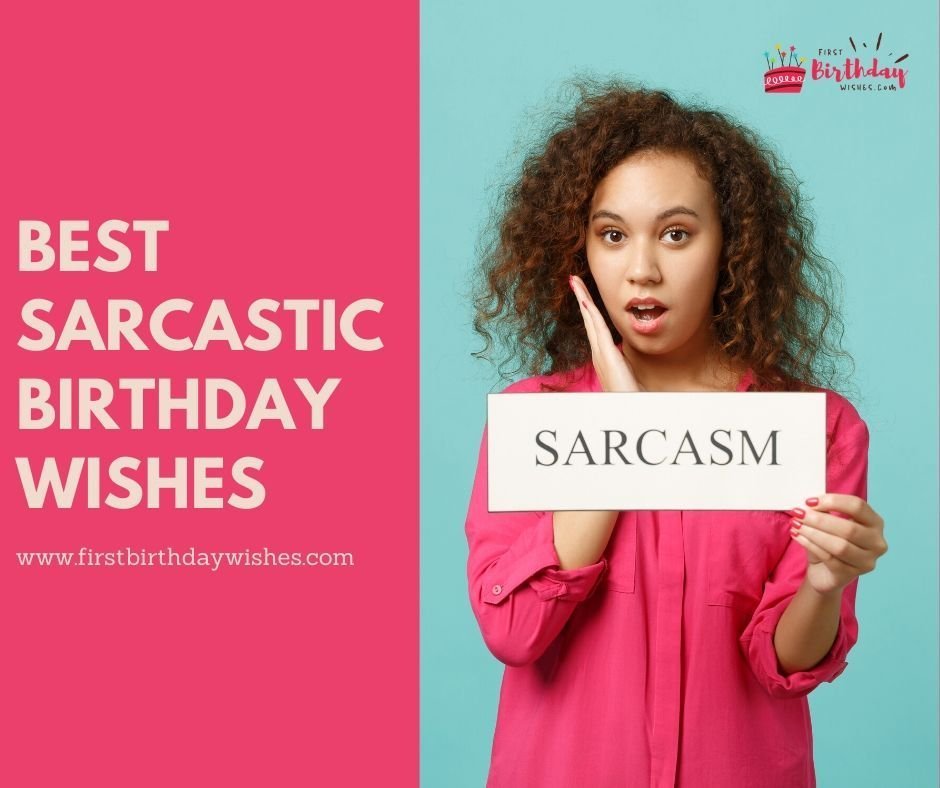 Have you been looking for the best birthday wishes for those people in your life whom you want to wish in some sarcastic way?
Birthdays are the most special times of our life. We wait for an entire year for the day to come. If you are bored with that old kind of birthday wishes then we have all kinds of latest happy birthday wishes for you on this website. Today we come here with sarcastic birthday wishes so that you can pull the leg of your friend and take some fun of him/her.
There birthday wishes that are quite funny that are meant to make the birthday celebrant laugh. While sarcasm has its limits, and can sometimes go over the line, it is a fun thing to share with those closest to you.
With these birthday wishes, you can share the gift of laughter, story-telling, and memory-making. Here are some of the best sarcastic wishes you can send to someone special and add something extra special to their birthday.
Sarcastic Birthday Wishes
---
Good job for trying to keep being alive until this day, congratulations on getting older again.
Hey! It's your birthday! I love this day because we both get to party hard and live large this one day of the year. Thanks a million for making your big day mine too!
Young and immature. Those are two words that usually go together- but with you young is gone and immature somehow stayed for a while. Oh well, I guess old and immature works for today. Happy birthday to you, you expired and irresponsible human.
Happy birthday to my best buddy in the entire universe. May you grow so old that the devil gets frustrated waiting for your arrival!
I really try my best to like people. But most of them are so stupid I just can't. Thank God you're not one of them- happy birthday.
Calling you an angel would be a lie so let me just hope that you are happy on your birthday!
I want to congratulate you for being one of the ancient people in this world, that is great!
Let's turn this birthday of yours into the official annual Let's Get Drunk Day. What do you think? Sounds good right? Happy birthday to my new drinking partner.
Hey! I hear today is the day you were born into this world… great job for staying with us this far. Happy birthday to the only real psychopath I know.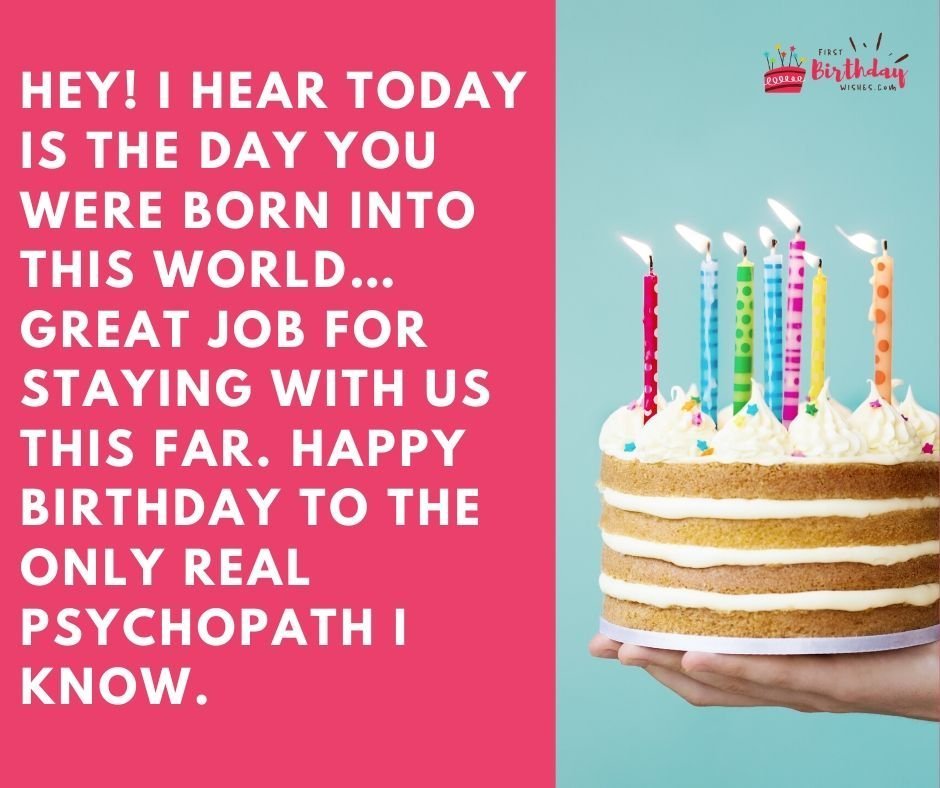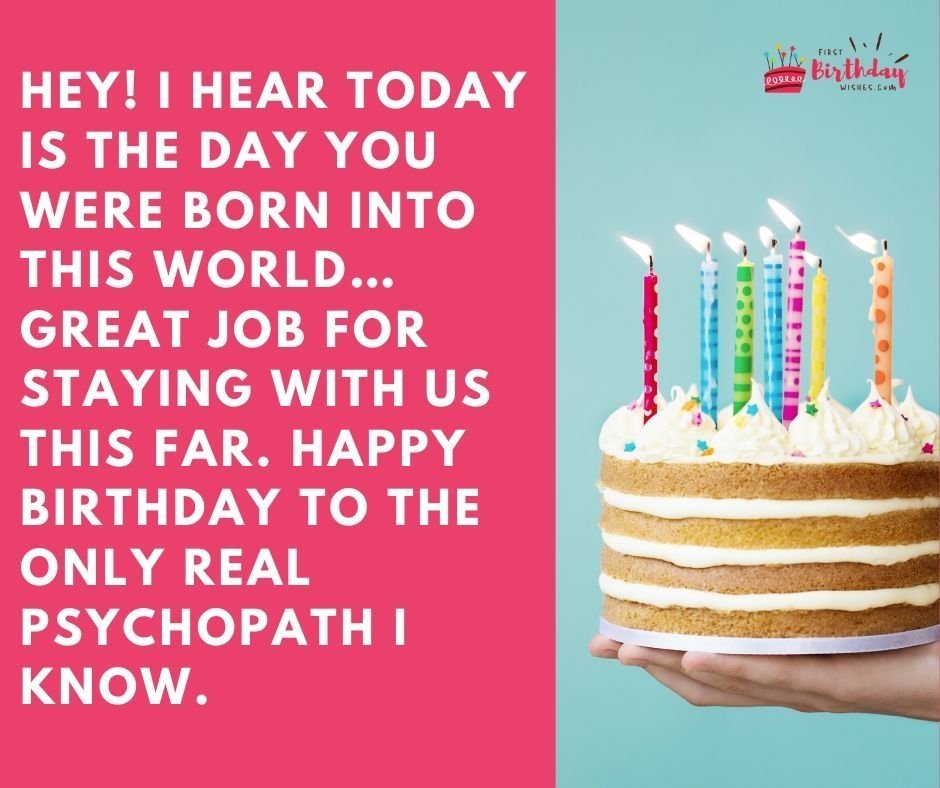 Some say that age is just a number. I say that's bullshit. I mean, you're getting really old. Happy birthday anyway.
Birthday is the best time to remember that you are slowly getting old. Here's to you and your gray hairs. Happiest birthday!!
Since it's your birthday I would request you to keep quiet for at least an hour. Happy birthday, chatterbox!
Oh! So it's your birthday. Do I have to wish for you? Happy birthday. Happy?
Good job for trying to keep being alive until this day, congratulations on getting older again.
I put up with you more than you ever did. You should be lucky to have me in your life. Happy Birthday!
You are looking happy as you have aged by one more year. But trust me that is not a genuine reason to cheer. Happy Birthday.
Today is the day you were born into this world, well I am happy for you, hope you are too. Happy Birthday.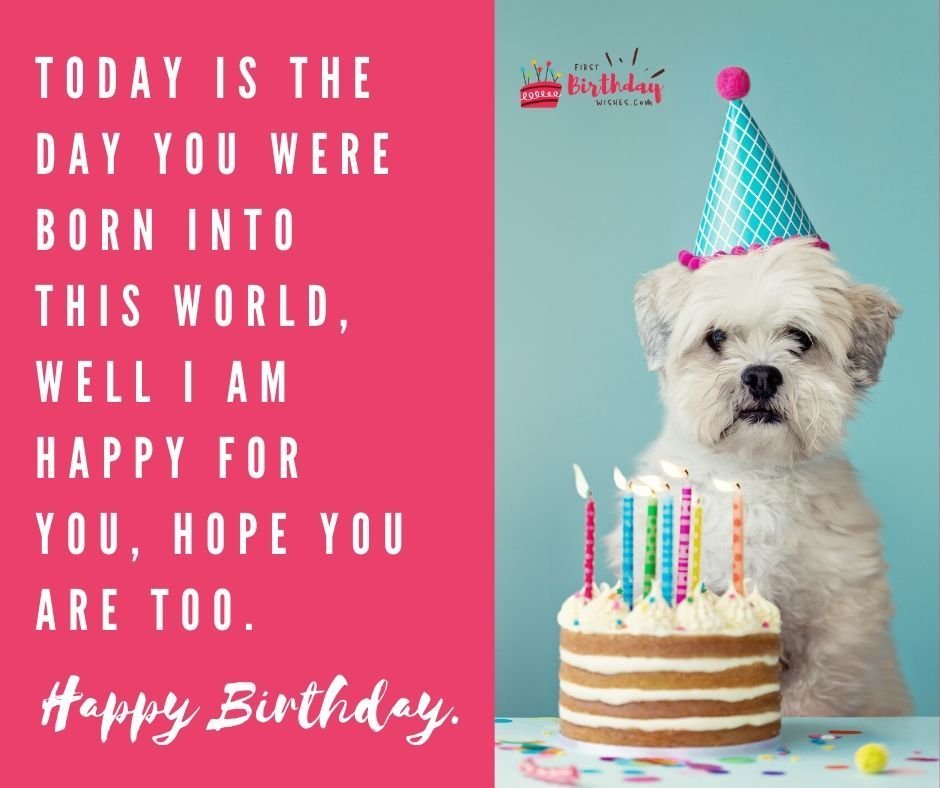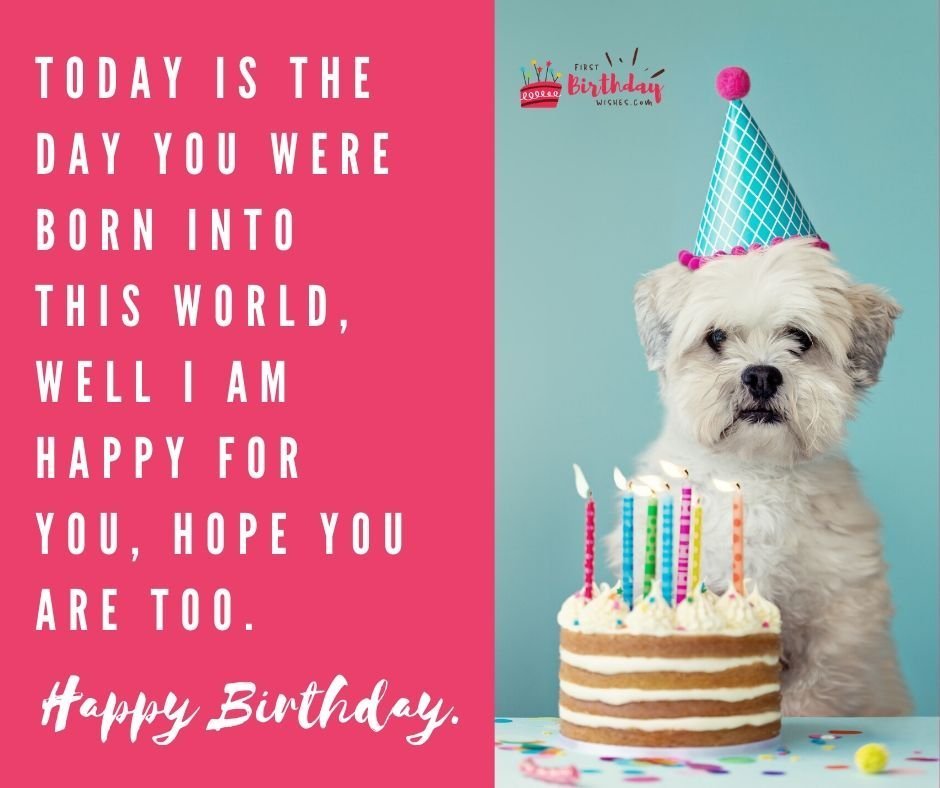 I hope you do not let your old age keep you from doing anything, just kidding, have fun today.
I am giving you what you have given me everyday, trouble and sarcasm, happy birthday.
This person is definitely a trouble maker so I have to get ready to clean up your wastes.
You are now one year old, Don't think you will become wise. You will keep doing foolish things and keep loosing respect. Happy Birthday
Well, I am happy to know that you are progressing in at least one phase of life. Happy Birthday.
Oh! So it's your birthday. Do I have to wish you? Happy birthday. Happy?
I know I am your best friend because I remember your birthday without any Facebook reminders. Feel lucky already? Happy Birthday!
Please tell me your real age today and that your pet was a dinosaur. Happy birthday, oldie. Enjoy the day to the fullest!
I wish you receive so many birthday notifications on the day that even your phone expires. Happy birthday, techie. Enjoy with family and stay away from the mobile phone!
Cheers to you on completing yet another decade of life. Happy birthday!
Tell me again how old you are? Wasn't your childhood pet like… a dinosaur? Haha… happy birthday you ancient old, awesome human.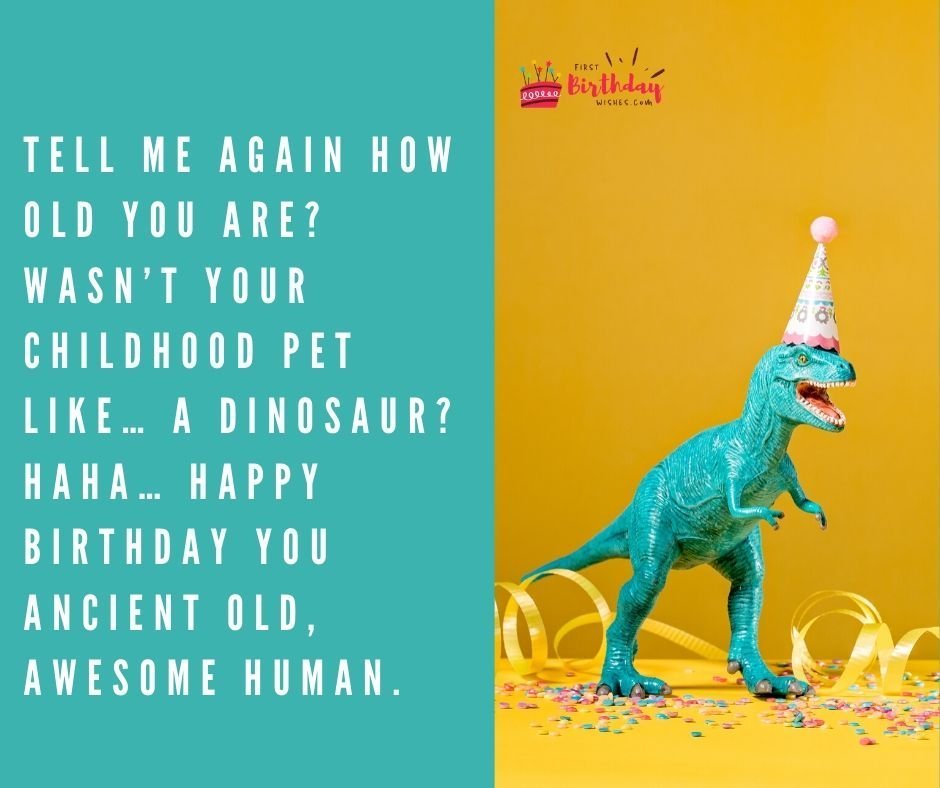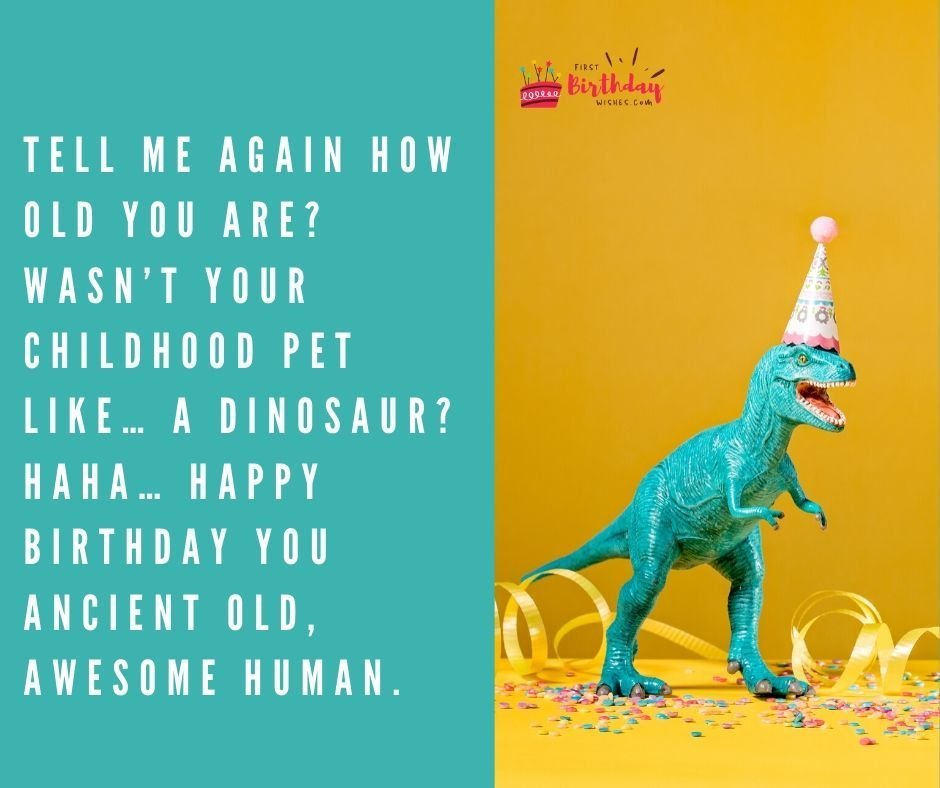 Sarcastic Happy Birthday Wishes
---
On your birthday this year, I thought I would do something extra nice. I posted a ton of birthday wishes on your Facebook timeline so you would look way more popular than you are- you're welcome. Happy birthday!
The only advice I want to give you today is to be less stupid. Happy birthday!
What?! You're how old? That's like almost dead in doggy years…. Here's hoping you make the most of the few years you have left. Happy birthday.
May you live long enough after today to eat lots of cake, kiss someone's ass, and rob a bank so you can go out in style. Happy birthday, you big trouble maker!
Wishing a big happy birthday to the guy who makes me feel like I finally have a little sister! Happy B-Day, bro.
I will not make any age-related jokes because I really feel bad about how old you are. Happy Birthday!
I used to think your birthday was one on the 1st of April. Because it is said that it is celebrated in the memory of Fools. Happy Birthday
Go to hell, for god's sake. You are torture for us and God's Mistake. Happy Birthday
If there was a list of words to describe you on your birthday this would be it: bad, naughty, less than perfect, helpless, wasted, immature, badass, embarrassingly hilarious… well, you get the point, right? Anyway, happy birthday. I hope that after today I can still put up with you for another year.
A man who is cheap, A man who is fake. Time has come for him to cut the birthday cake. Happy Birthday
I will give you a birthday gift. If You return the money you borrowed from me. Happy Birthday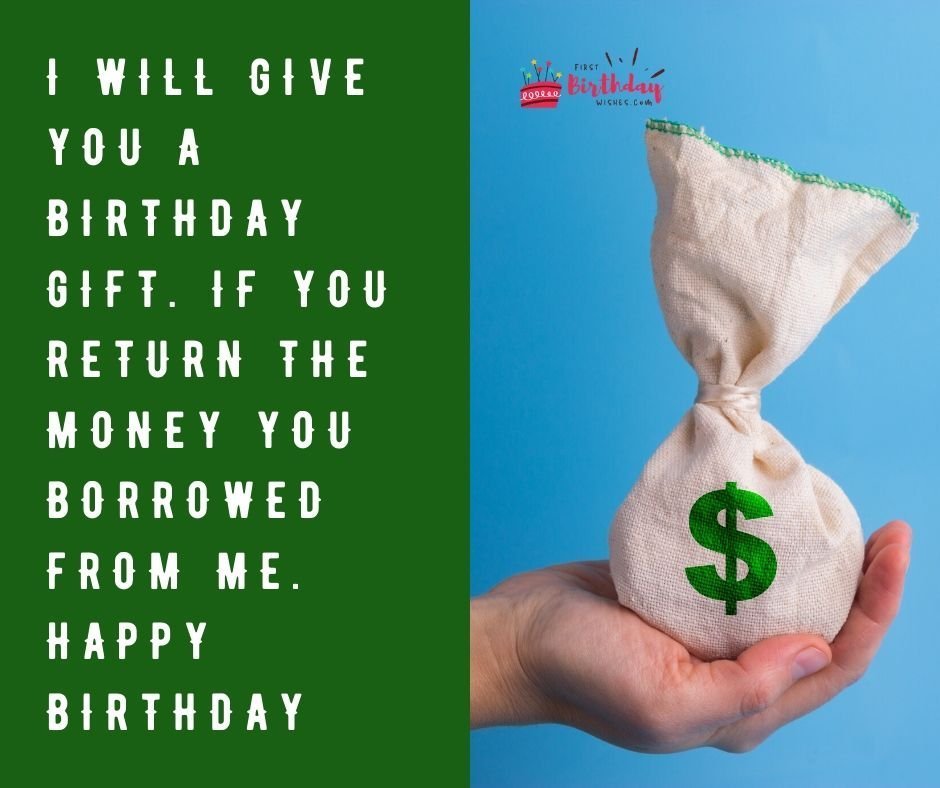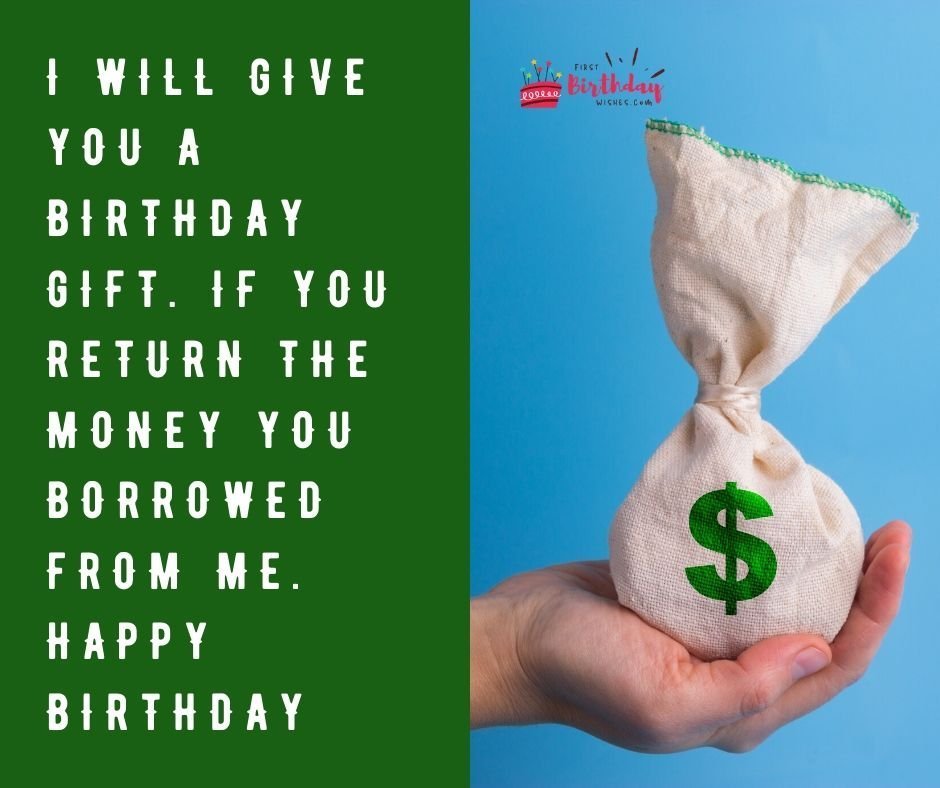 Sarcastic Birthday Wishes for Sister
---
Sweet sis, this year to prove that I'm not a bad person, I decided to get a gift which is the exact opposite of how I feel about you.
Dearest sister, my wish for you this coming year is a committed boyfriend so that you won't grow old with a questionable reputation.
The fact that you don't appreciate me isn't going to stop me from appreciating you, so I'm taking this time to wish you a happy birthday and many more.
Life has blessed some people with sisters who are beautiful, intelligent, hardworking, witty, and I have you. Happy birthday all the same.
You're growing so fat that next year I'm going to hang your cake from the ceiling just to get you to do a few jumping jacks. Wishing you the best, my dearest sis.
I couldn't think of a gift to buy you this year because you already have all the best life has to offer – beauty, brains, and a direct blood relationship with me.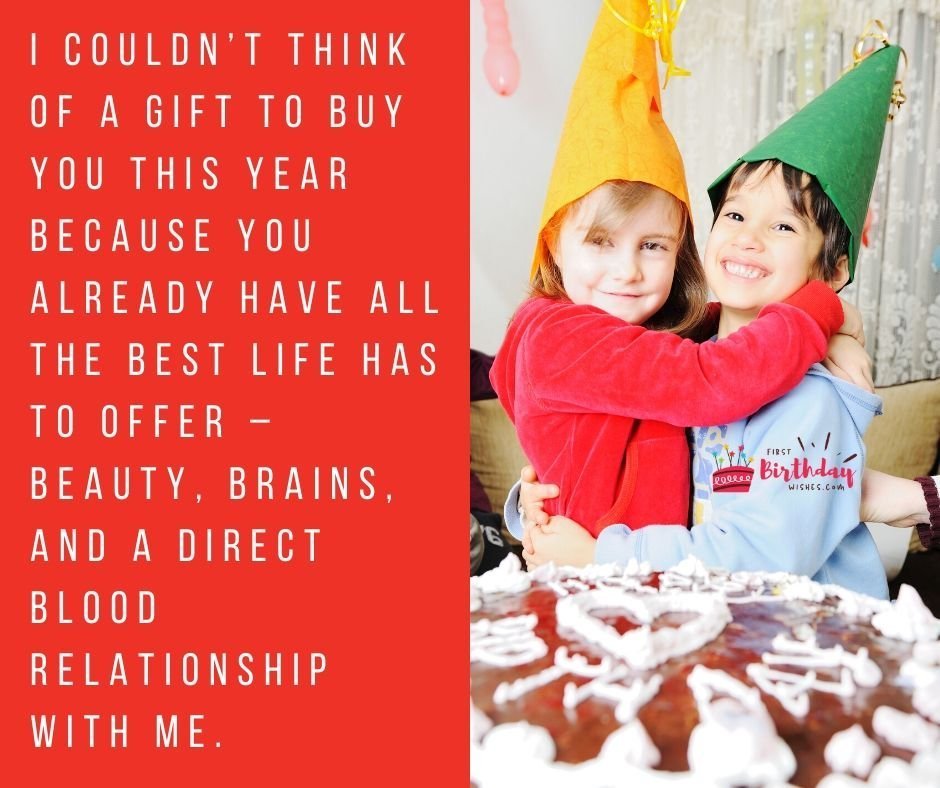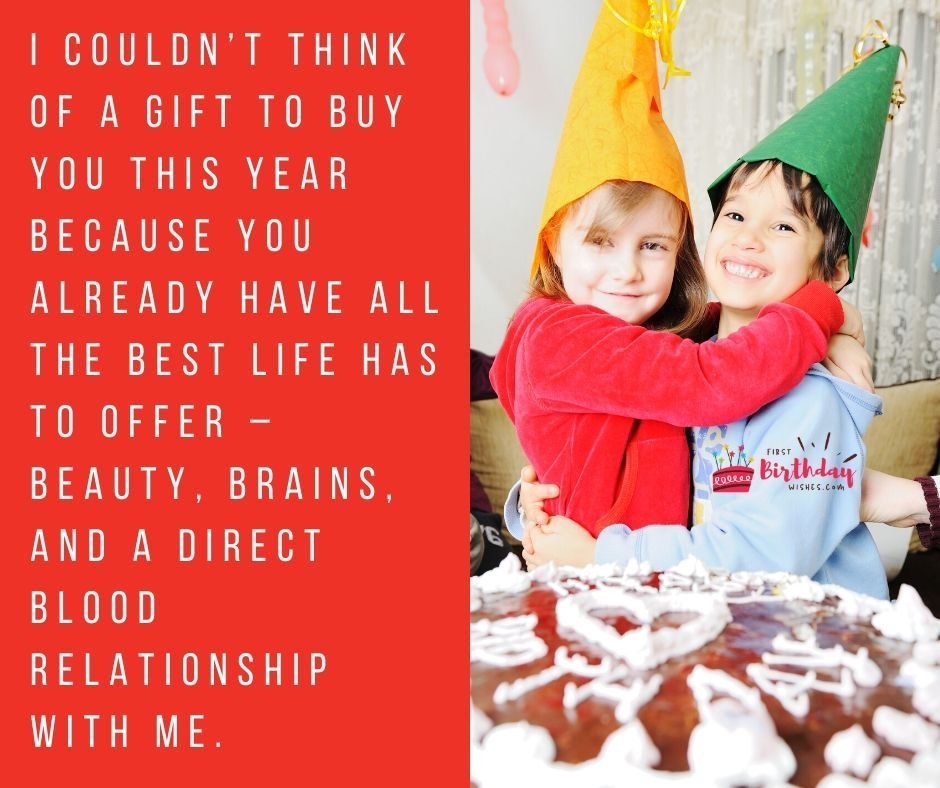 Sarcastic Birthday Wishes for Brother
---
When I think about the opportunities you've caused me to miss, I sometimes get bitter. However, occasions like today remind me of why I care for you so much. Happy birthday, beloved bro.
You're the scum of the earth, an a-hole, a true lowdown, dirty vato – but I like that, I like that! Happy birthday, bro.
I wish you had taken mathematics more seriously back in school because then as you grow old you would be able to count your age. Happy birthday dear brother and my life grant you the success that exceeds your educational level!
You've never bothered to give me a shoutout on my birthday, but life is about treating others as you want to be treated and not how they treat you, so please accept my sincerest birthday greetings, big bro.
You were more popular in school, yet I'm a more successful adult, but since you're my brother we must share some of the same talents. Thus my birthday wish is for you is to tap into those submersed attributes and rise out of the mire of mediocrity.
Best wishes, dear brother. We get along like Cain and Abel, but I'm still appreciative of your life.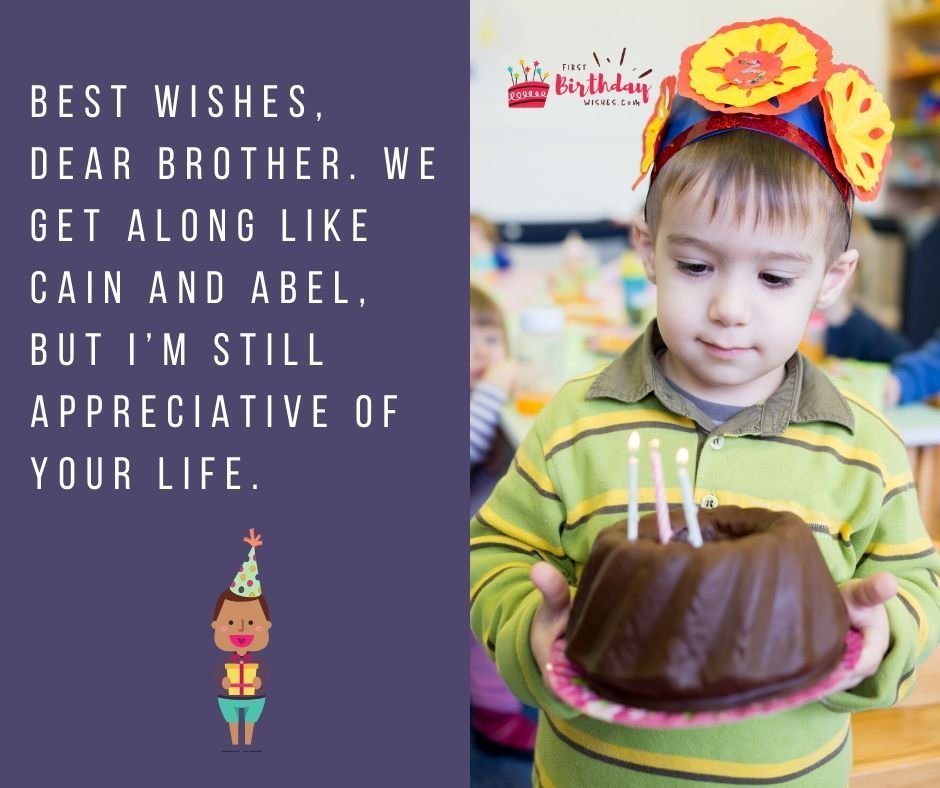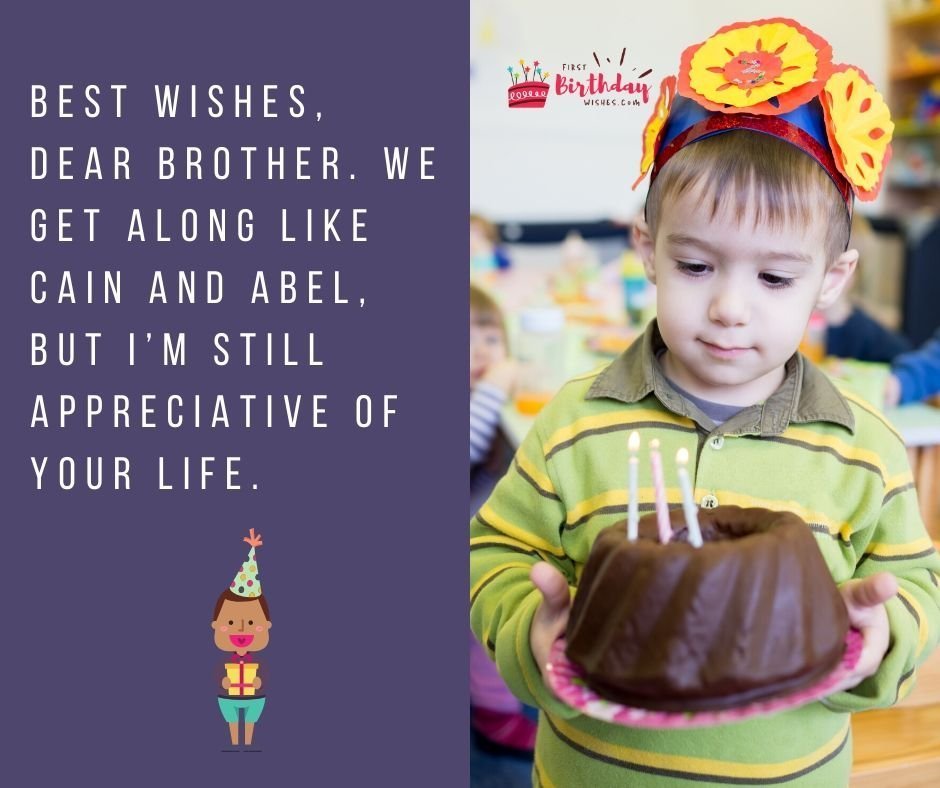 We hope up guys love all these  Sarcastic Happy Birthday wishes. These Are the best wishes that you can send to your dearest friend. And trust me guys he/she will not get angry, or annoyed because of these birthday wishes. They will enjoy all these unique wishes.