Like there are milestones in a journey, similarly, there are milestones in people's lives. It could be an achievement, or it could be a simple and inevitable thing like turning into an adult. Leaving the teenager almost behind and turning eighteen is a moment in life that might not change your appearance in a day, but it can change you in a second. Because this age officially unlocks many sweet and bitter places for you in life. So if a child around you is going to be an adult in some time, then we have brought the best collection of amazing Happy 18th Birthday Wishes and Messages that you can send them to make them realize what lies ahead of them.
Stepping into adulthood might leave some people happy and others exhausted. All you have to do is stand by your people and your beliefs strongly and you are good to go. So here are the coolest Happy 18th Birthday Wishes and Messages, send these to the new adults:
Happy 18th Birthday Wishes
Be adventurous, try new things and experience everything! Have an awesome journey through your adult life.
Now that you're 18, I hope you don't start worrying about acting like a grownup. You're amazing just the way you are.
On your 18th birthday, my number one piece of advice is for you to take a deep breath, do some reflecting, and make a cool start.
Age is just a number. Real maturity comes from experience. Congratulations on becoming 18! I wish you a bright future!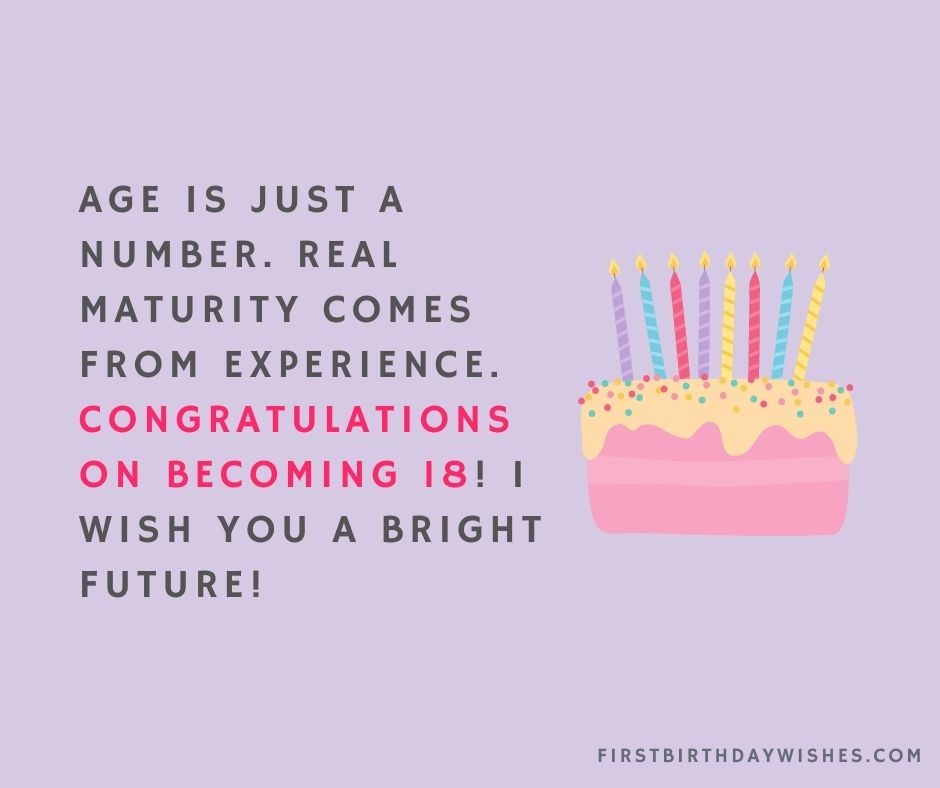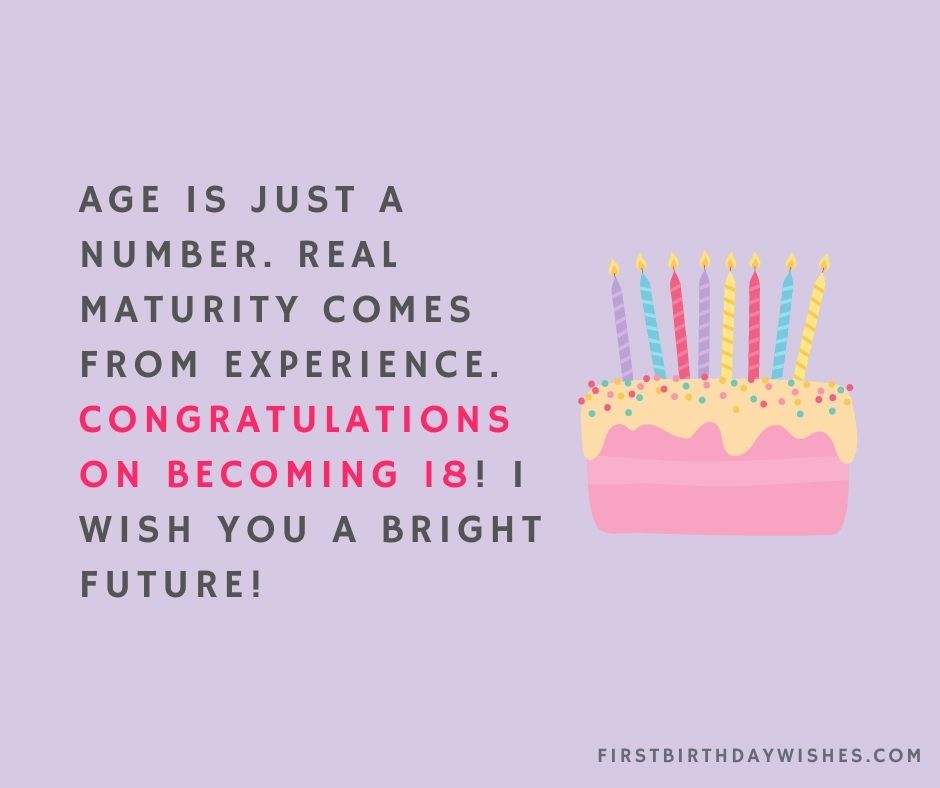 I can't be happier seeing you turn 18, you were just a like the other day. Although this day makes me feel old, I wish nothing but the best for you. I love you sweetheart. Have a great day.
Life is like a journey by boat and from today, you're ready to take charge of your own boat. I wish you all the very best for the future. Happy birthday!
Even though you're officially a grownup, I hope you never lose that childlike sense of wonder, joy, and mischief.
If you don't do wild things while you're young, you'll have nothing to smile about when you're old. Happy 18th birthday!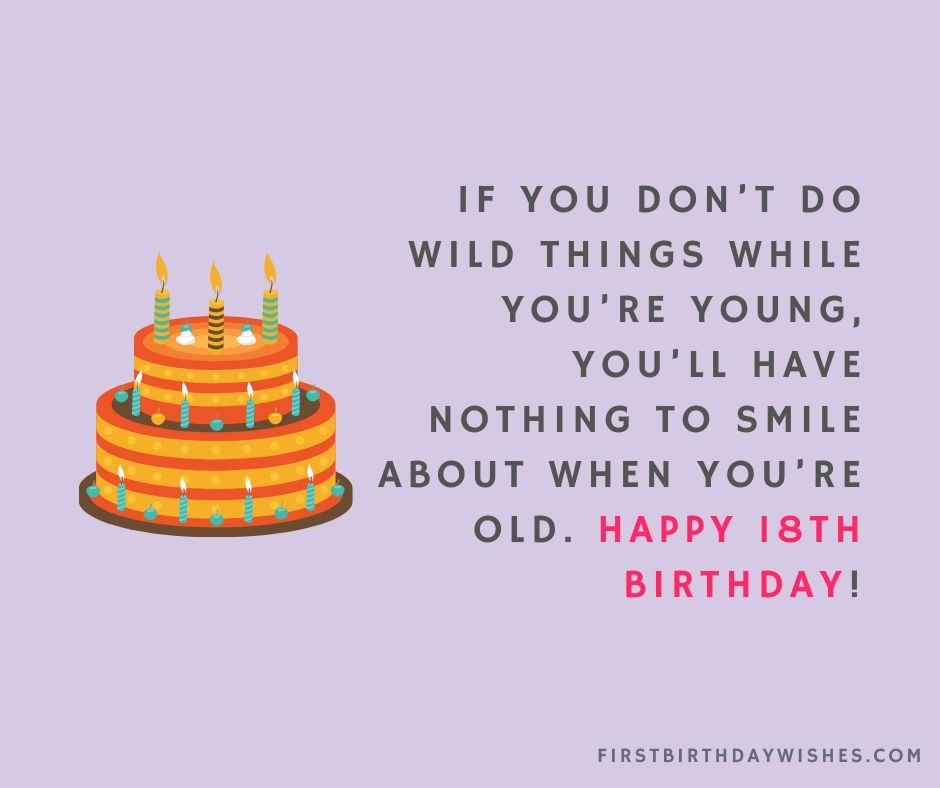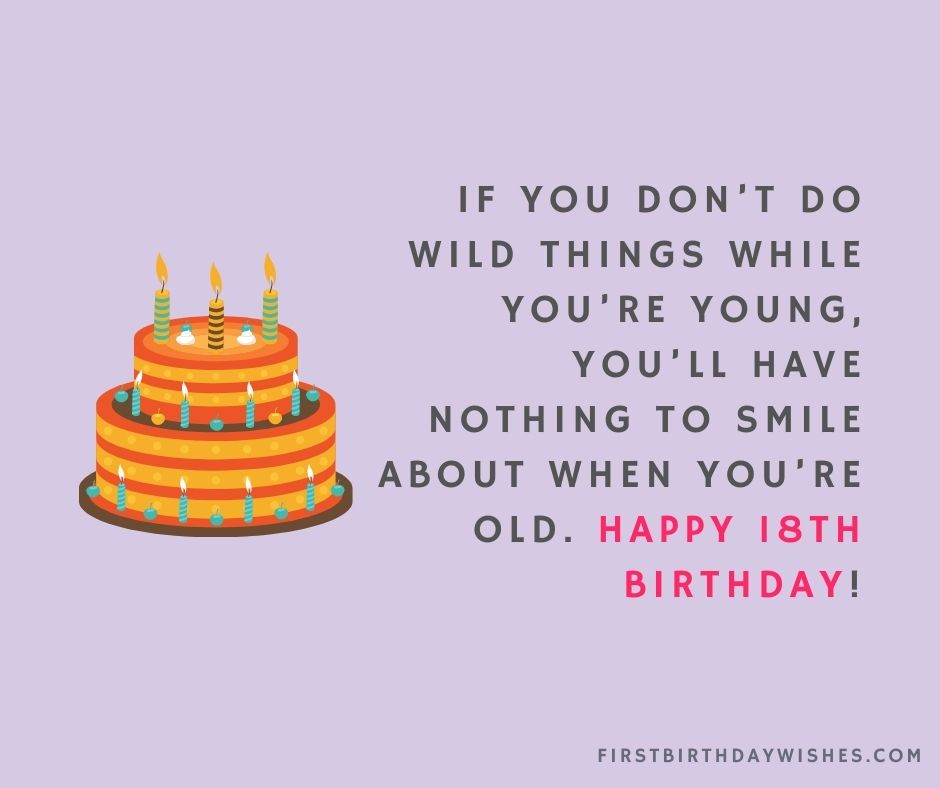 Some will say it is too early, but I will say that you must start planning your life right from now, be ready to embrace every good thing that come your way. Happy 18th Birthday
Happy 18th birthday! It may seem sweet for the first couple of days. But after that, you'll really start heating adulthood. Best of luck!
Wishing you a happy birthday. Keep your sparkle shining bright, because you're a true rising star. Happy birthday!
Enjoy the moment, the day, and your teenage years for as long as possible. Wishing you a memorable 18th birthday!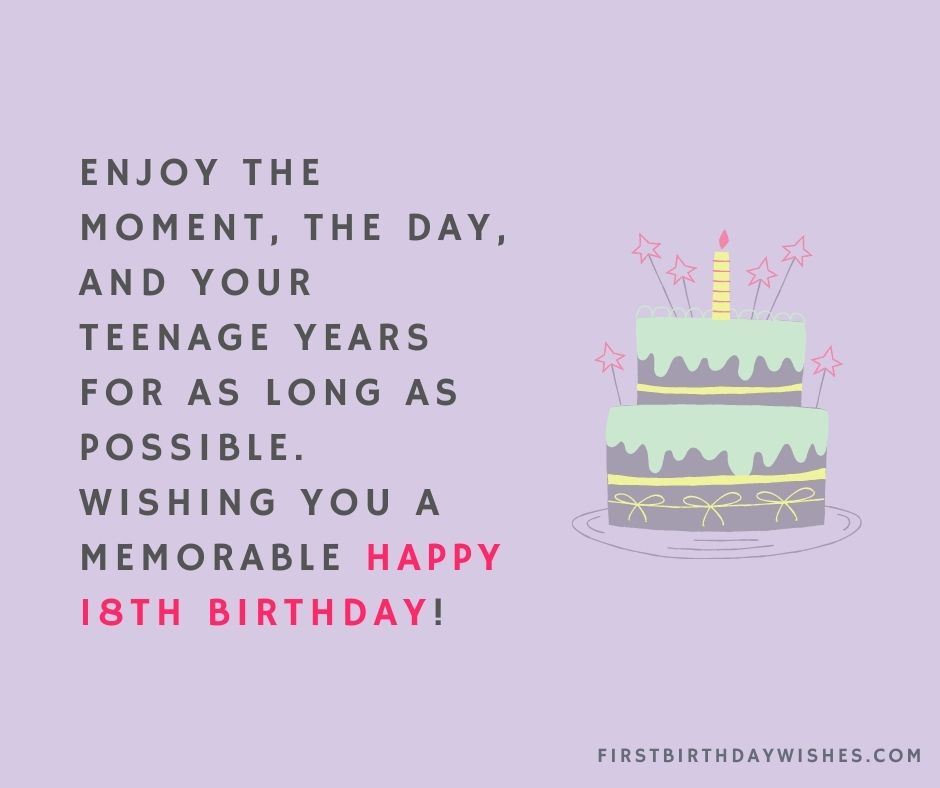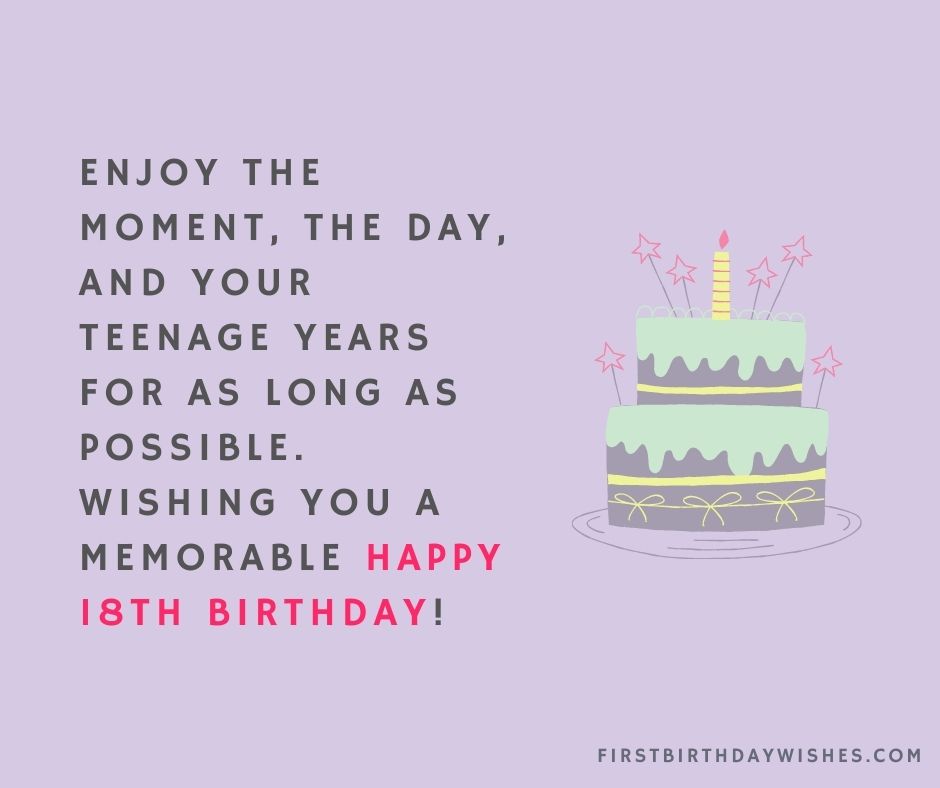 Take it from me: Just because you're technically an adult doesn't mean you have to grow up.
Don't worry, you still don't have to take yourself seriously. We certainly won't. Happy 18th!
It's your birthday and you get to turn 18, you get to see how the other side lives and to enjoy all the pleasures of the world. Just be careful in all you do.
18th Birthday Wishes for Daughter
On your special day, only think of the reasons that make you smile. This is your day, the most wonderful day in your life. Don't ruin it with a frown. Happy 18th Birthday!
It's impossible to calculate how much joy you've brought us over the past 18 years. We couldn't be prouder of the woman you've become.
Every day I thank God for you. Now that my little girl is turning 18, it's hard to know where the years went, but I know that the best is yet to come.
Turning eighteen gives you the legal allowance for doing anything you want, but everything should be in a positive way. Wishing you the superb 18th birthday.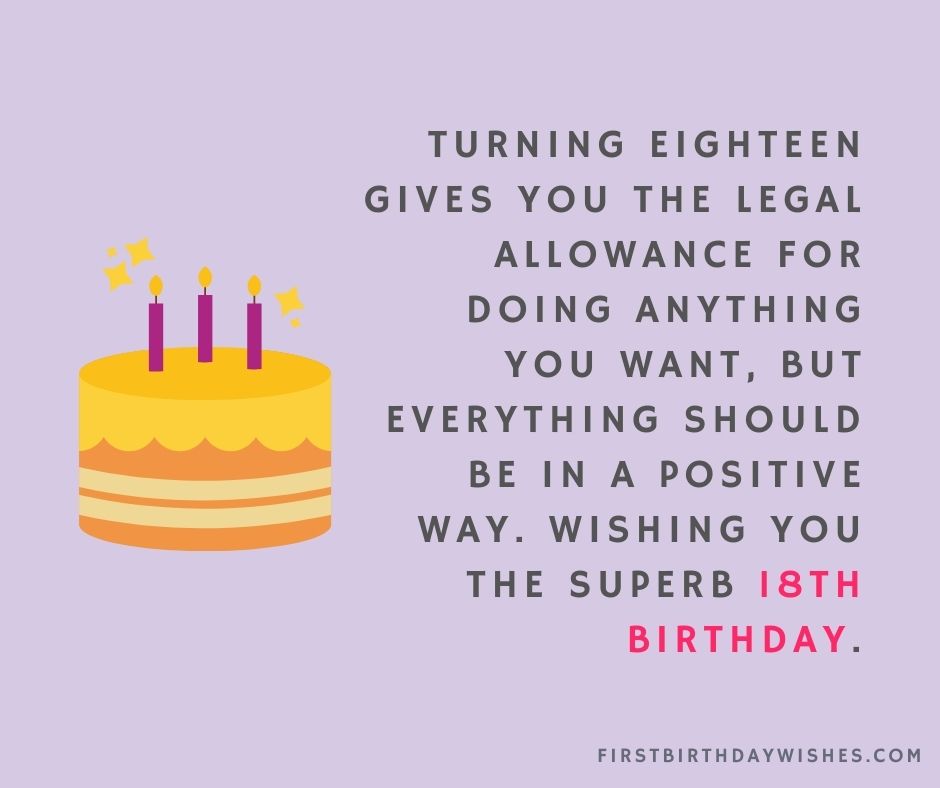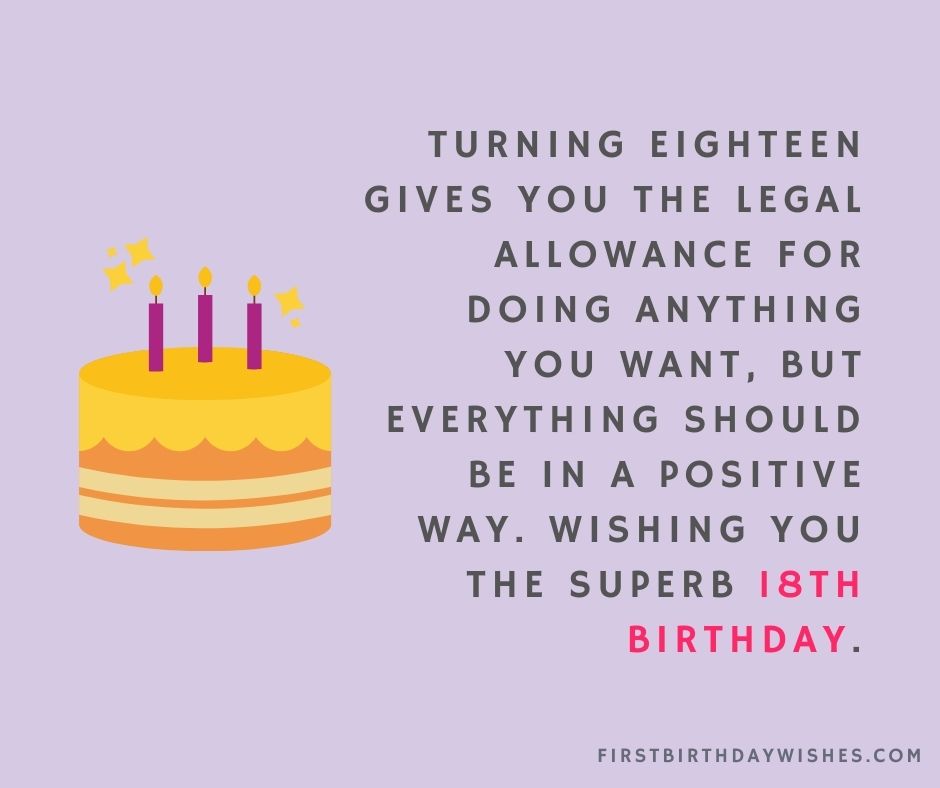 Happy Birthday to our absolute favourite (and only) daughter in the whole wide world. We love you more than our words could say!
Happy 18th Birthday, sweetheart. Watching you grow into a young woman has been the honor of our lives.
Even though you may have fewer chances to play dress up, I hope you'll never stop playing. Happy birthday, sweet daughter.
Congratulations on finally turning eighteen! It has been a long road, I know, but I'm sure you are excited to see where your life is going to take you. Happy birthday!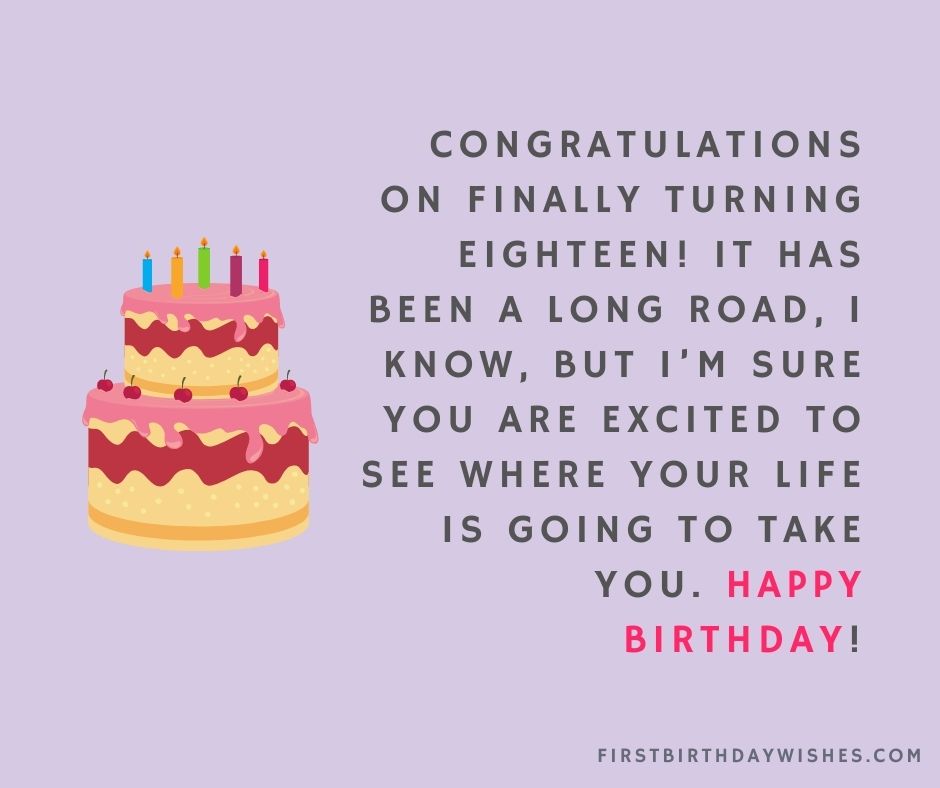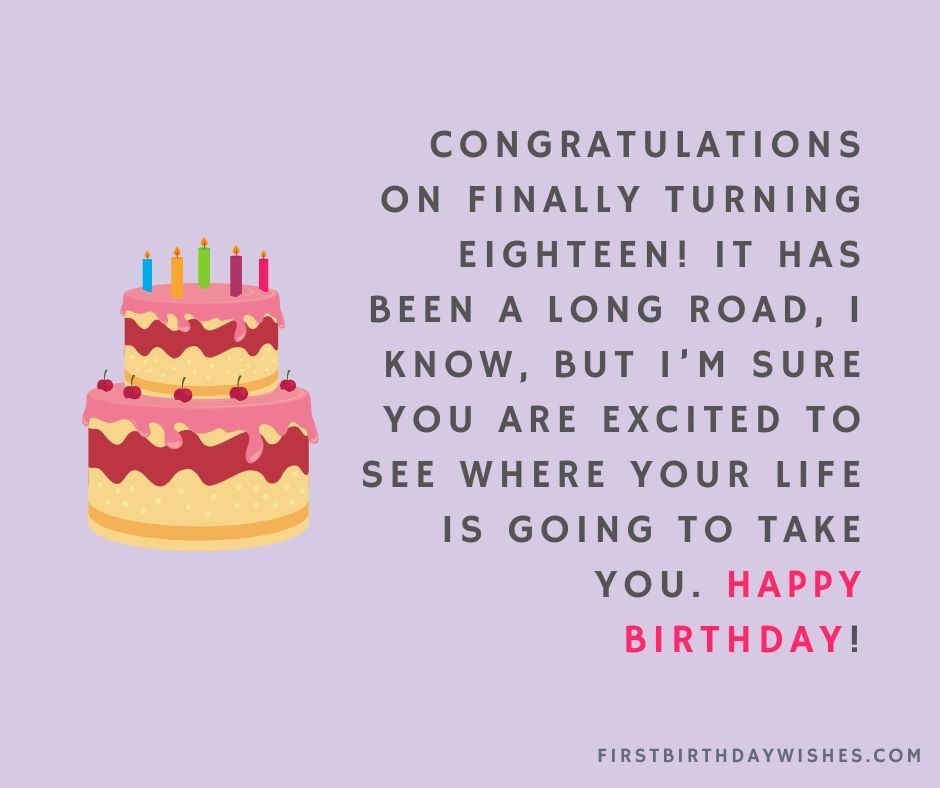 Happy 18th birthday my daughter, you surely deserve the best out of this day, may you have it all my dear, the good life begins today and it begins with you my dear, you only live once.
My daughter, ever since the day you were born, you've been adding something amazing to my life. I can't imagine my life without you in it. Happy 18th birthday!
It does not matter whether you are eighteen or eighty-one, you will always be our little daughter. Happy birthday.
Only today, and only for you, I won't tell any embarrassing stories about your childhood. Tomorrow, though, all bets are off. Happy birthday, dear one.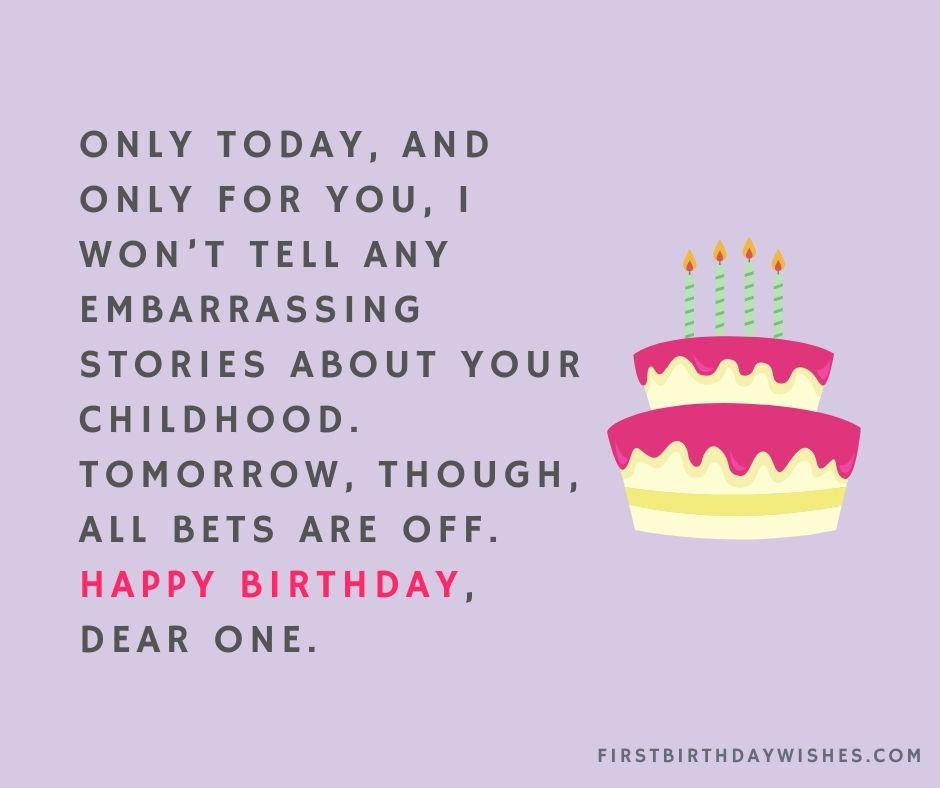 A wonderful life awaits you. A life full of joy, love and prosperity. You have so much potential and truly deserve life's best. Happy birthday!
We loved and knew you first, but we have been blessed to see many others love and know you these past 18 years. You have touched and will continue to touch many. Love you!
Darling, I can't find the words to express the joy I feel in being part of this memorable day. I hope you get to enjoy yourself, to have all the good and wonderful things flow you way, that is my only wish for you as you turn 18.
18th Birthday Wishes for Son
You might be a man now, but you're not on your own. We will always be there for you.
We are so proud of you. You've already done so much with your first 18 years. I can't wait to see what you do with the next.
It's good that you already have a big name at this age, but never forget to choose to live right. Neglect the fame and concentrate on yourself.
You're now entering the portal to adulthood. Relax, chill, have fun and enjoy. Life has still a lot to offer many days from now. Have a sweet ride today!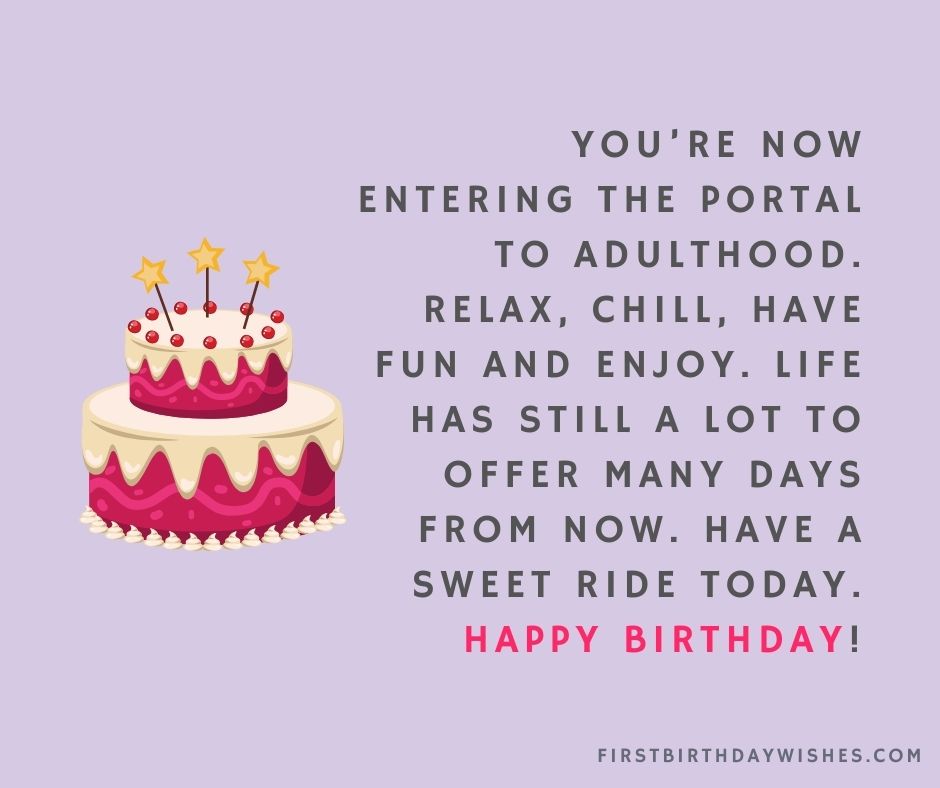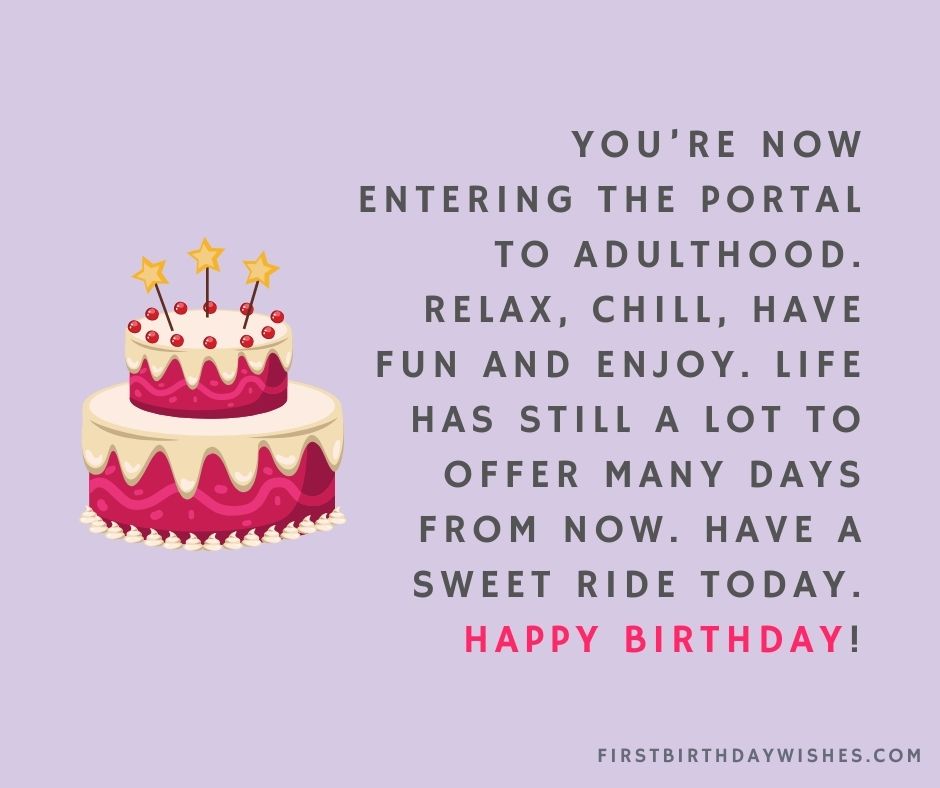 You're all grown up and preparing for college. It's a parent's greatest joy to watch their children succeed. Shoot for the stars.
We must have done something right to raise such a wonderful, thoughtful, strong young man.
Dear Son, I don't have to tell you how much I love you, but for your birthday, I will. I love you more than you could ever know—until you have your own son, that is! Happy 18th!
My son, I am amazed by everything you do. You make me so proud every day. You'll change the world someday by just being you. Happy birthday!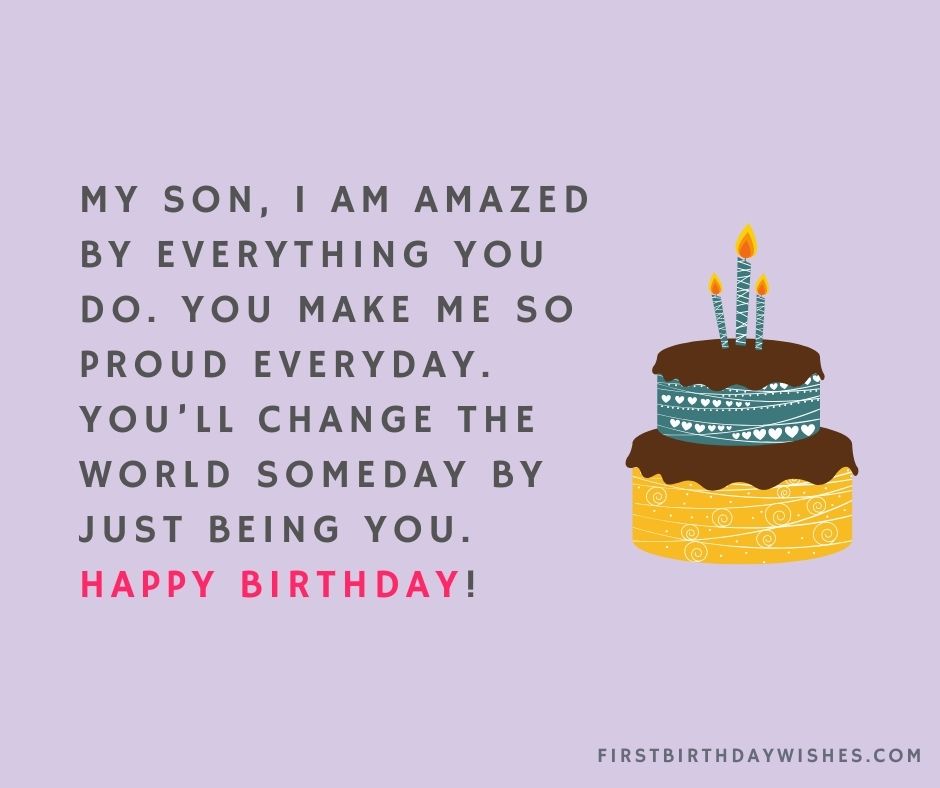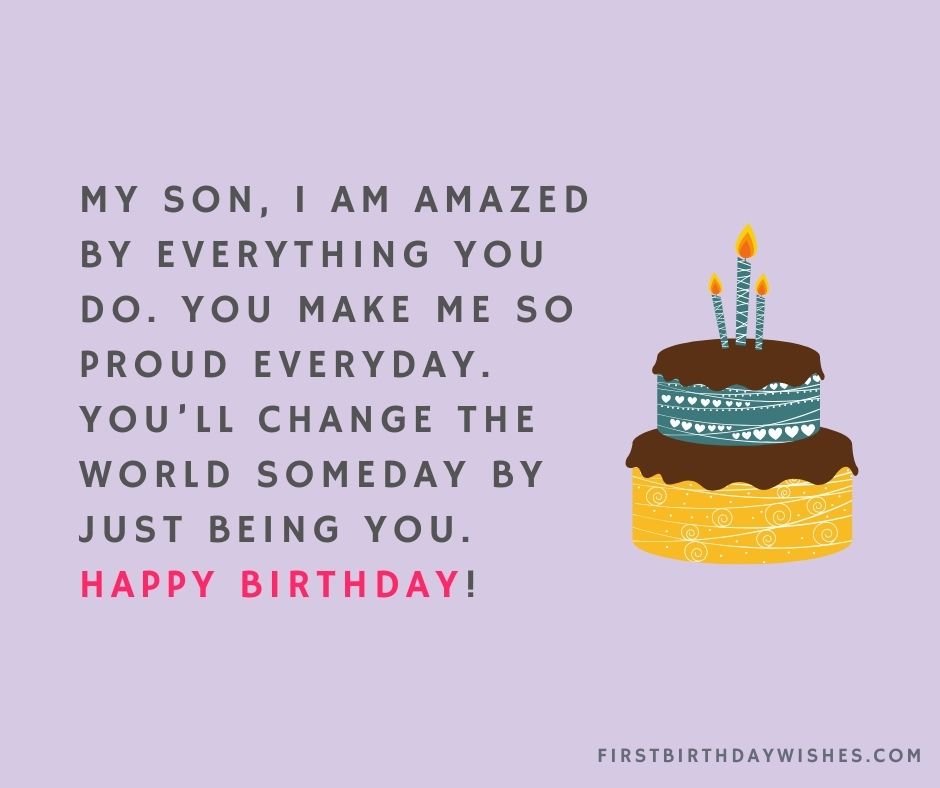 Happy eighteenth birthday son. You deserve the time off, you are a hardworking, lovable and amazing person and I wish you nothing but the best as you get to celebrate this day. Have a wonderful day.
Son, may every dream and wish you have not only come true but also lead to an amazing future for you! Happy 18th birthday!
You used to be adorable. Now you're handsome. You used to be precocious. Now you're educated. You used to be small. Now you're tall. But no matter what else changes, you'll always be our son. Happy birthday!
You are entering a special time in your life when you are balancing right on the edge of adulthood. Enjoy your special 18th birthday and welcome to our world.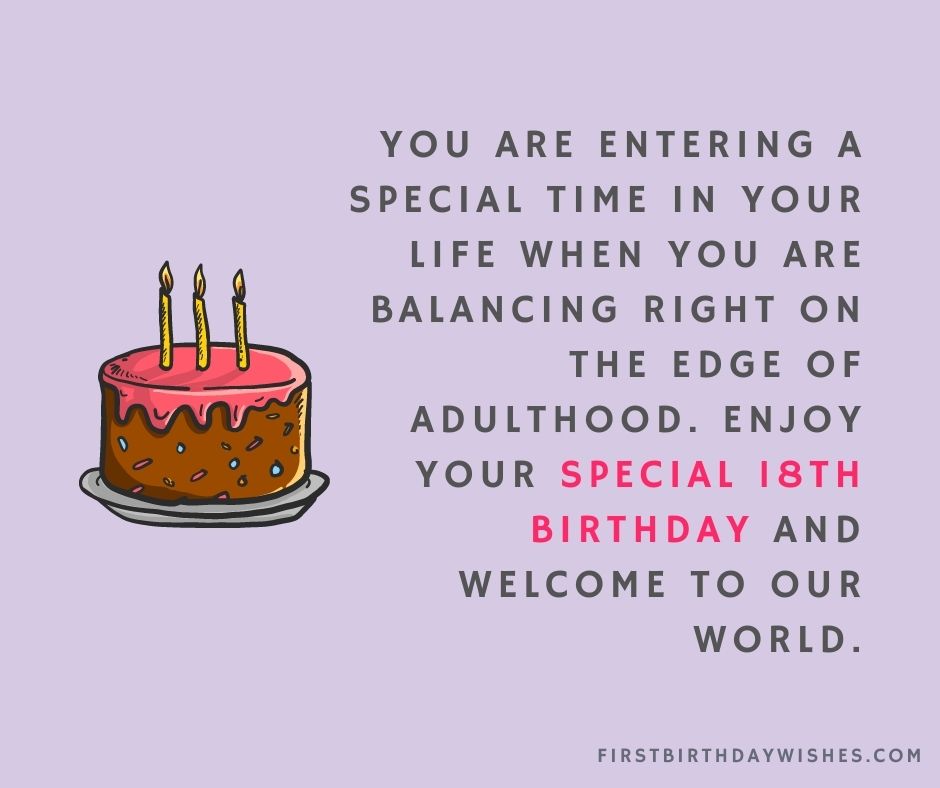 To my wonderful, son. Happy 18th birthday to you, I couldn't have imagined it that you'll be this someday, it is better real than imagined. I love you, son, enjoy it to the fullest.
Since the day you were born, you've brought us only joy and wonder. We cannot wait to see all the amazing things you'll do with the rest of your life. Happy 18th birthday.
Happy 18th birthday to my fine young man. We are so proud of what you have achieved over the years and look forward to many more of your adventures. We are always supporting you!
18 is a confusing age. You are considered an adult when voting but you are still too young to drink alcohol. You are considered a grown-up to take up home responsibilities but in your brain, you still feel Like a kid. But no matter how overwhelming the feeling is, just take every opportunity to grow and enjoy with all your heart.
If you have liked our article on the Best Happy 18th Birthday Wishes, then send it to your loved ones. And also bookmark our site we have posted and will post many articles related to best birthday wishes.
You May Like Also