Christian Birthday Wishes: Here is the best collection of Christian Birthday Wishes for your loved one on their birthday. If you want to wish your Christian friend or if you are from a Christian family then these Christian Birthday Wishes are specially collected for you. On the birthday of your loved one go and visit the church and pray to Lord Jesus so that God will give his blessings to your loved one,
Christian birthday wishes are a meaningful way to celebrate the birthday of a loved one who holds faith and values in their life. These wishes incorporate heartfelt messages, blessings, and expressions of gratitude to honor their special day and remind them of God's love and guidance. Whether you're celebrating the birthday of a family member, friend, or fellow church member, Christian birthday wishes serve as a beautiful reminder of the significance of their faith journey and the blessings they bring into the world.
Send these Christian Birthday Messages with some bible verses from the Bible to make them feel special. May Jesus will bless your loved one on their birthday.
Christian Birthday Messages
Celebrate the life that God has given you by sharing your joy with others and by spreading His message of love to everyone. Happy birthday!
God has shown you one more Birthday only because He wants to tell you that He loves you. May you have a blessed and beautiful life ahead.
Great people like you deserve all the best blessings in this world. May God shine light upon the roads of your life always! Have a blessed and fantastic birthday!
May God's many blessings be poured upon you. May you have a real sense Of God's hand upon your life, Leading you and guiding you as you walk with Jesus Christ.
Even though God has already brought you to a ripe old age, may He bless you with so many more years of life that people will praise Him whenever they speak of you.
We are most joyful today because God has deemed you worthy to bring you into yet another new age of your life!
Today, we celebrate the life of not just an average person but someone who has taken it upon himself to exemplify what it means to live a Godly life.
On this blessed day, may your future be highlighted by discipline so effective and blessings so abundant that there will be no question they came via the highest God!
Today, we thank you for being a living example of the Christian faith, and we especially thank God for putting someone like you in our lives.
In celebration of your life, we delight ourselves in the Lord for giving us the desires of our hearts in a friend such as you!
When God made you, He created the model human being, complete with all of the extras! I hope your special day is brimful with the special blessings of God.
May this new age bring with it the realization that no bad situation is permanent and that God still has a plan that He will execute in your everyday life.
Give and you will get more, Love and you will be loved more, Help and you will be helped more, Pray and you will be blessed more. May God be with you today and always!
Christian Birthday Wishes
---
On your birthday, I pray to Lord Jesus to bless your life with lots of good luck prosperity, and good health! Happy Birthday!
May the Holy Spirit send you the gifts of wisdom, maturity, and understanding this year. Have a Happy and Holy Birthday.
Look in the mirror. Yes, the person staring back at you is one of God's most beautiful Masterpieces. Have a wonderful and blessed birthday!
Hope that God fills your birthday with beautiful peaceful moments. Wishing you a very Happy Birthday, dear!
Wishing you a day filled with happy memories and a year with numerous reasons to be thankful for. Happy Birthday to one of the sweetest people I have ever known. May God bless you.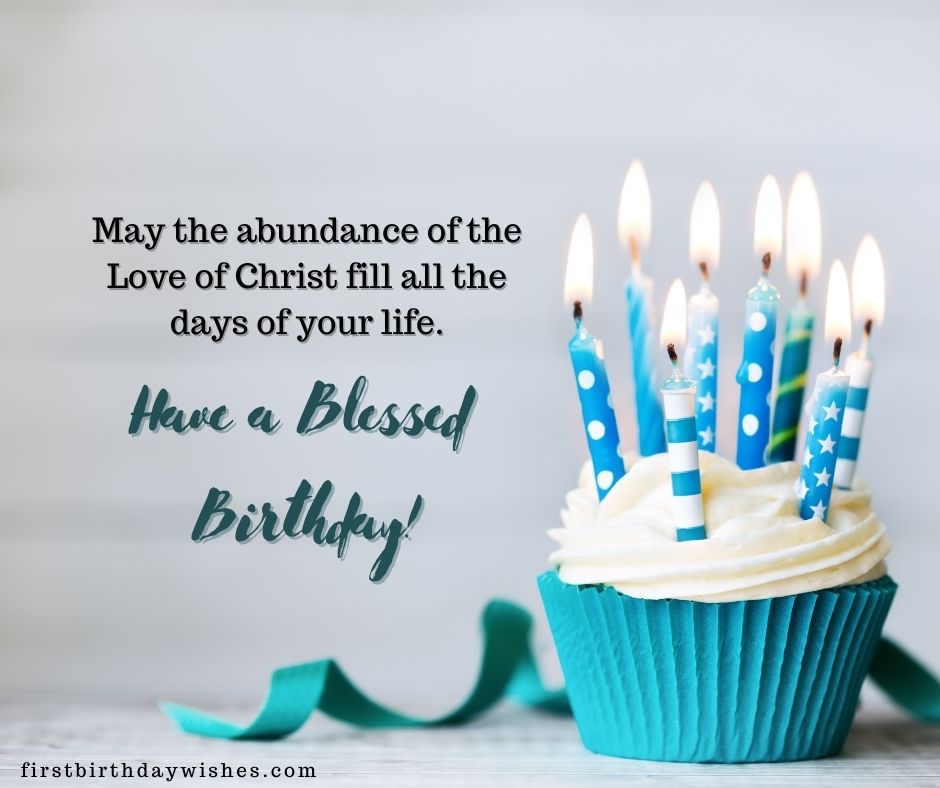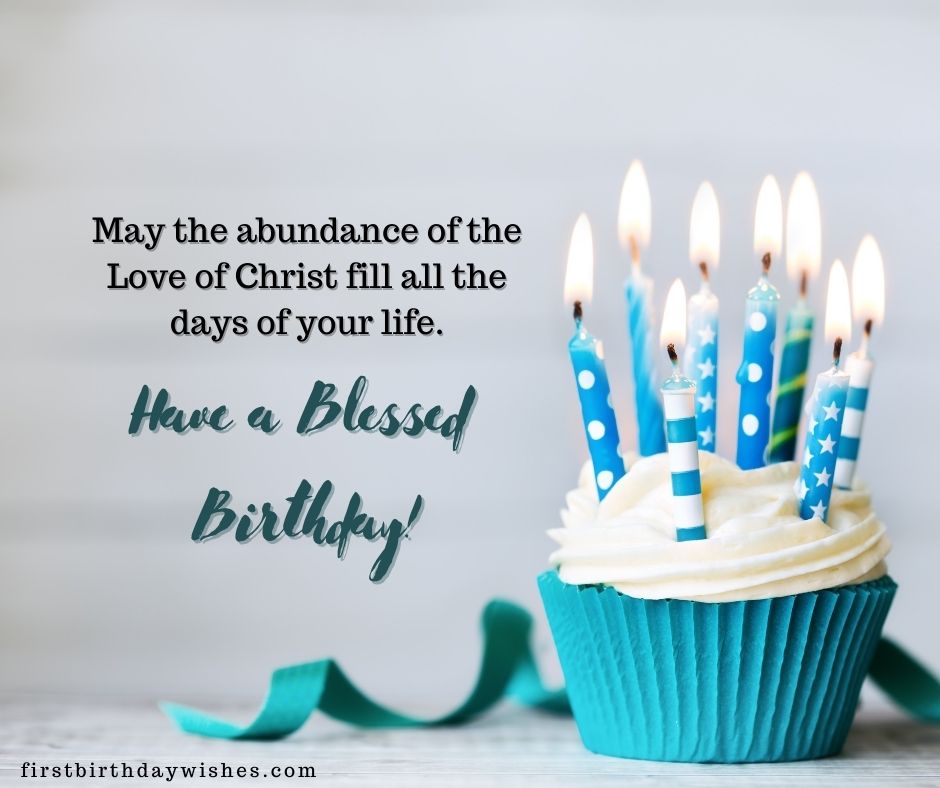 Wishing you a very Happy Birthday dear! May the Holy Spirit send you the gifts of wisdom, maturity, and understanding!
I am really thankful to God for having you in my life and may He keep showering you with all of his blessings. Happy birthday, once again. Love you.
I hope God bless you on your birthday and forever. Enjoy your day.
May the Almighty grant all your heart's desires, and remain the way you are. Have a Happy Happy Birthday!
Oh dear, today is your birthday and nothing can be merrier. You came into my life and made everything brighter than ever. May the love of Christ keep you going every day.
Happy birthday, dear. May you receive a thousand blessings on your day.
May the heavenly souls protect you from every harm and keep you fit and healthy throughout your life. Have a happy and great birthday. Hugs and kisses!
On your birthday, I am praying to God that he takes care of you and blesses you.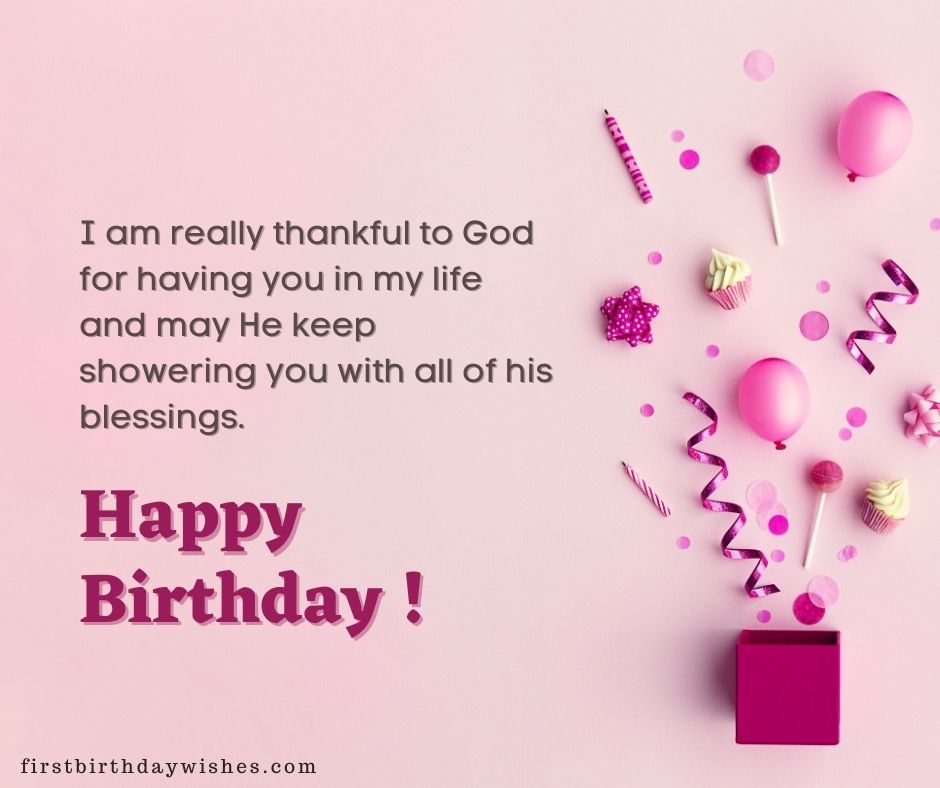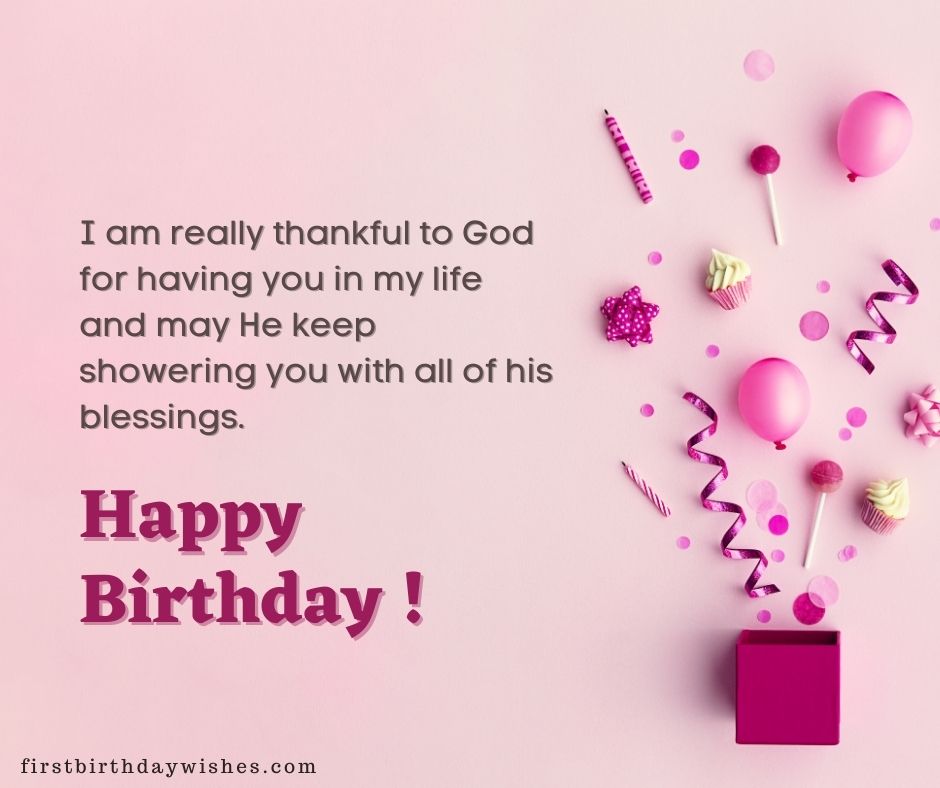 Happy birthday, my dear. On your birthday I pray to God for your health and well-being. May Jesus gift you all success, pride, and prosperity. Have a great year ahead.
On your birthday, I wish that your faith in God will become even stronger and that God's love will keep you going. Happy Birthday!
Happy Birthday! May God continue to keep you in his care.
Each one of us is special in His sight May you feel Him watching over you with loving affection, not just on your special day, but always! Blessings on Your Birthday.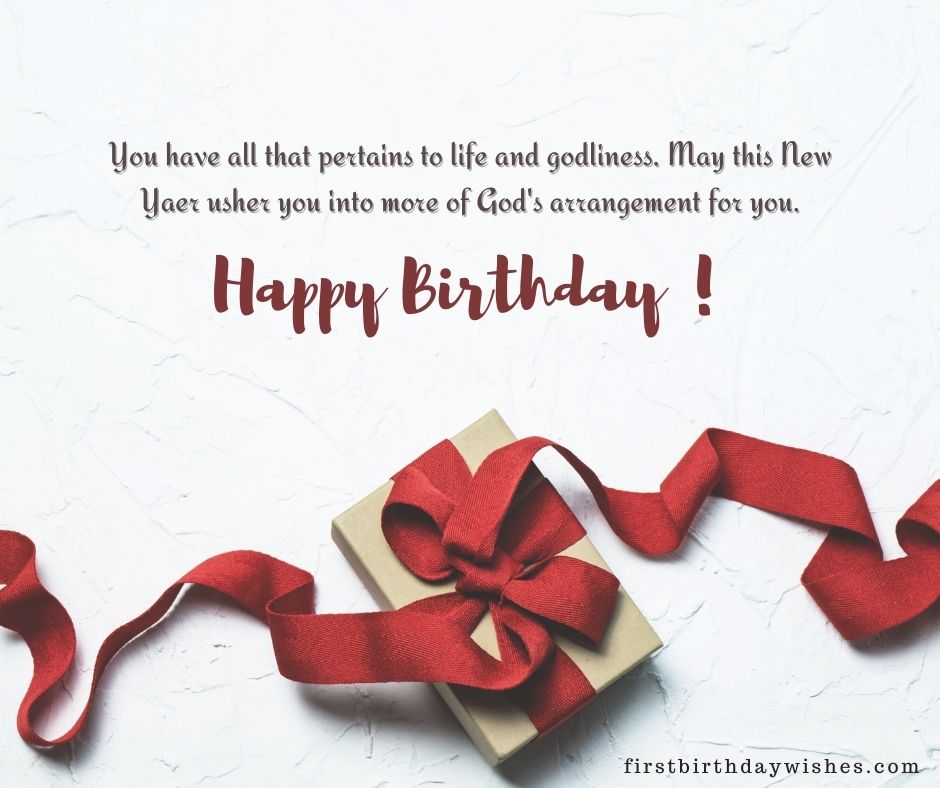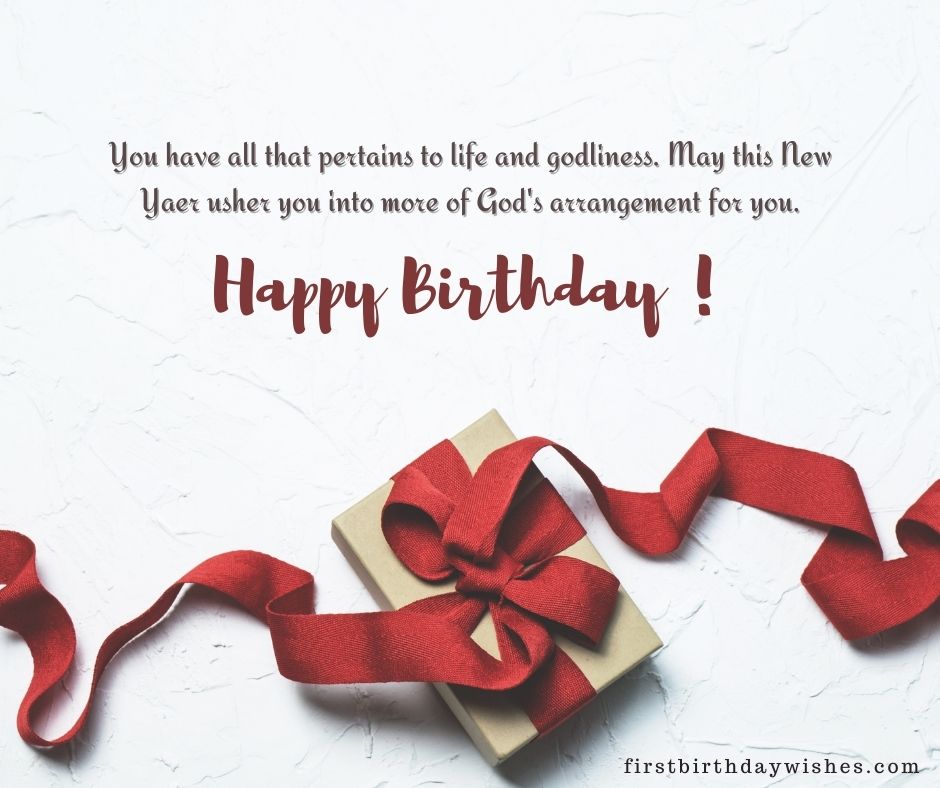 Happy Birthday, Dear. May God bless you and guide you throughout your life.
Happy birthday, dear. Enjoy your day and have lots of fun. I pray that the angels protect you and guide you in your life. May God bless you, forever.
May Jesus Christ continue to bless you abundantly and keep you safe in his loving care. On your birthday enjoy His divine presence in your life. Have a Happy and Holy Birthday.
May all your dreams turn into reality and may all your wishes come true, this is my prayer to God on your birthday! Happy Birthday To You!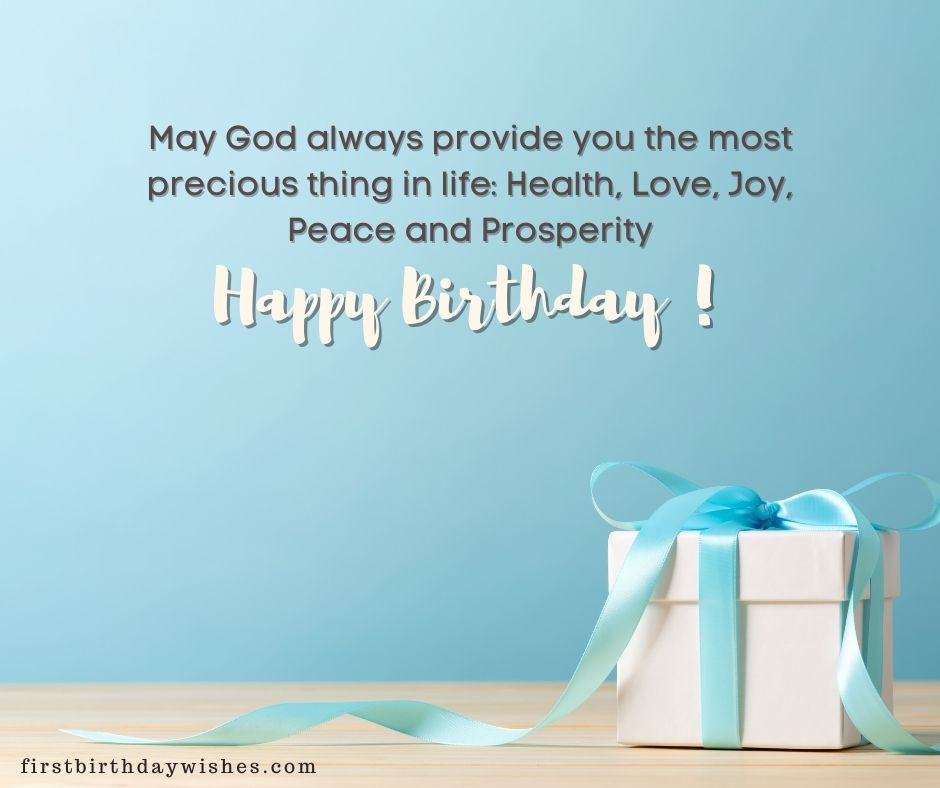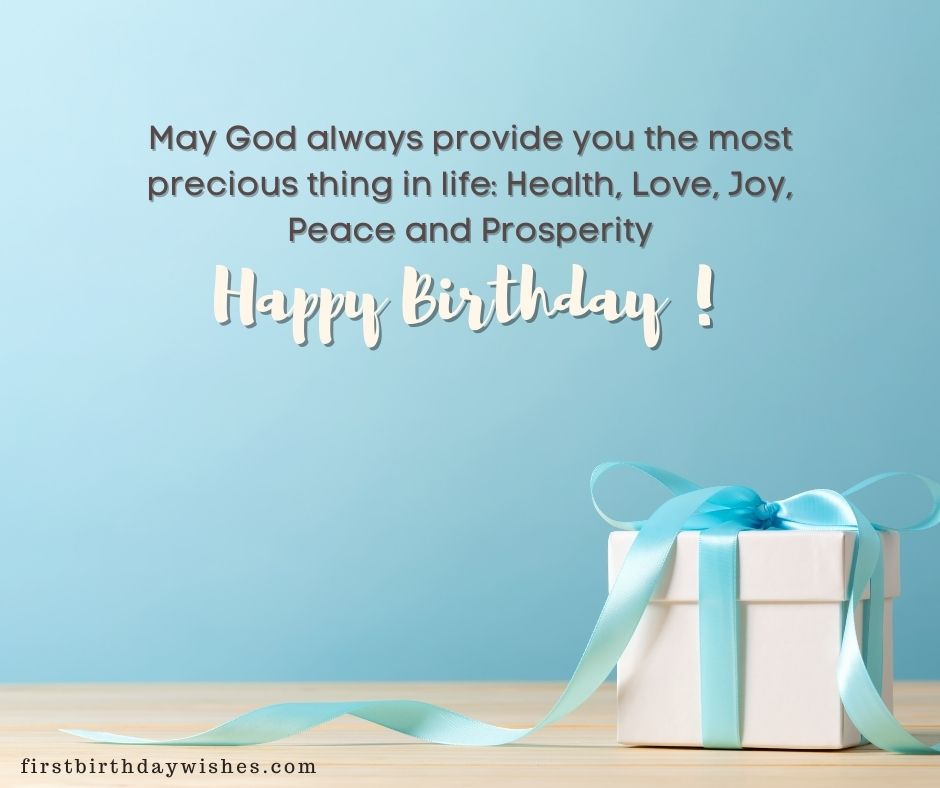 May these Christian birthday wishes be a wellspring of inspiration, encouragement, and joy as you commemorate the birthday of your cherished one. May they find solace in the unfaltering love, grace, and faithfulness of God as they embark on another year of life. Whether conveyed through heartfelt prayers, scriptural blessings, or uplifting messages, may your Christian birthday wishes radiate the profoundness of your faith and the affection in your heart. May this extraordinary day overflow with abundant blessings from God, and may your loved one's path be guided by His divine presence.
For more Birthday Related Wishes make sure to visit FirstBirthdayWishes again. Share with you all your friends and family so that they can also get beautiful birthday wishes.
Follow us on Pinterest and Facebook