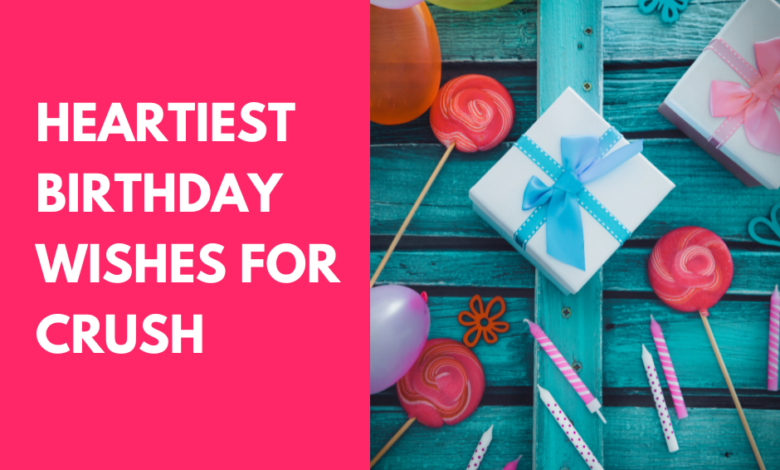 Birthday Wishes for Crush: A crush is someone you secretly admire or like without them knowing or with them knowing in some situations. They are the person you call friends, but you secretly wish there was more to it than the relationship they see. So, when their birthdays roll around, what do you do? You may express your gratitude by sending them these beautiful birthday wishes for crush.
We've created some birthday wishes and greetings for your crush to assist you in reigniting the flame of love between you and your crush. Use these birthday phrases to convey to that special someone who has stolen your heart at first sight.
Birthday Wishes for Crush
1. I want to show you how I feel dear crush, you are the man of my dreams. I hope you enjoy your birthday and all the little things it brings.
2. In my eyes, you are the most beautiful woman on this planet. I wish you a day that is as beautiful as your outstanding beauty.
3. You are not just my secret crush but also one of the reasons I smile in life. May your birthday make your heart as happy as your presence makes mine. Happy birthday.
4. You might have heard rumors that I have a crush on you, and seeing as it's your special day I'll come clean and admit that they're true!
5. I pray God will bless your life with great happiness – today and for as long as Father Time exists. You mean more to me than you'd ever know. Have a truly fabulous celebration today.
6. You are such a special person in my life whom I cherish dearly. May your birthday today bring you a step closer to realizing every beautiful dream of yours.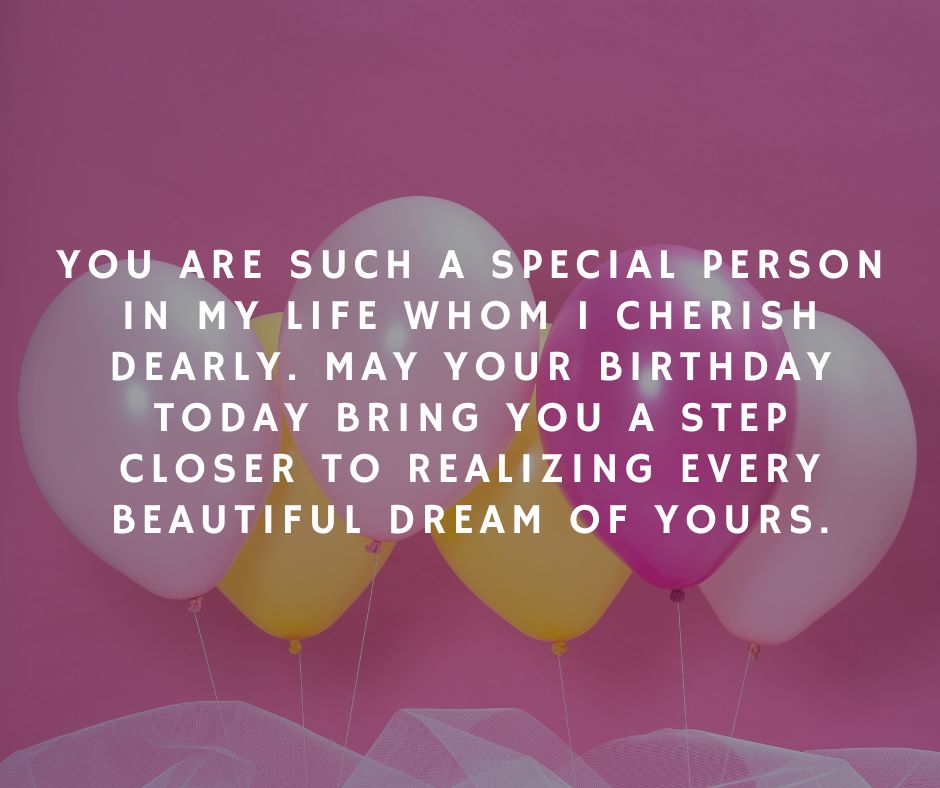 7. Today, I want you to know you are one of the shining stars in the sky that hovers above me. Happy birthday
8. I am glad to have met you, and today I cannot contain my happiness as it's the day you were born. Happy birthday.
9. It is another birthday as usual, but today's occasion is special because my boy crush is the celebrant. Have a lovely 24 hours.
10. You are an absolutely wonderful and sweet person. May your birthday and life be just as sweet as you are to me. You are so dear to me. I hope you always remember that. Happy birthday.
11. I get an extraordinarily huge rush of joy whenever you are near me. That's how much you mean to me. Happy birthday, dearest.
12. You give me goosebumps whenever you smile, and the way you walk and talk, makes me want to be with you all the time. Have an awesome day.
13. Celebrate your birthday with the knowledge that I like you so much because you make me feel so special. May beauty, love, and true happiness encircle your life forever. Happy birthday.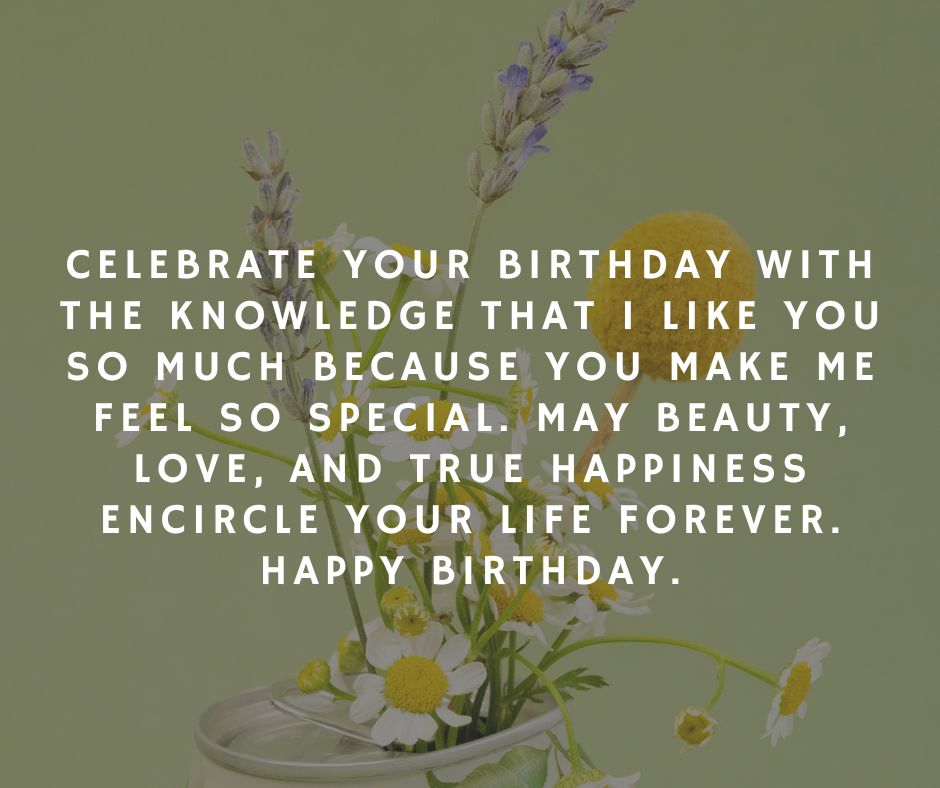 14. Even the angels above are celebrating the birthday of one of the beautiful girls today. Happy birthday.
15. No one can compare to you, and if it isn't you, then I don't want anybody else. Happy Birthday to you my boy crush.
16. You have no idea how much I like you for decorating my world the brilliant way you do. I am privileged to know such a sweet woman like you. May the sweetest and most beautiful things in the universe forever surround you. Happy birthday.
17. Your presence always brings me unlimited happiness. To say I'm lucky to know you is an understatement. I'm beyond blessed to know such an incredibly amazing man like you. Have a glorious birthday and a very happy life.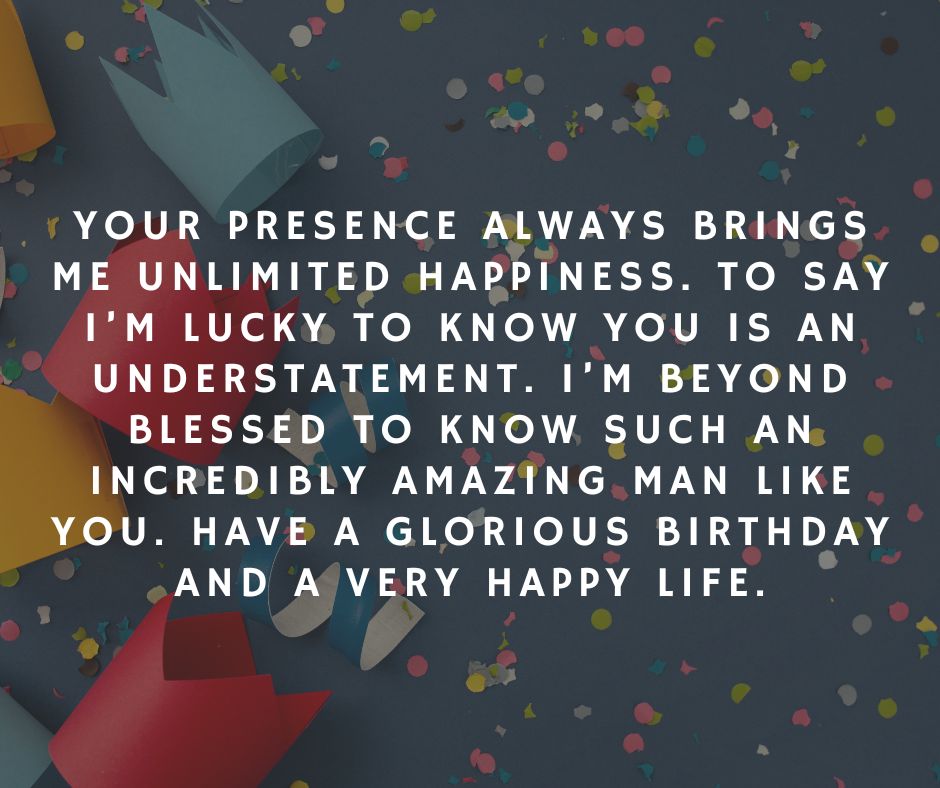 18. Wishing a very happy birthday to true beauty! Sending you lots of love, lots of kisses, and lots of hugs today!
19. May this special day be brighter than the sun and warmer than the moon. Happy birthday, darling.
20. Happy birthday. Don't ever feel down that you're getting older. In my eyes, you are more gorgeous than ever. Have the most fun birthday celebration ever.
Birthday Wishes for Male Crush
21. Happy birthday to the man my heart beats for. May the blessings of the Lord always be with you.
22. You bring immense joy into my life. Have a fabulous and joyful birthday.
23. Happy birthday to the most handsome and lovable man in the world. How I wish you were mine and mine only.
24. Because you bring so much joy into my soul, there's nothing I wouldn't do to get the opportunity to spend an awful amount of time in your company. Today, I wish you a fabulous and truly joyful anniversary.
25. Happy birthday! I will celebrate this great day of your life to the fullest because you are important to my happiness. May God bless you more and more each brand new day.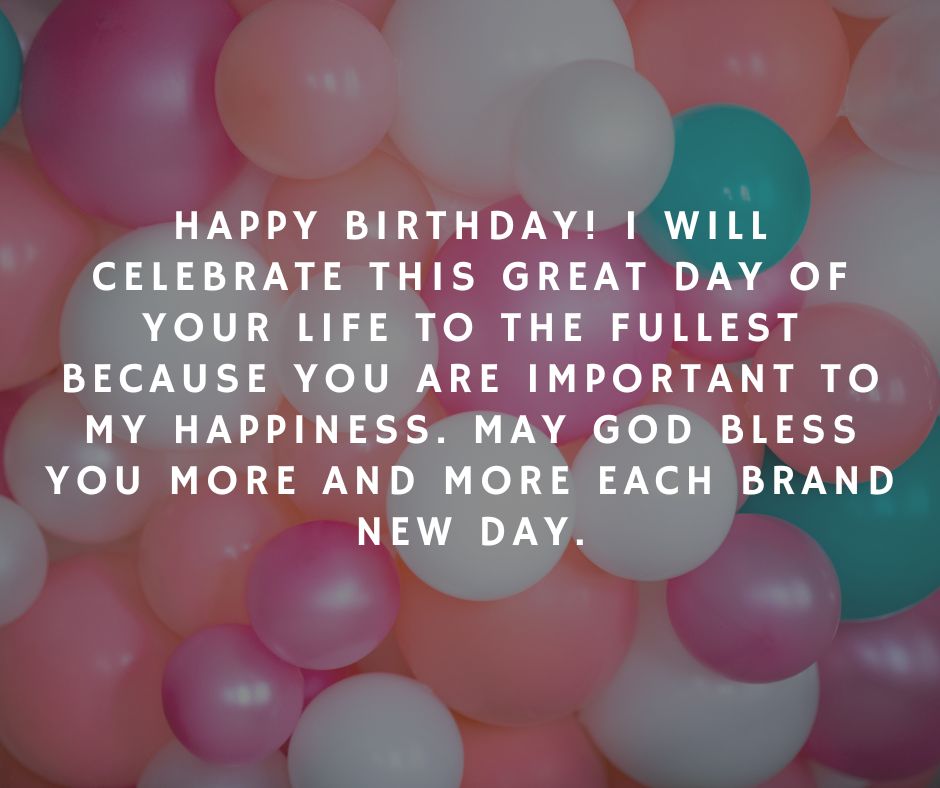 26. I keep thinking of you day and night. You're truly amazing. Have a joyous birthday.
27. You are the most handsome man I have ever seen. I can't stop thinking about you on your special day. Have a fabulous birthday.
28. More often than not whenever there's a smile on my face, it's because you are on my mind. Happy birthday, dear, and may your life forever taste the sweetness of true happiness.
29. Happy birthday, you! I know you didn't think I'd remember your birthday today, but how could I ever forget the birthday of a guy as great as you!
30. My heart beats faster when you are around. Happy birthday, my dear.
31. I start blushing when your thoughts cross my mind. You are so special to me, and I wish you the best on your birthday.
32. Happy Birthday to the only one who has made my life unique and amazing. Congratulations!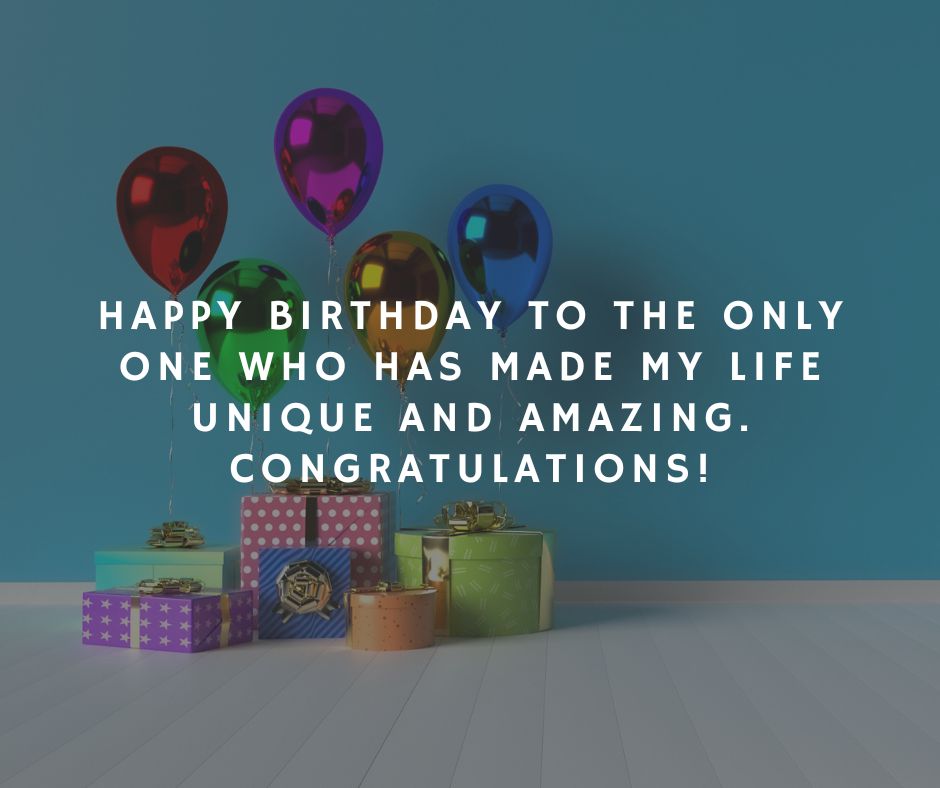 33. I wish you abundant happiness, not for only this day, but for all the days of your wonderful life. Happy birthday.
34. Dear crush. On your big day, I pray to God to give you everything you wish for. Happy birthday.
35. Every girl has a male crush, and I am excited that you are mine, I will surely make you live happily ever after if you give me a chance on your birthday.
36. Sweetheart, You are hard to resist. Have a fantastic birthday and year ahead.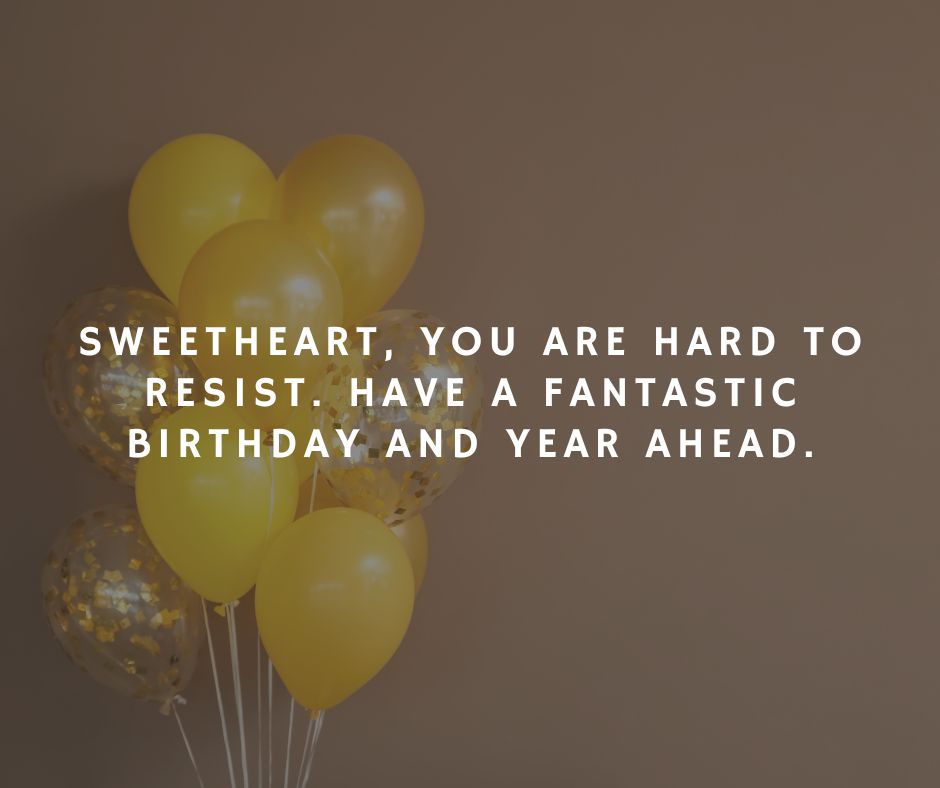 Birthday Wishes for Female Crush
37. Your stunning look is hard to resist. May you get all the amazing things on your birthday.
38. Since you entered my life, not a single day passed by without you putting a smile on my face. I wish you an awesome birthday, my special lady.
39. I love everything about you. Happy birthday to the cutest girl I know.
40. I have a feeling that the person of your dreams is wishing you a happy birthday today… It's just down to you to discover who that is! Happy birthday to the one who I have a burning desire for! You are more than just a passing fixation, I'm sure of it! I'm pretty certain that we are soulmates!
41. Sending you a universe of joy and love as you commemorate this special chapter of your life.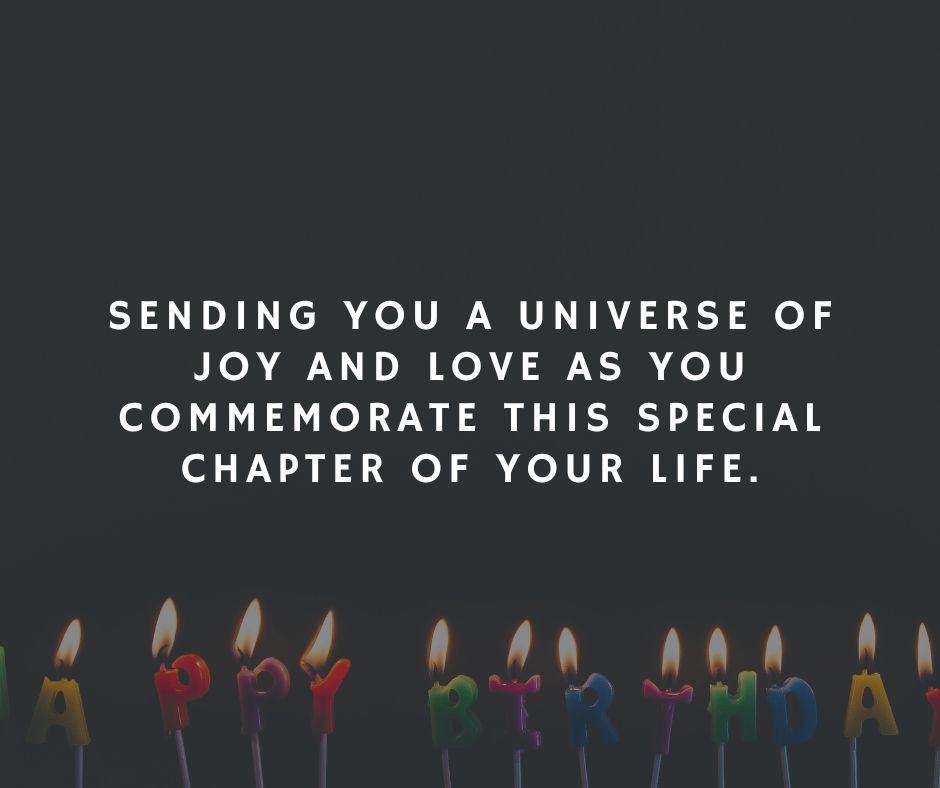 42. Happy Birthday. I would like to see you grow stronger and happier each day. I'll always be there for you, but you don't know I have a huge crush on you.
43. On this special day, I am sending you loads of joy and love. Happy birthday, dear.
44. You are the sweetest girl I have ever met. May this year bring you more happiness. Happy birthday.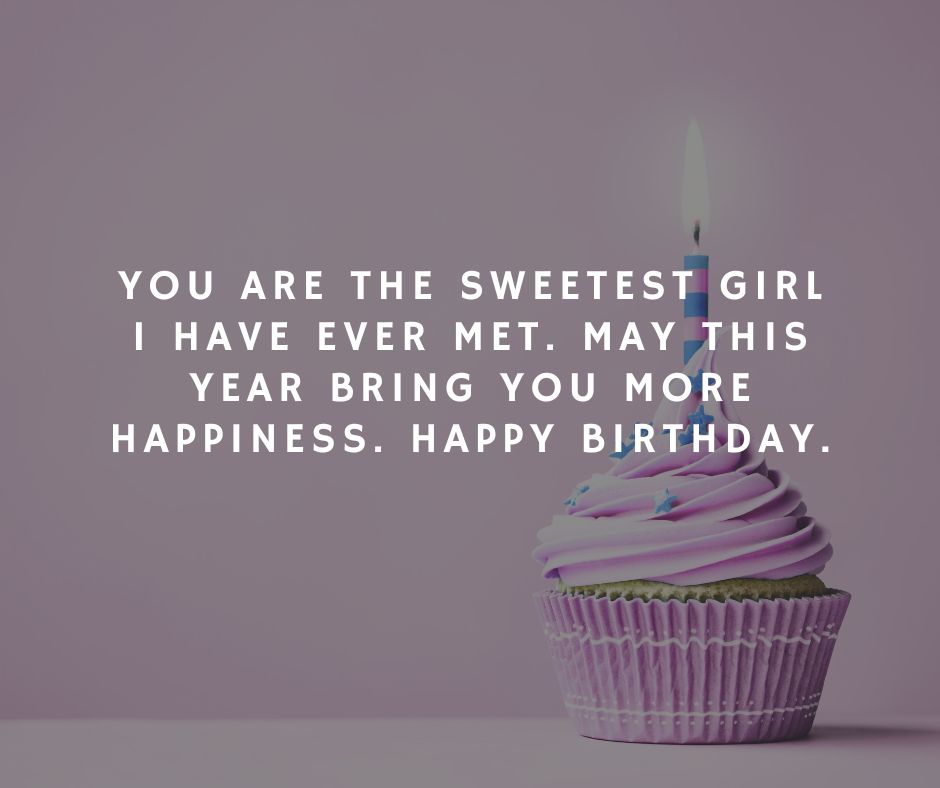 45. You brighten up my life and make it beautiful. Happy birthday.
46. Happy birthday to the special lady of my life! May your birthday be loaded with joy, love, and fun.
47. May this day fill your life with new longing memories that you will always treasure, I have a crush on you btw.
48. Happy birthday from your not-so-secret admirer! I think you know by now that I have a bit of a soft spot for you, just a little crush! But, I mean, who could blame me – look at you! Wishing you a birthday that's as gorgeous as you are!
49. There's nothing about you that I don't adore. You brighten up my life and make me feel happy to be alive. Happy birthday.
50. You are the most special girl in my life. May God fulfill all your dreams. Happy birthday.
51. You have been my all-time crush and I wish you a jolly birthday and a grand year ahead.
52. Sending a cheeky little birthday message to a drop-dead gorgeous cutie! I hope that you have a birthday that's as incredible as you are!
More Birthday Wishes
Join us on Facebook | Pinterest